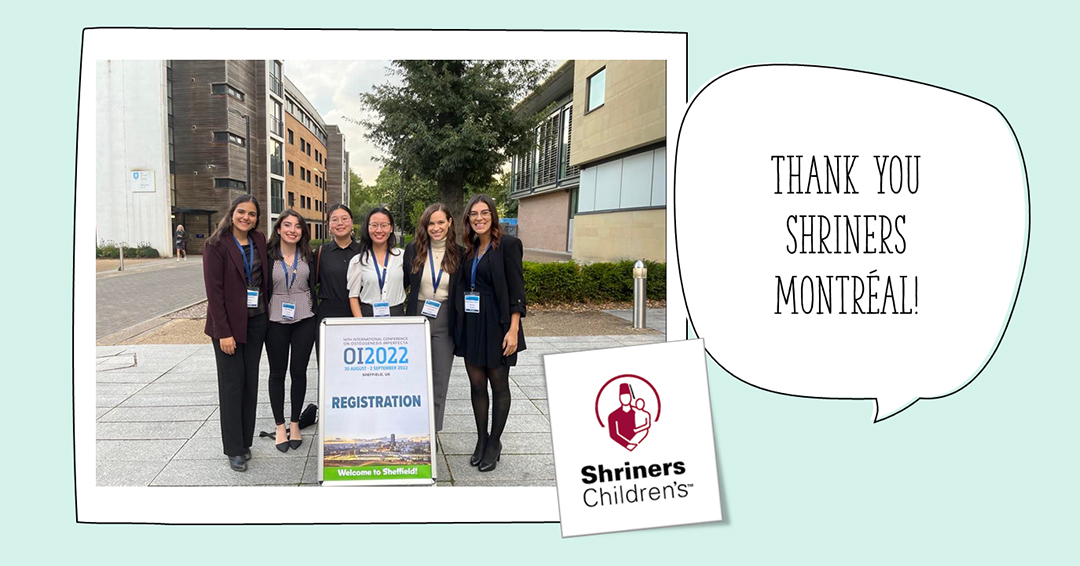 McGill med students present at prestigious bone disease conference in the UK– with a helping hand from two incredible professors
This year, four other medical students and I have been blessed to have amazing professors for one of our small research fundamentals courses. Their names are Reggie Hamdy, MD, and Argerie Tsimicalis, RN, PhD, at the Shriners Hospital for Children. Through this course, they went above and beyond the course requirements, and really helped us get integrated into the world of research. They pushed us to apply to one of the most prestigious international bone disease conferences in the world – the 14th International Conference on Osteogenesis Imperfecta (OI2022) in Sheffield, UK.
Dr. Hamdy and Prof. Tsimicalis mentored us through creating five poster presentations and abstracts. We submitted our projects as part of the course assignments, not thinking it would go anywhere. To our surprise, all five McGill students were accepted. We were blown away! On top of this, they funded us all to go, granting us $10,000 in funding .
Marie-Catherine Mongenot, Jasmine Rocci, Yu Chen Shi and Alice Tao Ran Guo and I  attended conference last month (August 30 to September 2). Next to us at the conference dinners, were world class researchers from Cambridge and Oxford and around the world – some of them doctors with syndromes and proteins named after them. It was a humbling experience indeed.