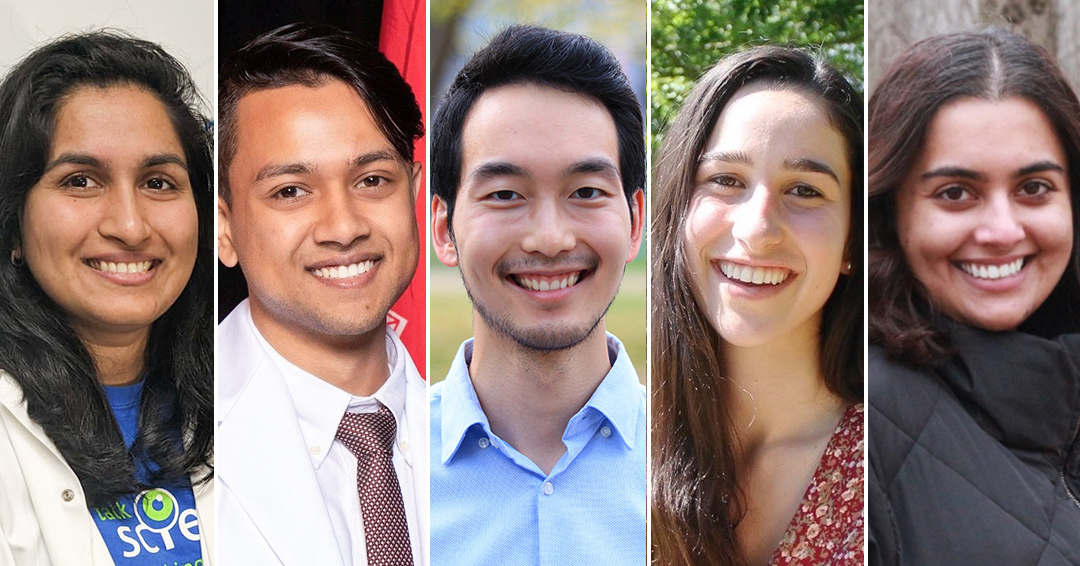 Academics are the heart of the student experience, but extracurricular activities are the soul. The McGill Scarlet Key Society has been recognizing excellence in student leadership for a century. Each year, the Scarlet Key is awarded to student leaders who go above and beyond what is expected of them, showing outstanding dedication to their community and their peers. Five Faculty of Medicine and Health Sciences students – Keerthana Harwalkar, Nehal Islam, Owen Dan Luo, Jillian Schneidman and Amrita Sandhu – were among those celebrated at the 2023 ceremony, held on March 23. Congratulations to all five! 
Keerthana Harwalkar  
A PhD Candidate in the lab of Prof. Yojiro Yamanaka, PhD, affiliated with the Department of Human Genetics and the Rosalind & Morris Goodman Cancer Institute, Keerthana works on the fallopian tube and its connection to ovarian cancer.   
Beyond her research, Keerthana is currently a Co-lead and Digital Literacy Site Coordinator for Let's Talk Science at McGill University (LTS-McGill), an interdepartmental, cross-campus McGill chapter of Let's Talk Science, a national science outreach organization that brings hands-on STEAM activities to participants from Pre-K to CÉGEP and the public. During her four-year tenure, she has created numerous accessible, multidisciplinary, hands-on activities and expanded the site volunteer pool by engaging McGill students with expertise across disciplines and departments to share their research and interests with youth.  
One example of her work is her contributions to promoting digital literacy from a young age by engaging volunteers with expertise in mathematics and coding to bring virtual coding clubs to elementary school students from local school boards and homeschooled students across Québec. Under her leadership, the site reached more than 20,000 participants annually for the last two years and is on track to reach this again. This stabilized increase in youth reach and focus on equitable and accessible outreach activity development contributed to securing a federal NSERC PromoScience grant that she co-wrote, which brought $73,500 in funding for LTS-McGill. Additionally, Keerthana is a founding member of both the LTS National EDIA committee and the McGill Faculty of Medicine and Health Sciences EDIA Committee (SAFE committee). Through these committees, she continues to contribute to developing and providing equitable programs & resources and building an inclusive environment locally both at the university level and nationally. 
"It is an honour to have my work with Let's Talk Science and the SAFE committee recognized by the Scarlet Key Society," says Keerthana. "I am excited to join a long line of Scarlet Key inductees that have contributed to McGill and the community!" 
Nehal Islam 
Having completed his MSc in Epidemiology at McGill, Nehal is a current medical student and an emerging leader in public health and global surgery. He has made significant contributions to the field, co-founding WeCanVax, a community-based campaign to promote vaccine uptake in diverse communities of Montreal. His ongoing projects concerning burns and reconstructive surgery, medical education and health promotion exemplify his commitment to helping those in need and his tireless work ethic. 
Most recently, Nehal has played a crucial role in obtaining a Canadian Institutes for Health Research operating grant on COVID-19 Vaccine Confidence of $192,320, for which he is a co-investigator. In addition to his medical training, Nehal actively seeks increased training opportunities for medical students to further their interest in surgery and global health.  
Although early in his medical career, Nehal is off to a promising and productive start. Nehal is a good example of perseverance and dedication. 
"I am truly humbled to have been awarded the Scarlet Key for Leadership," says Nehal. "I am grateful to have used the skills I've developed in the Faculty of Medicine and Health Sciences for healthcare advocacy and increasing training opportunities for students interested in surgery." 
 Owen Dan Luo  
Owen is a medical student innovator at McGill who responds to the needs he observes in his community to advance climate action and social justice. While taking part in patient care in hospitals and clinics around Montreal, Owen witnessed the health impacts of climate change on Canadians, and its disproportionate effects on structurally marginalized groups. This drove him to design planetary health medical education competencies to prepare Canadian physicians to practice in a climate crisis, in his role as Co-Chair of the Canadian Federation of Medical Students Health and Environment Adaptive Response Taskforce (CFMS HEART). He also aims to empower medical students to launch healthcare sustainability quality improvement projects across Canada as the founder and Co-Director of Project Green Healthcare/Projet Vert la Santé.  
Owen also designed a social entrepreneurship curriculum to upscale health promotion initiatives co-created by McGill students and community organizations for structurally marginalized Montreal communities as the Curriculum and Cohort Director of the Community Health and Social Medicine Incubator (CHASM). Lastly, Owen founded Swab The World McGill to increase the ethnic diversity of stem cell donor registries worldwide to improve health outcomes for Black, Indigenous and People of Colour in need of stem cell transplants. Owen is excited to continue advocating for climate action and social justice as an internal medicine resident physician at McGill University next year. 
"I am humbled to have been selected to receive a Scarlet Key Award this year," says Owen. "I dedicate this award to all of my incredible mentors, colleagues and community partners that have made our work possible. This honour propels me to continue championing climate action and social justice by advocating for climate change adaptation and mitigation efforts and co-creating with structurally marginalized patients and communities throughout my career as a physician." 
Jillian Schneidman  
After being dissatisfied with the sexual health curriculum in her McGill medical class, Jillian took matters into her own hands and founded Sex[M]ed, an award-winning Canadian non-profit that provides comprehensive sexual health education to healthcare practitioners and students.  
Since launching two years ago, Sex[M]ed has had massive success – publishing 60+ sexual health articles on their website, garnering  approximately 8,000 signatures on a petition calling for the standardization of 2SLGBTQIA+ health in medical education, and conducting numerous research projects with established organizations like McGill University and the Sex Information & Education Council of Canada. Sex[M]ed won McGill's Principal's Prize for Public Engagement through Media for Groups – read more about the prize here.
Jillian currently represents Sex[M]ed on the National Advisory Board for CanMEDS 2025, the physician framework that defines the necessary competencies required for Canadian medical practice. Jillian has also been involved in numerous research projects during her studies which have largely focused on improving health care for queer patients. This includes her current research role within Clinique Mauve, the first-ever health and social service clinic in Quebec designed specifically for LGBTQ+ migrants. 
"I feel truly honoured to be selected for the Scarlet Key Award," says Jillian. "It means a lot to me that my hard work and passion to advocate for a better healthcare system is being recognized by McGill, especially as I work to try and improve its current healthcare curriculum. I am excited to be a part of the Scarlet Key community and learn from others who are doing incredible work. I am looking forward to continue making a difference at McGill and beyond." 
Amrita Sandhu
Amrita Sandhu, second year Master's student in the Department of Family Medicine, has been honoured with a 2023 Scarlet Key Award which is given to McGill University student leaders who go above and beyond what is expected of them.
Amrita Sandhu currently serves as Chair of the Board of Directors of Sex and Self, a non-profit focused on improving sexual and reproductive health education in Canada. Amrita's passion for education extends to her work as a graduate student in the Family Medicine Department, where she researches the integration of patient-centered care practices into continuing medical education at McGill. An advocate for women's health and EDI in medicine, Amrita also works in AI research to improve female-centered healthcare for women at risk of cardiovascular disease. Her dedication towards the production of Sex and Self's two-part seminar series, Facing the Facts, allowed over 100 McGill students to learn about the need to advocate for change in the field of Medicine to promote a more diverse healthcare system.
In addition, Amrita will be submitting her MSc thesis next month which is titled 'Decisional Stakes and Patient-Provider Incongruency during Shared Decision Making: A Family Medicine Resident Perspective'.
Congratulations to all!