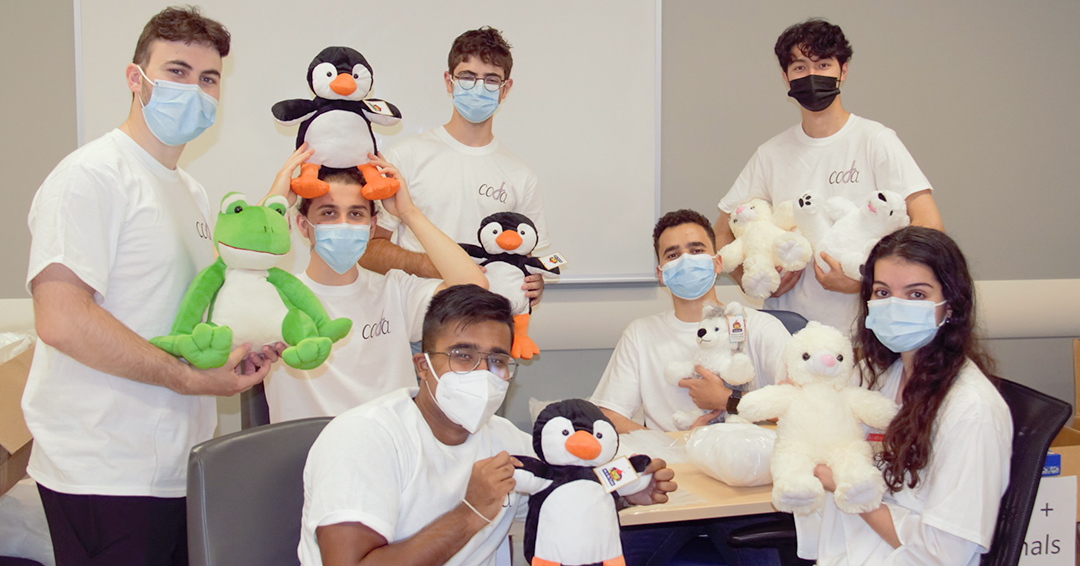 Supported by Coda, a student-led fundraising initiative, and organized by the Montreal Children's Hospital, the initiative  prepared 180 care kits for courageous young patients in hospital.
A team of medical students have rallyed the McGill community and beyond to buy over 100 plushies for the courageous patients of the Montreal Children's Hospital (MCH). Coda, a student-led fundraising initiative, invited supporters to purchase a plushie of their choice, which will then be included in 180 care kits for kids receiving hospital treatment.
Along with bringing a smile to the faces of these little heroes, supporters also got the chance to name their chosen teddy bear, frog, sheep, monkey or puppy plushie.
Coda currently counts more than 100 students from 12 academic institutions in Quebec and Ontario among its members. Since its inception, it has raised thousands of dollars in support of the Canadian Cancer Society and the Quebec Cancer Foundation. Around 40 student volunteers are set to prepare the kits at the McGill University Health Centre (MUHC) on Saturday, July 15. The kits will then be distributed to hospitalized children at the MCH on July 25 during the Teddy Bear Clinic.
Teddy Bear clinics, organized by the MCH's Child Life Services annually, aim to help familiarize  children of all ages with the hospital environment, medical procedures and tests in order to minimize stress and anxiety and maximize coping. The children will be invited to bring their new plushies, donated by Coda, to stations around the Teddy Bear clinic set up in the P.K. Subban atrium, where they can learn from Certified Child Life specialists about various procedures and interventions through medical play.
The kits will also include a certificate with their plushie's name, colouring books, stickers and markers.
"As a fundraising initiative, our collaboration with the MUHC and the Montreal Children's Hospital is an opportunity for us to have a direct impact in the community," says Wassim Elmasry, an MDCM Class of 2025 student at McGill's Campus Outaouais and Communications Director of Coda. "With a project like this, we not only witness the transformative power of our donors' contributions, but we also observe the profound impact our dedicated volunteers have in making a difference in the lives of these patients, leaving an indelible mark of compassion and care."
Ghina Faucher-Jabado, also an MDCM Class of 2025 student at Campus Outaouais and Administrative Director of Coda, notes: "This is an amazing opportunity for us to have an impact on the children and their stay in hospital. As medical students, it's fantastic because we usually look after their care but not their social life within the hospital."
"I was a kid who received a kit in hospital. I still have the plushie, I had stuffed it and put a little heart in it, and I have kept it all these years," she adds. "So, I hope the children have the same experience that I did."
Social media tags: 
Related: Specialty: Teddy bears