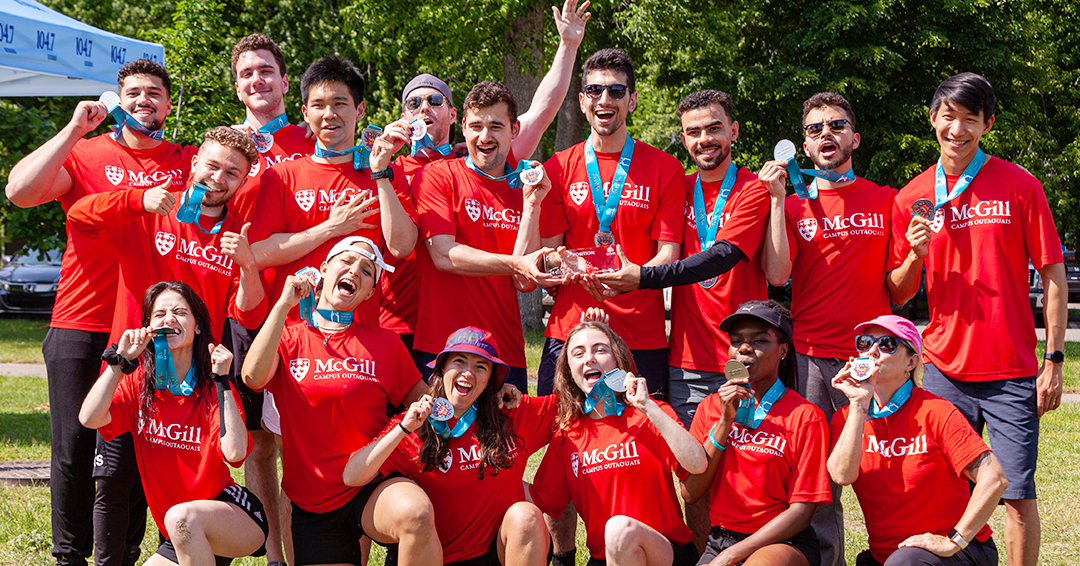 16 students reach third place in friendly competition, organized to raise funds for the Quebec Cancer Foundation in Outaouais  
On June 10, 2023, Campus Outaouais students raced to third place in an action-packed dragon boat race on Leamy Lake. However, their biggest victory was raising more than $4,000 in aid of cancer support in their community.  
The friendly race was the first event held as part of FestiVie, a new initiative of the Quebec Cancer Foundation in Outaouais. FestiVie, which counts Campus Outaouais as one of its local partners, aims to unite people and build an engaged community that supports people affected by cancer.  
Also present were Médecins pour le coeur Campus Outaouais (MedCCO), a student club at Campus Outaouais who provided free CPR training to over 50 attendees.  
The $4,299 raised by the dragon boat team surpassed their target of $3,400 and will support over 18 services and programs offered by the Quebec Cancer Foundation to people living with cancer and their loved ones.  
"For me, the dragon boat symbolizes collective strength and the power of collaboration," says Franco D'Anna, a Class of 2025 medical student at Campus Outaouais and dragon boat team member. "Transforming a simple boat into a mighty dragon represents the capacity of overcoming obstacles together, just as people affected by cancer do on their journeys." 
Addressing the participating students before the race, Danyèle Lacombe, MD, Vice-Dean and Director, Campus Outaouais, said: "I'd like to extend my warmest congratulations to you today for your generous involvement in Festivie, an initiative of the Quebec Cancer Foundation in Outaouais." 
"Every stroke of your paddle represents a gesture of support for families affected by cancer. Your involvement in the dragon boat race is a testament to your sincere desire to contribute to health promotion and your commitment to the community," she added. "I am proud of your team spirit, which has represented Campus Outaouais so well. Again, bravo!" 
A story of partnership and community engagement 
The race is the latest show of support from Campus Outaouais students for the Quebec Cancer Foundation. In 2022, the Foundation became a partner of the Community Health Alliance Project (CHAP) at Campus Outaouais, an MDCM credit course in which students complete a 21-hour placement in a community organization. 
Many of the dragon boat team members also hold leadership positions in Coda, a medical student-led cancer fundraising initiative with branches in 12 academic institutions and over 100 student members across Quebec. Coda Chief Executive Officer and Co-Founder Omar Toubar, a Class of 2025 medical student at Campus Outaouais and the dragon boat team captain, completed his CHAP placement with the Foundation last year.  
"We were able to interact with vulnerable cancer patients in a stress-free environment, which allowed us to get a new perspective on the disease and how it affects patients and their families," he recalls. 
"Running a cancer fundraising initiative, it was important for us to remember what we do really matters, and the short- and long-term implications on the lives of cancer patients." 
Close links with the Foundation's work in the community 
Steeve Michaud, Director, Outaouais Regional Centre and Lodge, Quebec Cancer Foundation, says the Foundation and Campus Outaouais have a "shared vision: to communicate, to teach, to be present for the community and make life shine in all its beauty." 
"For us, having the opportunity to forge links with the cohorts of students, allowing them to learn and develop while bringing a psychosocial training lens into the field of working with cancer patients is, in my view, a supportive and inclusive element that is essential to the development of future doctors, and one in which I take great pride and commitment," he adds. 
Click on any photo below to launch a slideshow. (Photos by Julie Morel)  
Related: