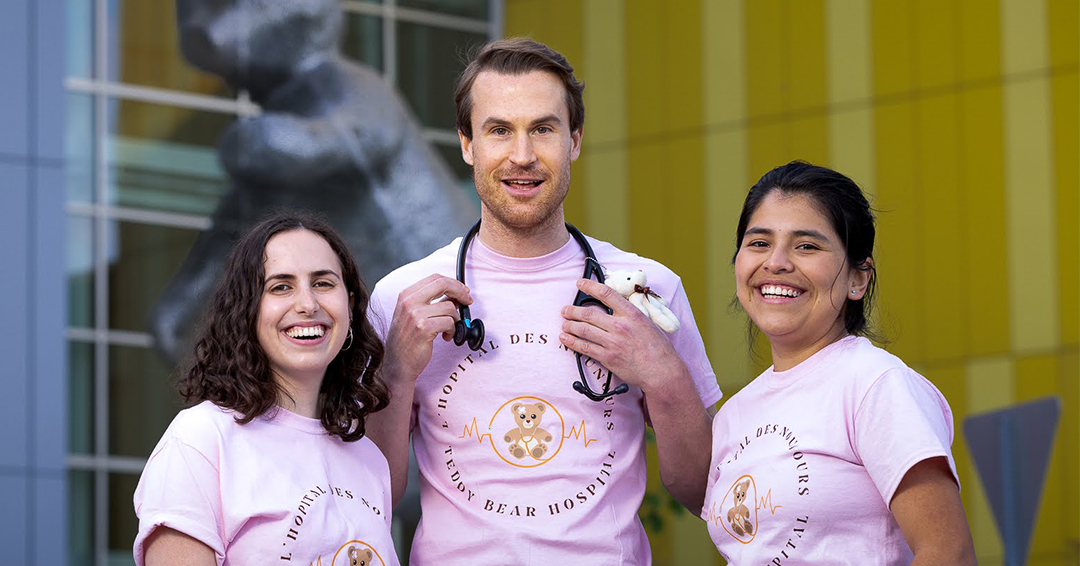 A group of McGill medical students is creating the first "Teddy Bear Hospital" in Montreal to help kids overcome their anxiety about medical encounters.  
X-rays don't lie. Kangoo has a broken arm. But Kangoo is lucky, because he can now go to the Teddy Bear Hospital where all teddy bears are treated for free—no health insurance required!  
"I discovered the Teddy Bear Hospital concept through a friend studying medicine at Université Laval. She had attended the first event of its kind in Quebec in 2019," says Alejandra Martinez, co-president of the Teddy Bear Hospital Club led by McGill medical students. 
The Teddy Bear Hospital project is the brainchild of the International Federation of Medical Students' Associations (IFMSA). The moment she was admitted to the School of Medicine in 2019, Martinez knew she wanted to participate in this initiative by starting a club in Montreal.   
 "The goal is to get children to overcome their fear of hospitals and anxiety about illness," says Bertrand Leduc, the initiative's co-president, who wanted to get this project started at McGill University. He is also finishing his third year in the MDCM program and plans on specializing in pediatrics.
At press time, the McGill Student Teddy Bear Hospital is preparing to officially open its doors at École Saint-Gabriel in Montreal's Pointe-St-Charles neighbourhood on June 3, when it will welcome some 100 stuffed animals and their "parents," aged 4 to 7.  
"I don't want to miss it," says Dr. Mylène Dandavino (BSc'99, MSc'02, MDCM'99, PGME'04), a general pediatrician at the Montreal Children's Hospital and associate professor at McGill University who acts as the supervisor for the group. "This is the sort of project that reminds us why we went into medicine in the first place." 
Because of the pandemic, this first Teddy Bear Hospital event, originally scheduled to take place in 2020, is happening two years later. "It's not a bad thing, it gave us more time to really prepare," says Dr. LiAnna Carusone (MDCM'22), the club's executive vice president, who is starting her specialty in pediatrics. 
Telling a story 
The students worked for more than three years developing a concept that would be both entertaining and educational. The result was inspired by their experience working with the IFMSA. They also added some of their own ideas, along with a good dose of fantasy.  
When children arrive at the Saint-Gabriel school gymnasium, which has been converted into a "hospital," they are given a map of eight stations to visit (Triage, Medical Imaging, Surgery, Pharmacy, Physiotherapy, Occupational Therapy, Healthy Living, and a Rest Area). They can mark each station with a sticker after they visit it. On the front of the document, they can fill in their teddy bear's medical information—at Triage, children listen to heart beats, check vital signs, weigh their "patients" and examine their ears. "This is the most familiar step, the one that almost all children will have experienced," says LiAnna Carusone.  
After Triage, the children move on to Medical Imaging. Here, Teddy gets an X-ray to see what's wrong—it's usually a broken arm, which obviously needs to be fixed. At Surgery, kids get to operate on a large teddy bear with a zipper, and then using Velcro, stick the bear's cloth organs onto a poster that identifies them. 
At the Pharmacy, children have to choose different ingredients to mix Teddy's "medicine." "Many stations have one or more messages," explains Alejandra Martinez. In the pharmacy it's, "Don't take medicine that's not for you." In physical and occupational therapy, where they learn about neurodiversity and see different devices, such as orthotics, the message is, "Anyone can be your friend even if they are having trouble walking."  
The Healthy Living station is an opportunity to teach kids safety and nutrition lessons, such as put on a life jacket when you are on water, wear a helmet on your bike, and apply sunscreen when you're in the sun. "The way to get this across is to say, 'When Teddy is in this situation, what do you do?'" explains Leduc.  
The little ones then go to the Rest station where they watch videos about health. All medical faculties in Quebec have their own Teddy Bear Hospital project and are collaborating to produce audiovisual material. The McGill students' video deals specifically with attention deficit and hyperactivity disorders. 
It took a lot of video conferences and emails—all carried out in the middle of a pandemic—to put the concept together, prepare the script, get Faculty approval and collect sponsorships (furniture from IKEA) and medical supplies (mostly surgical gloves and hats).  
The students also had to make "instruments" and create the set for the hospital. This included building a "fun" X-ray machine, drawing and laminating X-ray images, finding pharmacy bottles and filling them with multicoloured glitter and powders, making organs out of fabric for the teddy bear in surgery, building a welcome arch with balloons, and making an entrance sign.  
"That part of the project was really fun," says Martinez, who adds that it felt a bit like she was returning to childhood. "Getting together to make the elements of each station got us all doing arts and crafts again."  
Out of a concern for pedagogy, the students went to great lengths to make sure that the concepts they were explaining would be easy to understand. "In addition to checking our script, Dr. Dandavino, suggested some changes in terminology so that we could avoid using complicated concepts like 'bacteria' or 'appendicitis,'" explains Martinez. 
A promising project 
At École Saint-Gabriel, there will be 25 volunteers, but the organizing committee is not going to great lengths to publicize their first event.  
"We want to give ourselves some time to master the concept," explains Leduc, who with Martinez will be part of a travelling team that will sort out glitches. "We are looking at several school projects for next year. This summer, the Teddy Bear Hospital will open at a day camp in Montreal North," says Martinez, who is already dreaming of more activities for the Montreal Children's Hospital and possibly in clinics as well.  
Although the club was founded by medical students, many of the participants in the Teddy Bear Hospital hail from other related disciplines such as nutrition, physiotherapy and occupational therapy. Nursing students will be at the triage station, where they will vaccinate the stuffed animals. "We wanted to really represent the variety of activities in a hospital and make it a collaborative project," says Carusone. 
Impressed by the students' level of organization, Dandavino is now considering how to integrate an original research project into the initiative. "The students have put together a preparation package that allows children to indicate their level of anxiety before the exercise. It remains to be seen, but there might be something to do with this. It would be great if the students could use the project to add further research experience to their academic record."