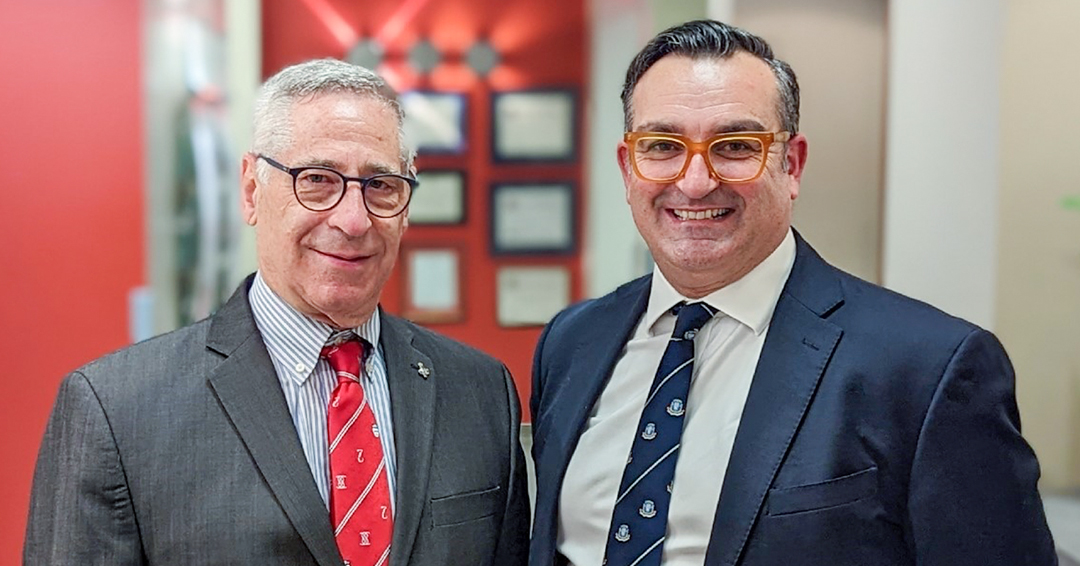 Robert O'Brien, EdD, MEd, is interested in the professional identity of clinicians and the impact this has on a culture of safety. As the current Executive Director of Education and Research at the Australian and New Zealand College of Anaesthetists and the previous Chair of the Australian Society for Simulation in Healthcare, he has worked extensively in medical education and simulation development, leading projects that use simulation to teach clinical and non-clinical skills with the goal of optimizing patient care and reducing medical errors.  
Professor O'Brien shared his insights and knowledge with the McGill community during his recent visit as the 1975 Class of Medicine Visiting Professor in Simulation and Patient Safety. He met with members of the Institute of Health Sciences Education to discuss how to improve patient safety through human factors education, and visited the Steinberg Centre for Simulation and Interactive Learning (SCSIL) to explore ideas with the team and tour McGill's cutting-edge medical simulation facilities. 
Dr. Gerald Fried, Associate Dean of Education Technology and Innovation at the Faculty of Medicine and Health Sciences (FMHS) and Director of the SCSIL, invited Professor O'Brien to present at the McGill Anesthesia & Surgical Grand Rounds to shed light on the clinical decision-making process and the importance of understanding each other's thought processes.   
"In addition to his rich background in simulation, research, critical care, education and behavioural psychology, Professor O'Brien has also worked with the Australian Football League as an educator and as a coaching consultant, and is very interested in understanding what the aspirations are for people to achieve elite performance status. I think this is very relevant to us as we talk about competency-based education—the concept that we want to go beyond competent and truly aspire to greatness," said Dr. Fried, who extended a warm welcome to Professor O'Brien. 
Understanding the decision-making process 
With a background in behavioural psychology, Professor O'Brien has always been interested in looking at what people do and why they do it, thinking about what may have led to something occurring and trying to make people aware of those triggers. During his presentation, he talked about different rational and intuitive decision-making styles that clinicians might use when approaching a problem.  He also discussed the cognitive continuum theory and noted how the relationship between the time available and the risk involved in a procedure can impact our decision-making process. 
"Clinicians are often not aware of how many decisions they make. On average, they make a decision every 40 seconds over a period of 30-40 minutes during a clinical process," noted Professor O'Brien, citing research by Alfred Hospital in Melbourne.   
He explained that it can be challenging for surgeons to speak when managing a crisis because the part of the brain that would allow you to speak actually shuts down to free up cognitive space in order to allow you to focus on what you need to do.  
"In a crisis, we often feel a matter of urgency and a need to fix things quickly to gain control of the situation. We tend to do things quickly, which can sometimes lead to mistakes. Try to slow down your thought process and actions; you will save time in the long run and end up with a better outcome. It's difficult, which is why being immersed in high stress simulation practice can help prepare you, allowing you to gain more physiological control, which will enable you to slow your thinking process," he explained. 
Creating a shared mental model 
Professor O'Brien emphasized the importance of creating an open and psychologically safe environment for sharing decisions: "An operating theater is busy—there's lots happening, lots of people, lots of decisions being made. It's important to create a shared mental model. What are you trying to achieve? What is the common goal? What is the understanding? To do this, you need to share your decision-making processes. Talk out loud about how you're doing something, why you're doing it, and how it's progressing. Think about what the impact might be. Surgery is broken down into sections. It's important to talk about what you've done and what you're planning to do in each section. Two-way conversation is essential. Everyone needs to know the plan."   
He also highlighted the importance of understanding the cultural background of the people you're working with, as this may have a bearing on how people communicate and interact. "Voicing and explaining your decision-making processes is really important because it offers the opportunity to try and minimize bias and avoid misunderstandings," he notes. "Share your expectations so everyone in the room knows what you are trying to achieve."   
"Professor O'Brien sowed the seeds for us to rethink the way we practice, and for all of us to set an example by sharing the way we make our decisions with the people around us, to communicate and to show respect to people across disciplines," said Dr. Fried, who expressed his gratitude to the Class of 1975 for supporting this visiting professorship.  
This lecture was recorded and is available to view online.