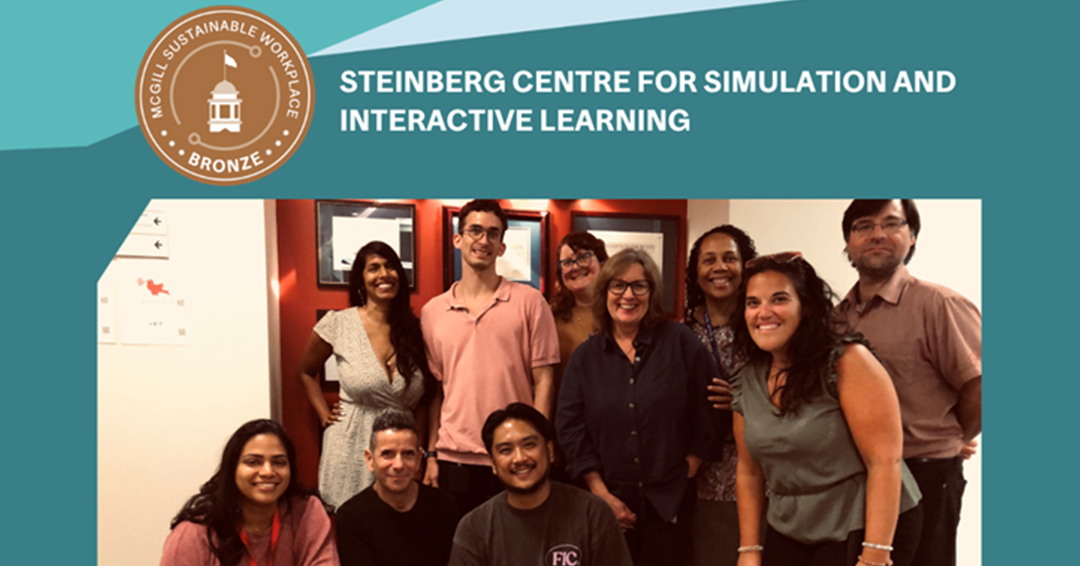 Nine offices kicked off the new semester with a commitment to sustainability. Their efforts were rewarded by earning Sustainable Workplace Certification. For these teams, it was everyday actions that made the biggest difference on the road to a more sustainable workplace.
Bensadoun School of Retail Management – Silver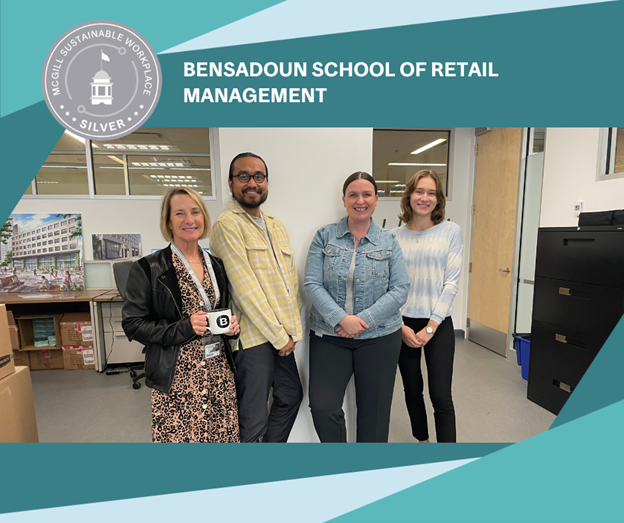 Number of team members: 8
At the Desautels Faculty of Management, a friendly competition has led all departments to achieve sustainability certification.
"We ensure that sustainability standards are maintained in the day-to-day actions of the office," said Sustainability Ambassador Laura Hope.
The Bensadoun School of Retail Management adopted sustainable practices, including mandatory use of reusable mugs, recycling coffee pods in collaboration with the company, communal use of recycled office supplies, and utilization of Microsoft Teams for meetings to reduce business travel.
They also digitized communications for the recent Annual Retail Conference and plan to prioritize sustainability pillars in future events, emphasizing sourcing from local small companies and prioritizing products made from sustainable materials.
IT Customer Services Team – Silver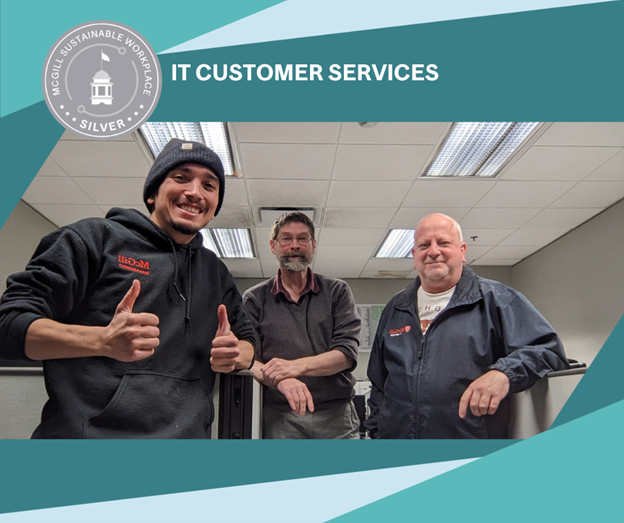 Number of team members: 3
The IT customer services trio found inspiration to become certified in neighboring units.
"It was mostly small things. Our work habits have not changed drastically in implementing sustainable actions," said Sustainability Ambassador Alexander Abruzzese-Goyette.
Their newly implemented actions include, turning off lights and A/V systems, deactivating light motion sensors post-workday, acquiring a water kettle and filter coffee machine to replace single-use machines, and subscribing to the Office of Sustainability newsletter for enhanced information.
They also handle the waste management collection, pickup, and disposal of IT assets for the entire Desautels Faculty of Management and aid Enrolment Services, TLS, and SAA offices.
Post-Graduate Students' Society – Silver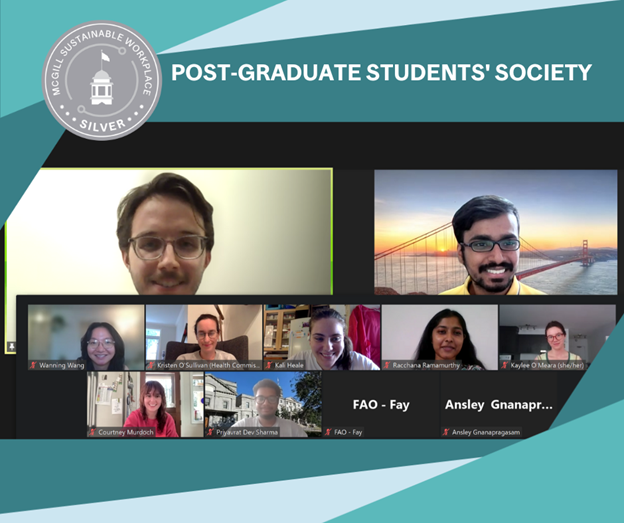 Number of team members: 15
Members at the Post-Graduate Students' Society (PGSS) reaffirmed their commitment to sustainability by recertifying after two years.
The team introduced a battery waste disposal system and opted for EPA-certified cleaning products.  These actions enhanced the sustainability of their communal space, Thomson House.
"A large part of our workplace is promoting environmentalism and sustainability. Certification ensures that we keep aware of best practices to promote a sustainable work environment," said Sustainability Ambassador Charlotte.
They aim to inspire and promote additional sustainable initiatives for the upcoming school year like their past "Eco-anxiety Workshop," which was funded by the Sustainability Projects Fund.
Building & Infrastructure Management – Bronze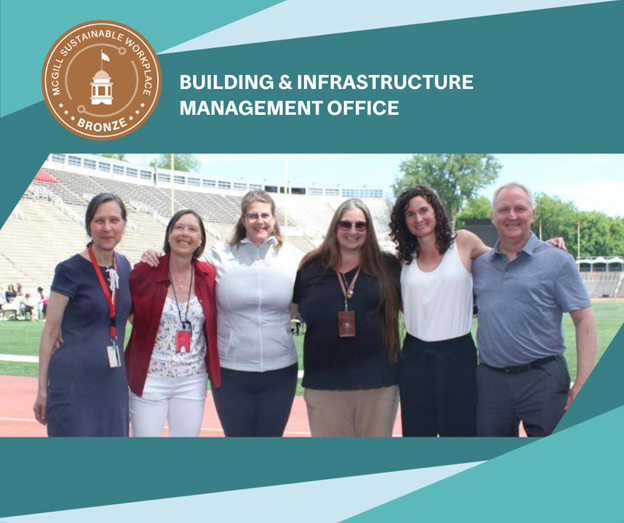 Number of team members: 6
The Building and Infrastructure Management Office, versed in energy and waste practices, strives to adhere to optimal sustainable practices. They prioritize minimal supply purchases, consolidate orders, and opt for local and recycled materials where possible. They also participate in McGill's internal reuse initiatives by offering used furniture or appliances to other units. Additionally, they advocate for their clients to utilize similar services, facilitating the reuse recycling of filing cabinets, lamps, desks, or other similar items.
"We look forward to expanding our efforts with silver certification. We feel inspired to do more!" said Sustainability Ambassador Naomi Allsop. This marks the beginning of their sustainability journey.
Faculty of Law Research Office – Bronze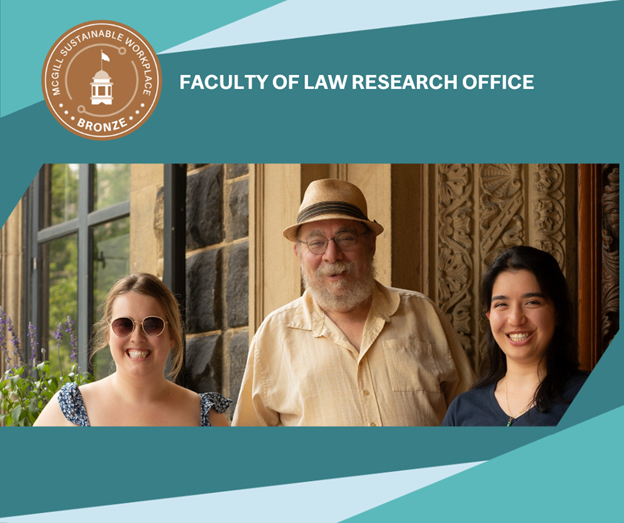 Number of team members: 3
The Faculty of Law Research Office's achieved their main sustainability goals: reduce their carbon footprint and promote a more sustainable work environment.
"We learned that sustainability means building community. We are strongly committed to wellness and are attentive to treating ourselves and each other well," said Sustainability Ambassador Jenni Scissons.
They are presently completing the full digitization of their records and encouraging paperless practices.  Their advocacy efforts have led to the expansion of the compost program at the Faculty of Law and the approval of a staff-run Plate Club, currently in the pilot phase.
McGill Library (Digital Initiatives) – Bronze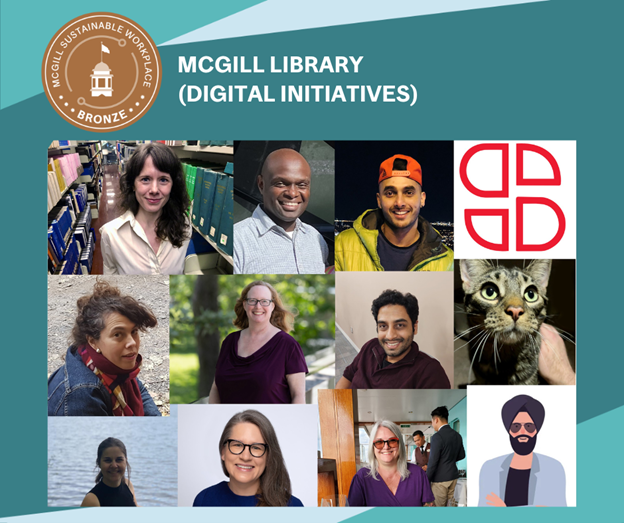 Number of team members: 12
The Digital Initiatives library embraced the sustainability challenge. Team members recognized the certification as an opportunity to strengthen team bonds.
"We've taken stepping away from our desks and computers for lunch and connecting to heart," said Sustainability Ambassador Clara Turp.
The team is dedicated to both practicing and advocating the correct disposal of everyday materials and effectively managing food-related waste.
Nahum Gelber Library team – Bronze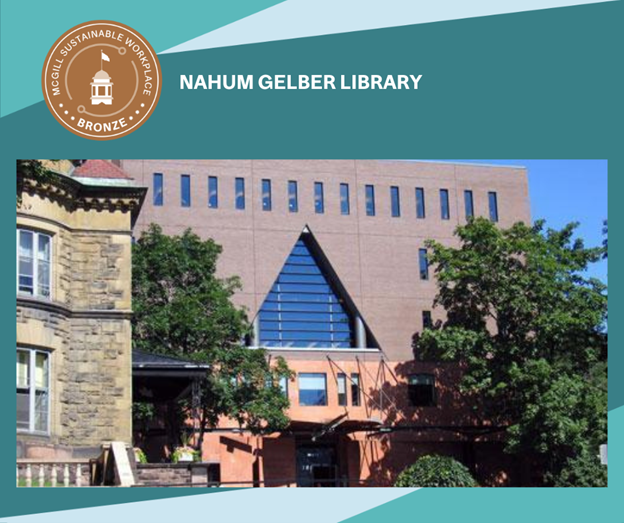 Number of team members: 8
"The certification has had a minimal impact on our actions, but has given us the visual, verbal, and electronic structures to remain honest," said Sustainability Ambassador Ana Rogers-Butterworth.
The Nahum Gelber Library has implemented a structure to encourage sustainability around the office.
They devised a sustainability poster outlining best practices for printing, recycling, composting, and energy-saving on electronics. Additionally, they initiated a bi-monthly anonymous sustainability quiz for staff members.
Steinberg Centre for Simulation and Interactive Learning – Bronze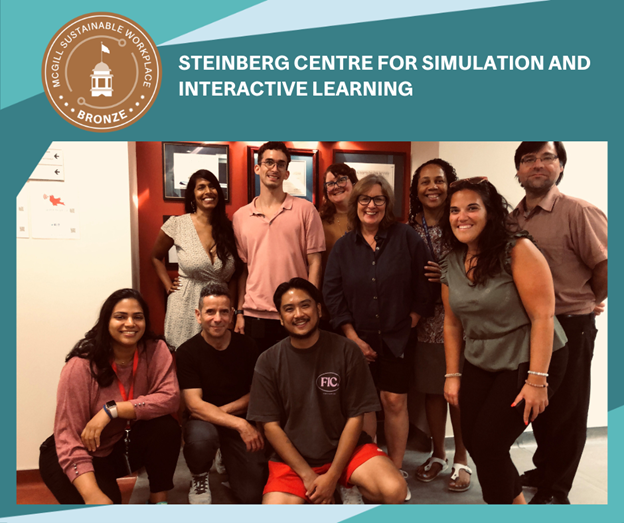 Number of team members: 12
Members of the Steinberg Centre incorporated sustainability into everyday life.  They encouraged the use of sustainable dishware as part of their efforts.
Despite the size of the changes, the impact on the team's values is remarkable.  "We have a greater awareness of our own practices and their impact on the environment and others," said sustainability Ambassador Kim Naraine.
To reduce plastic waste, they installed a water fountain. The team reduced their pen purchases by 75 per cent and will look for refillable options in the future. An infographic detailing recycling protocols is now displayed at the Centre. They are transitioning course evaluation forms to an online format with QR codes, significantly reducing paper consumption.
Student Services (Communications) and Campus Life & Engagement – Bronze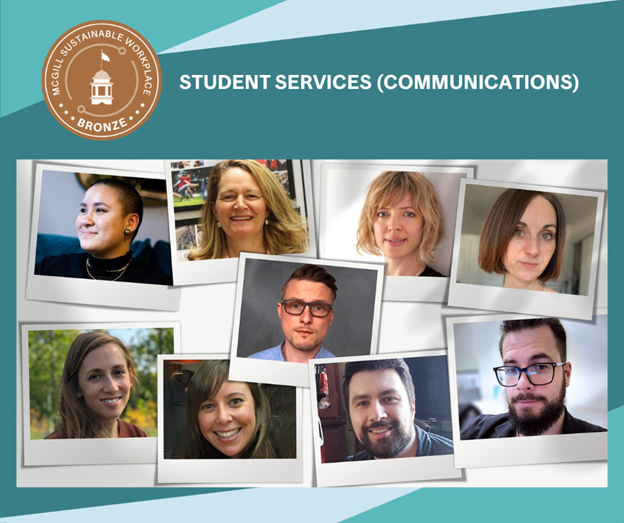 Number of team members: 9 (Student Services), 15 (Campus Life and Engagement)
Some inter-team collaboration made this certification possible. Student Services (Communications) and Campus Life and Engagement worked together on their certification.
"As we are two teams working within the same space, we have been brought together in a shared understanding of our sustainability goals," said Sustainability Ambassador Jess Giles.
The team terminated their water cooler contract and usage of single use plastic bottles and opted for the installation of a faucet Brita Filter to reduce plastic waste.  Additionally, they added a compost bin and are planning on using their compost for their plants in the future.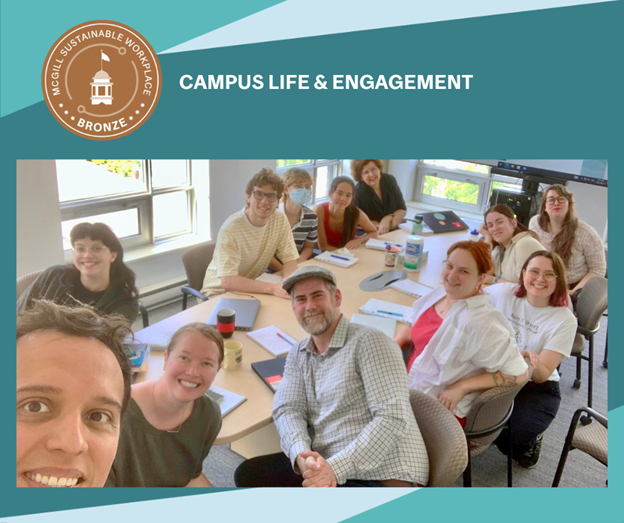 In the past they hosted events that promoted reusing articles instead of disposing of them (Trash to treasure and flip clothing).  They plan to hold similar events in the future.
To learn more about the Sustainable Workplace Certification and how your workplace can start its sustainability journey at McGill, visit the Office of Sustainability's Website.