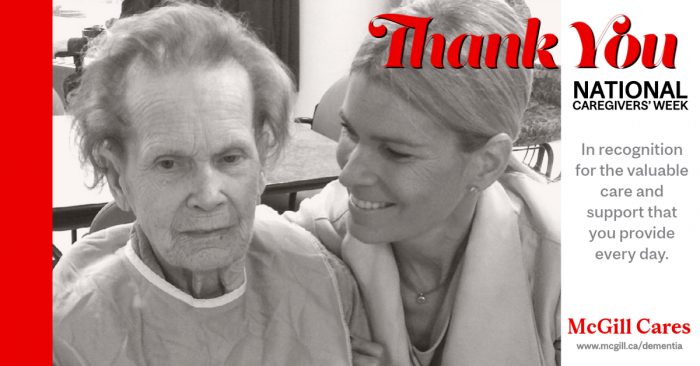 Source: Steinberg Centre for Simulation and Interactive Learning
National Caregivers' Week is celebrated in Quebec from November 1 to 7, 2020 to acknowledge the precious time and support that caregivers devote towards ensuring the well-being of those they care for, each and every day.


The McGill Dementia Education Program (DEP) is committed to addressing the needs of persons living with dementia and the caregivers and professionals who support them. By bringing together cutting-edge teaching and learning techniques, and leveraging McGill's wide-ranging research and clinical expertise and community partnerships, they are building programs to support the thousands of Quebecers who live with dementia and their caregivers.

Dr. José Morais, Academic Lead of the McGill Dementia Education Program and Director of the Division of Geriatric Medicine at McGill University, expresses his gratitude:  "Caregivers are indispensable people who assist in the care of their loved ones, sometimes to the detriment of their own health. Such dedication needs to be underscored and recognized.  My thanks go to all caregivers who do such a remarkable job!"

With the current in-person caregiver support workshops on hold, the team developed virtual tools to support the caregiver community during the COVID-19 pandemic.  Since May 2020, the DEP has hosted over 25 free McGill Cares weekly webcasts with leading experts to address a variety topics related to caring for a loved one with dementia. In September, they hosted a free online jazz concert with McGill students, The Gift of Song, to provide an hour of uplifting music.  And to help keep caregivers and their loved ones occupied with meaningful activities, the DEP worked with students and faculty at the McGill School of Physical and Occupational Therapy to support the launch of a free Dementia Activity Booklet.  This engaging virtual toolkit is available in both French and English and offers over 40 recreational activities, in six different categories, with instructions on how to adapt the activities to the needs of the individual.

"As a former caregiver, I fully appreciate the unrelenting devotion, love and dedication that is required to care for a family member. In recognition of National Caregivers' Week, I would like to acknowledge and salute the dedication of caregivers, especially now during these challenging times when resources and support may be difficult to access," emphasizes Claire Webster, Founder and Ambassador of the McGill University Dementia Education Program.

Learn more about these initiatives at www.mcgill.ca/dementia.
November 5 2020