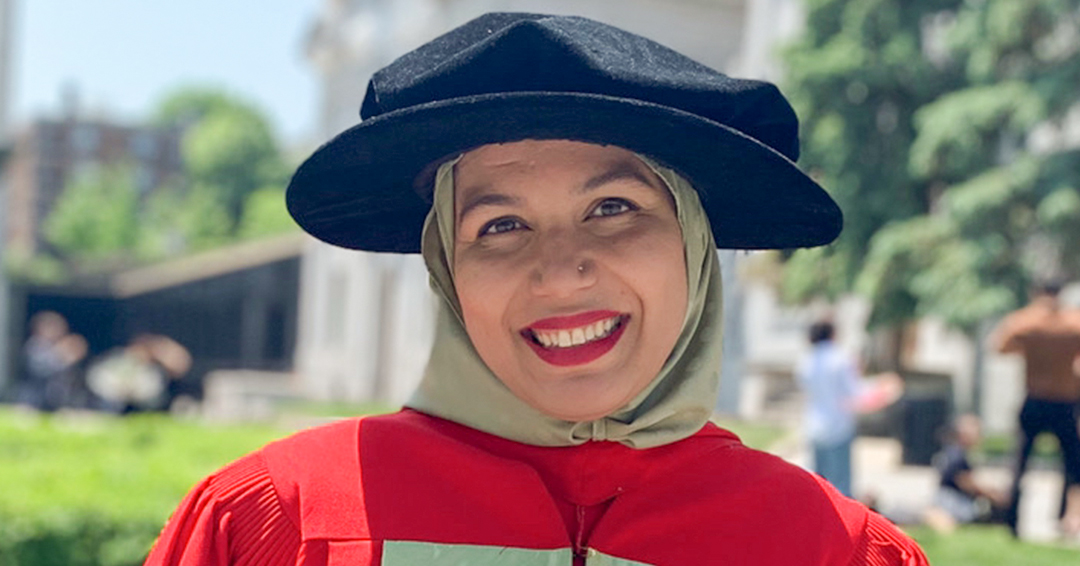 As part of our Spring Convocation 2023 coverage, we asked graduates from our six Schools to share their experiences of completing a degree in McGill's Faculty of Medicine and Health Sciences. Here, we meet Class of 2023 member Sabrina Shameen Alam from the School of Biomedical Sciences. Sabrina completed her PhD in Human Genetics degree. Congratulations Sabrina! 
Name: Sabrina Shameen Alam 
Degree: Doctor of Philosophy in Human Genetics 
Hometown: Chittagong, Bangladesh 
What did you love most about studying at McGill and in the Faculty of Medicine and Health Sciences?  
I loved studying at McGill because of its reputation and academic excellence. I also loved the resources and facilities that were provided by the Faculty of Medicine and Health Sciences. 
What was your thesis topic? 
I tried to shed light on understanding the role of a major splicing factor called SNRPB in embryonic development. Pathogenic mutations in SNRPB cause a rare congenital disorder called Cerebrocostomandibular syndrome. A major part of my thesis has been published in Disease Models and Mechanisms.  https://journals.biologists.com/dmm/article/15/6/dmm049544/275757/Snrpb-is-required-in-murine-neural-crest-cells-for.  
Would you care to share a particularly proud or challenging moment from your degree? 
The most challenging part was pursuing my Ph.D. while managing two children and two other pregnancies and childbirths. My successful accomplishment of the degree with publications, awards and fellowships makes me proud as a mom of four.  
If you could change one thing in the world to make it better, what would you choose?
If I could change one thing, it would be to promote and foster empathy and understanding among all individuals. I think harmony in the societies is a need in the current world to make it a better place.   
Your fave places while studying at McGill? 
My favourite eatery is Pick Thai, which is near the RI-MUHC. To study, I used to go to Benny Library which is situated near my home. It has a quiet and focused environment.  
Any shoutouts ?
My supervisor Loydie A. Jerome Majewska for her unwavering guidance and my friend  Dr. Marie-Claude Beauchamp for her exceptional friendship and support. I am also thankful to my children for their patience and help.  
Top tip for incoming students in your program?  
Starting a new program can be both exciting and overwhelming, and having a support network can greatly enhance your experience and success! 
Anything you'll miss? 
The beautiful McGill Campus and my friends.  
What's next for you?  
It has been six years since I saw my parents and it is now time to go home! But I want to pursue postdoctoral position soon.  
FOR SOCIAL MEDIA: Twitter: @Sabrinasciency
Facebook: https://www.facebook.com/sabrina.alam.18/