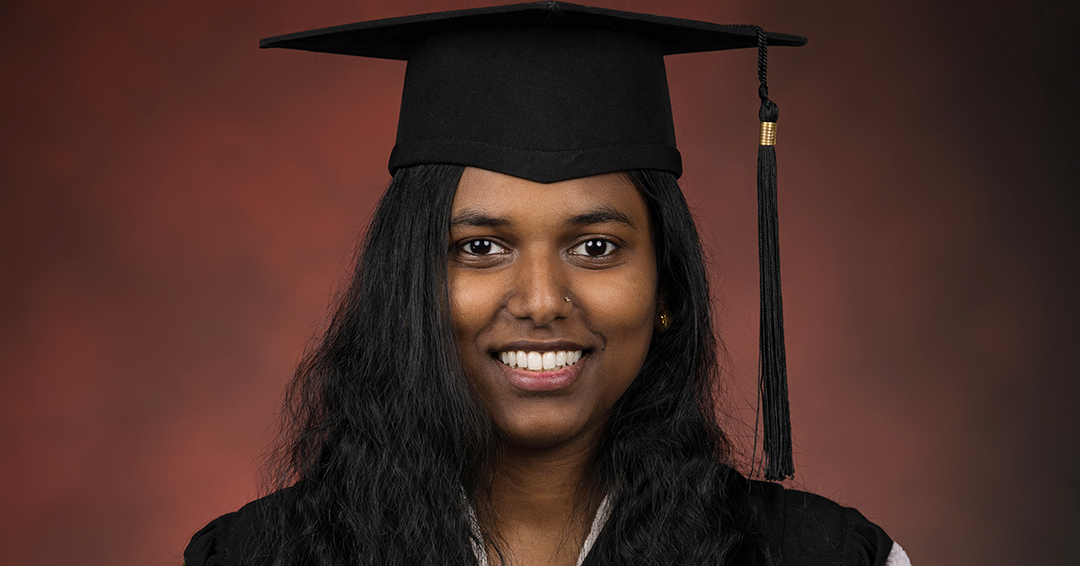 As part of our Spring Convocation 2023 coverage, we asked graduates from our six Schools to share their experiences of completing a degree in McGill's Faculty of Medicine and Health Sciences. Here, we meet Class of 2023 member and Melville Undergraduate Research Bursary in Pharmacology & Therapeutics recipient Atchaya S. Kanagasabai, from the Department of Pharmacology and Therapeutics in the School of Biomedical Sciences. Atchaya completed her BSc in Pharmacology degree. Congratulations Atchaya! 
Name: Atchaya S. Kanagasabai 
Degree: Bachelor of Science in Pharmacology (Honours) 
Hometown: Montreal, Quebec 
What did you love most about studying at McGill and in the Faculty of Medicine and Health Sciences?  
I loved being able to study at a well-known and reputable university while still being in my hometown and with my family. 
What was your honours project about?  
For my honours project, I worked on three rare ataxias: Christianson Syndrome, Autosomal Recessive Spastic Ataxia of Charlevoix-Saguenay (ARSACS), and Spinocerebellar Ataxia 6 (SCA6). Despite being caused by different genetic mutations, these three ataxias share a similar cerebellar Purkinje cell death pattern. My goal was to look at similarities in these ataxias, which could lead to discovering a possible common misregulated pathway. 
What is the societal impact of your research? 
Rare disorders affect less than one in 2,000 people but are remarkably common when taken as a group. For example, according to the Canadian Organization for Rare Disorders, one in 12 Canadians is affected by one. Therefore, by studying these conditions, we can understand the molecular mechanisms of these disorders and find therapeutics to help patients affected. 
How has receiving the Melville Undergraduate Research Bursary in Pharmacology & Therapeutics empowered you to pursue research as an undergrad and in the future? 
Research is something I realized I liked a lot early in my undergraduate studies. Being able to do a summer internship in a research laboratory was an excellent opportunity to learn techniques and experience what a scientist's daily life was like. This award permitted me this experience while relieving me of the financial burden of volunteering a whole summer. I am very grateful to my department for giving me this award. 
Is there a particularly proud or challenging moment from your degree you'd like to share? 
There were many challenging moments in my degree, but I want only to remember the proud ones. My proudest moment was walking across the stage during convocation with my parents sitting in the audience. As a first-generation student, completing my degree is not just my success but my whole family's success. 
A quote that defines the past few years as a student at McGill? 
"Tough times never last, but tough people do." – Robert H. Schuller 
Any shoutouts? 
Shoutout to Chantal Grignon, our undergraduate coordinator, for always having answers to my never-ending questions! I also want to thank my mother, fatherand little sister for supporting me during challenging times! 
Top tip for incoming students in your program?  
Do not be afraid to ask for help! Many resources are available to us, so make use of them! 
What's next for you?  
I am delighted to have been given the opportunity to continue studying rare ataxias as a graduate student at McGill. I am starting graduate studies in Pharmacology and Therapeutics in Dr. Anne McKinney's neuropharmacology laboratory.