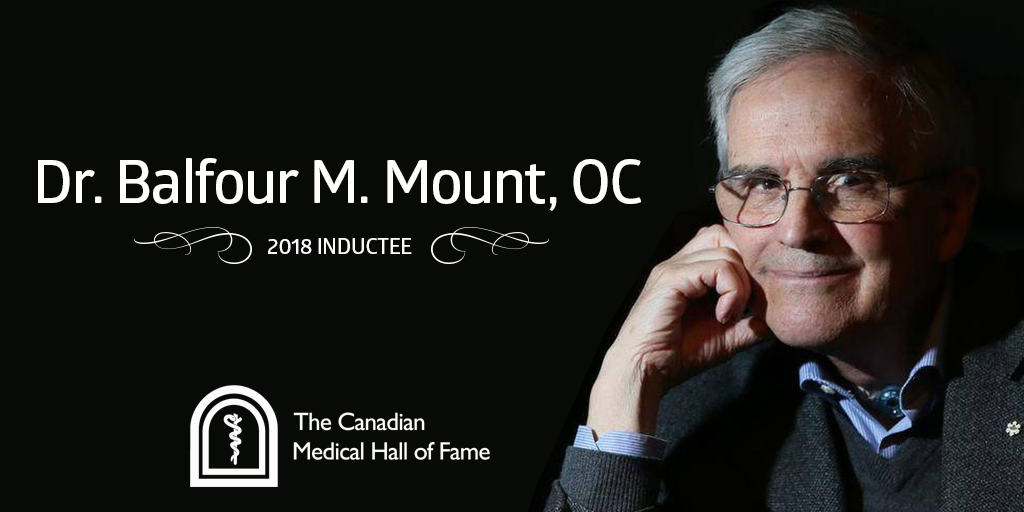 Dr. Balfour Mount, Eric M. Flanders Emeritus Professor of Palliative Care at McGill University was among the six renowned medical pioneers recognized as the 2018 Canadian Medical Hall of Fame Inductees during a special ceremony, hosted in partnership with the Schulich School of Medicine & Dentistry, Western University on Thursday, April 12, 2018.

Other inductees included Dr. Philip B. Berger, Dr. B. Brett Finlay, Dr. Vladimir Hachinski, Dr. Cheryl Rockman-Greenberg and the late Dr. Emily Stowe.

Canadian Medical Hall of Fame (CMHF) Inductees are individuals whose contributions have led to extraordinary improvements in human health. Their work may be a single outstanding contribution or a career of notable achievements. As trailblazers in their respective fields, these experts underpin Canada's role as a world-class leader in medicine and health sciences.

Credited with coining the term "palliative care," Dr. Mount recognized the need for special care to alleviate suffering and enhance dignity for dying patients. Dr. Mount is known for achieving the integration of palliative care as integral to humane health care. Future patients and their families will experience dignity and compassion facing some of their greatest challenges because of his vision.

The Canadian Medical Hall of Fame is proud to welcome these six individuals as honoured members," says Dr. Bryce Taylor, national chair of the CMHF. "Their passion and visionary leadership has improved health in this country, with global impact. Each of these exceptional people has earned their place alongside the current 125 Laureates of the Canadian Medical Hall of Fame."

Congratulations Dr. Mount!

With files from the Canadian Medical Hall of Fame