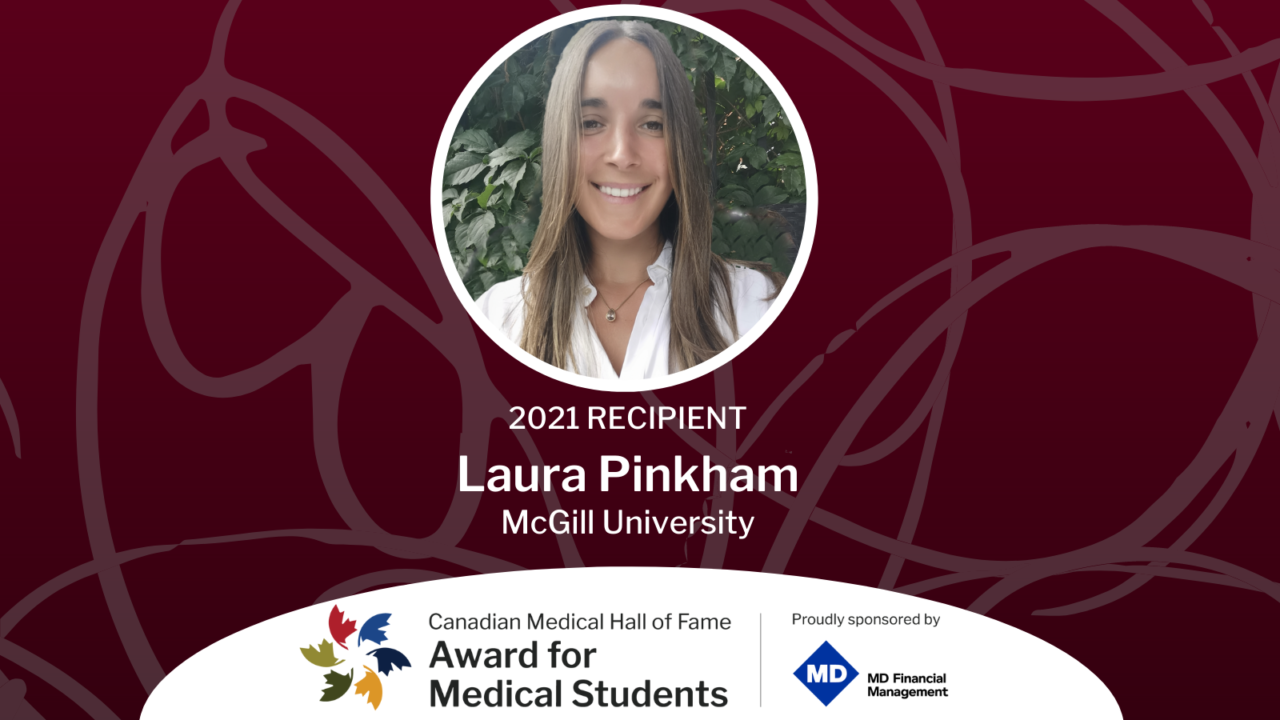 Laura Pinkham, a third-year MDCM student at McGill University's School of Medicine, is among the 17 people selected by the Canadian Medical Hall of Fame to receive their 2021 Awards for Medical Students. This award is bestowed upon a student of medicine who, while in their second year of medical school, demonstrated: leadership through school involvement and/or community-based volunteer projects or extracurricular activities; superior interpersonal and communication skills; and academic excellence with a demonstrated interest in advancing knowledge. Laura is the recipient of the The MD Financial Management McGill University Faculty of Medicine and Health Sciences CANADIAN MEDICAL HALL OF FAME AWARD.
"The award is a source of encouragement and support for the journey that I am on," says Laura of the recognition. "I decided to study medicine because I'm really passionate about providing comprehensive and compassionate health care with a generosity of spirit to populations who have felt and experienced barriers in accessing the health care that they need. I'd like to express my heartfelt thanks to the donors as well as to my mentors and referees who supported me in the application process."
Born and raised in Tiohtià:ke/Montréal, Laura holds a Bachelor of Arts in International Development Studies from McGill University and a Master of Arts in Public and International Affairs from the University of Ottawa. As part of her graduate studies, Laura worked at the Canadian Embassy in Buenos Aires, Argentina. She was subsequently appointed as a decision-maker in the field of humanitarian migration and refugee protection for the federal government.
In her community, Laura has served as the Director of an adolescent empowerment camp, and as a group leader at the Forum for Young Canadians. Laura is currently an ambassador for Action Refugiés Montréal, where she connects with newly arrived asylum claimants. She began pursuing her medical degree at McGill University following several years of working in refugee protection. Her research projects explore innovative approaches to current health care challenges such as promoting mental health among adolescents and facilitating pediatric trauma training in resource-limited settings.
Outside of her studies and extracurricular involvement, Laura enjoys spending time outdoors, running, swimming, and being in nature with her friends, family and dogs. She also loves making new connections and learning about different parts of the world while traveling. 
Congratulations Laura!