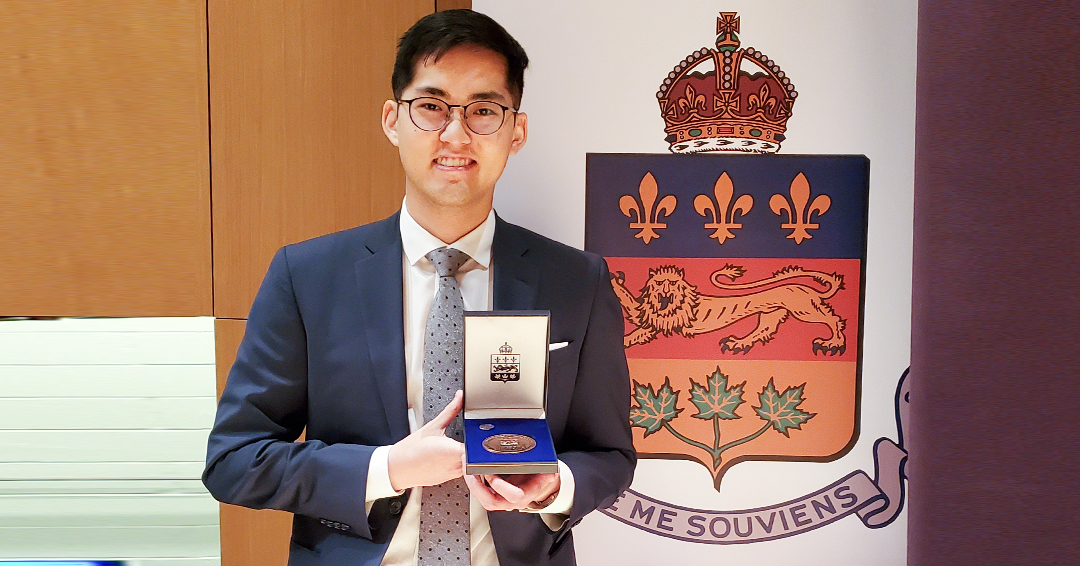 Fourth-year McGill medical student David Ji has been selected as a 2022 recipient of the Lieutenant Governor's Youth Medal. The award recognizes Quebec youth who have demonstrated a sustained voluntary action at the community and social levels or have showed an inspiring attitude, a positive influence inside a group or community while being able to achieve the objectives of her or his curriculum. David received the medal during a ceremony on April 3.
David discovered his passion for education and mentorship in grade 8, when he led a tutoring group formed by high school students to accompany students from the neighbouring elementary school. In his Med-P year, David was the Vice President of the Note Taking Club. In medical school it became clear to him that academic pressure was a major stressor within his cohort and he decided to contribute to his community by creating learning resources and a communal learning environment. He became the chief tutor of the CSTAR club, a near-peer teaching initiative organizing workshops and simulation activities, to help junior medical students hone their knowledge and skills. He is also a bedside ultrasound instructor and is member of the Faculty of Medicine and Health Sciences' Medical Education Committee.
Tutoring also provided an opportunity for David to create a safe space for support and mentorship. He joined other mentorship activities, including being a Med-P advisor and an Osler Co-Fellow as part of the Faculty's physicianship curriculum.
David has also sought to better understand inequalities, inequities and barriers of care. He participated in an introduction to internal cooperation internship in Nicaragua, was a counsellor in a summer camp for children of immigrant families and was a triage agent at Doctors of the World's clinic for migrants.
"This medal is further confirmation that I have found my passion, and that I am doing something good for my community, that I am giving back to society," says David of this recognition.
After medical school, David plans to begin a residency in Internal Medicine where he aims to provide state-of-the-art medical care, continue his involvement in medical education and accompany vulnerable patients through their medical journey.
Congratulations David!