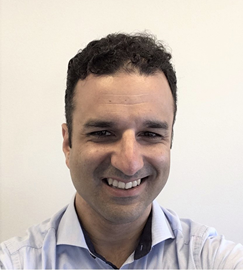 I am pleased to announce the appointment of Daniel Doran to the role of Associate Director, Administrative Excellence Centre (AEC) 12, encompassing the Goodman Cancer Research Centre, the Genome Innovation Centre and the Department of Human Genetics within the Faculty of Medicine at McGill University. Mr. Doran takes over from Peter Ho, who has served in this position in an interim fashion since the June departure of Scott Jardin. I take this opportunity to thank Mr. Ho for his leadership of this AEC during this time of transition.

A longtime officer in the Canadian Armed Forces, Mr. Doran has served on the NATO mission in Afghanistan (OP ATHENA) as well as UN missions in both Sudan (UNMIS) and the Democratic Republic of the Congo (MONUSCO). In 2010, he transferred from the Regular Force to the Army Reserves, where he continues to serve part-time as a Deputy Commanding Officer of 34 Combat Engineer Regiment. That same year he took on his first civilian role as Head of Engineering Services, Project Management, and Urban Planning for the town of Ste-Anne-de-Bellevue, a position he held until 2011. During this time, he reorganized and restructured the Engineer Services Unit to align with the town's vision of a single reporting structure for construction, urban planning and sustainability. Mr. Doran came to McGill University in 2011 as Associate Director, Project Management in Facilities Management and Ancillary Services. While in that role, he partnered with the Director, Project Management to create business cases key to securing funding of $300 million earmarked for infrastructure.

Mr. Doran received his Bachelor's degree in Civil Engineering from the Royal Military College of Canada in 2002. In 2008 he completed a Master's degree in Human Security and Peacebuilding from Royal Roads University, which he followed with an MBA from the John Molson School of Business at Concordia University in 2016. He has also completed several Canadian Forces and UN command and staff programs.

As Associate Director, AEC 12, Mr. Doran will report to the Executive Director and take overall responsibility for planning, leading, organizing, and directing the administrative and business affairs of the Goodman Cancer Research Centre, the Genome Innovation Centre and the Department of Human Genetics. Working closely with the leadership of the Department and Centres, he will help guide the units' development with regard to operational, fiscal, academic and research activities. He will also collaborate with other Associate Directors of Administration to identify and communicate best practices and develop standardized policies and procedures.

Please join me in welcoming Mr. Doran to the Faculty of Medicine and in wishing him every success as he embarks on his new role.
Pascale Mongrain, CPA-CA, Lawyer

Executive Director, Faculty of Medicine
September 14, 2018