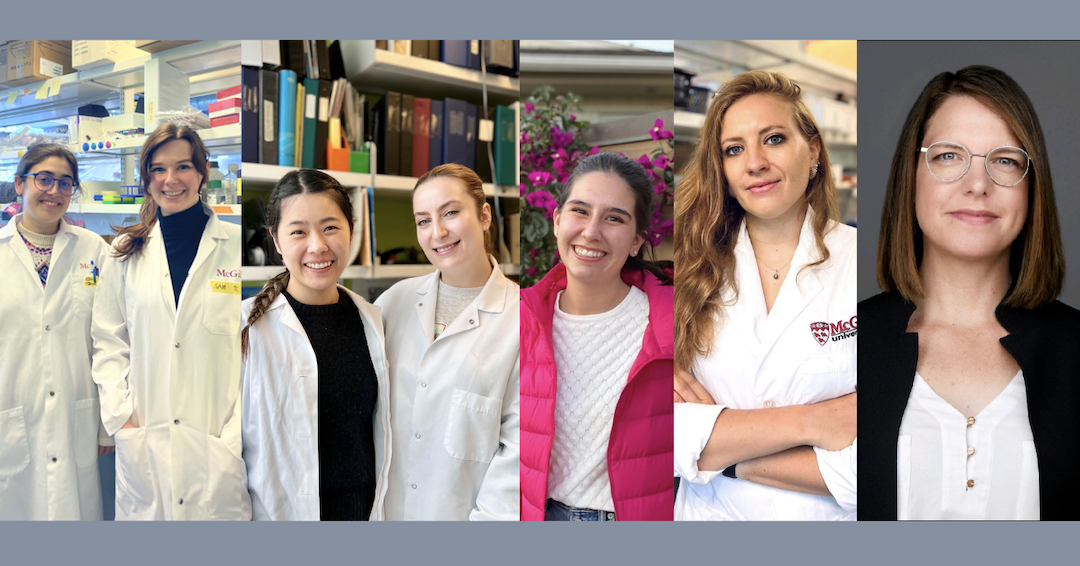 Almost 50 years ago, we dedicated March 8th to celebrate International Women's Day. Today and every day at the GCI, we celebrate the achievements and recognize the contributions of women in STEM. While we cheer for the collective progress made towards gender equality and science, we continue to raise awareness of the persisting barriers of discrimination and take action to pave the way for inclusion and gender parity for future generations of scientists.
Today, we highlight and honour some of the incredible women at the GCI: their contribution to cancer research and their leadership as women in STEM.
Stephanie (Lingwei) Han (she/her) & Hailey Proud (she/her), Ph.D. Students – GCSS Co-Presidents
What is the focus of your studies?
Stephanie: My research focuses on the mechanisms underlying prostate cancer, particularly the interplay between nuclear mTOR, androgen receptor, and NuRD (a chromatin remodeling and deacetylase complex). By investigating how these factors collaborate to reprogram genetic regulation, I aim to gain insights into the mechanisms by which prostate cancer cells evade androgen deprivation therapy.
Hailey: My research aims to use transgenic mouse models of Luminal B and HER2+ breast cancer to better study the role of key signaling proteins (such as an oncogenic splice variant of HER2) in processes frequently exploited by cancer cells. These include cancer cell stemness, immune modulation, and estrogen receptor signaling. By better understanding these processes in the context of breast cancer the goal is to find novel therapeutic susceptibilities to better treat patients.
What does equity in research and STEM mean to you?
To us, equity in research and STEM creates an inclusive environment where everyone is encouraged to contribute to this field regardless of their background or identity. It means recognizing systemic barriers that have historically prevented certain groups, particularly women and underrepresented minorities, from pursuing and excelling in STEM fields. This requires actively working to remove these barriers and creating a more level playing field, whether it's through providing access to educational resources and opportunities, promoting diversity and inclusion in research teams, or addressing the unconscious biases that can impact decision-making.
How does your leadership/role forge inclusivity at the GCI?
Achieving equity in research and STEM requires a collective effort from individuals, institutions, and society as a whole. As Co-Presidents of the Goodman Cancer Student Society, we started our year visioning a welcoming environment at the GCI. We strive to provide opportunities for trainees to connect and build a stronger sense of community. This may involve organizing social events, mentorship programs, or professional development workshops that help trainees from diverse backgrounds feel supported and included.
GCSS is fortunate to have such a diverse council of graduate students who reflect the diversity within the GCI community. We are continuously working to highlight and celebrate the voices of underrepresented groups through social initiatives during Black Heritage Month, being conscious of the language used when representing the GCI through consultation with our EDI representative, encouraging diversity during Research Day and having conversations like we are now. It's important for us to give credit to our amazing team who often are the ones initiating many of these events, and we hope to continue to lead by example and empower other GCI members to get involved around the institute even after our term as co-presidents.
How do you envision and/or experience GCI as a place where women in STEM thrive and where their achievements are celebrated?
The GCI promotes diversity and inclusion in all aspects, from our recruitment initiatives to giving out leadership opportunities. We have female trainees and PIs that excel in cancer research, and not to mention the Director of our Institute – Prof. Morag Park – is a woman! We're lucky to be students at the GCI during a time where we are witnessing young female PIs who are joining the GCI and publishing high-impact papers.
The GCI provides access to resources and support, such as core facilities and innovation programs, professional development opportunities, and funding for research and travel, equally to members of all different backgrounds and identities. This encourages women in STEM to develop skills, build networks, and advance careers without inhibition. GCI fosters a culture of inclusion and equity, where all members of the institute community feel valued and supported.
Looking towards the future, it is important to continue to recognize the achievements of women in STEM at all levels, from students to senior researchers and faculty members. This can involve creating awards and recognition programs, highlighting their contributions in publications and events, or promoting their work to a wider audience. This can also include actively seeking out women and other underrepresented groups for positions at all levels and creating mentorship or networking opportunities. Finally, maintaining (and improving) inclusivity in the GCI requires us as individuals recognizing our inherent privilege and being an active participant and ally during these important conversations regarding diversity!
Marine Lingrand (she/her), Ph.D. Candidate – GCSS EDI Representative
What is the focus of your studies?
Biological sex is a poorly understood prognostic factor in melanoma. Males are more likely to develop melanoma, have a poorer prognosis and have different responses to therapies. In the past, biological sex difference has, inaccurately, been linked to behavioural factors. Our lab identified a gene called DDX3X, which was found to be altered only in male melanoma patients. We believe alterations in DDX3X may help explain some of the observed differences in patient outcomes between male and female patients.
What does equity in research and STEM mean to you?
Research and innovation that serves a globally diverse world must embed principles and best practices of equity, diversity, and inclusion. We all want a research environment that fosters diversity and produces impactful and socially relevant research to solve the most challenging global problems (and especially cancer-related problems for us!). In my opinion, diversity strengthens the quality and impact of research by bringing multiple ideas and perspectives.
How does your leadership/role forge inclusivity at the GCI?
I am the Equity Diversity Inclusivity Representative of the Goodman Cancer Student Society since June 2022. I try to make sure everybody feels safe, we think all our student events to be inclusive for everyone, we opened an Instagram page (@edi.gcss.gci), to share all the events, news and information about EDI and the success of the persons working at the GCI (employees, trainees and professors). We also want this page to be open for any constructive criticism or dialogue about EDI. The next goal is to organize more events about EDI topics, we are working on it!
How do you envision and/or experience GCI as a place where women in STEM thrive and where their achievements are celebrated?
It feels great to be around all these brilliant and successful women. We are surrounded by wonderful examples to follow at the GCI, they are really inspiring and all we want is to walk in their footsteps for our own careers.
Sandrine Busque (she/her), Ph.D. Student – R.I.O.T. Co-Chair
What is the focus of your studies?
My research focuses on understanding resistance to chemotherapy in triple-negative breast cancer. We know that these tumours can contain different subgroups of cancer cells and that these may respond differently to chemotherapy. My research aims to understand why some of these cancer cell subgroups do not respond to chemotherapy and how we can target them to prevent the occurrence of resistant tumours.
What does equity in research and STEM mean to you?
For me, equity in research and in STEM starts in early childhood, with the opportunities for kids to get interested and eventually pursue careers in STEM and education. We develop a lot of our interests at school, so representation in textbooks, examples in class and showcasing people of all genders in STEM careers allows kids to see themselves in these careers. The classroom is a great place to combat stereotypes and biases that still pervade STEM fields. To achieve equity in STEM fields, it is important to retain people of all genders in STEM fields by actively working to lower the persistent barriers to pursuing a career in research. For example, promoting inclusive work environments with pay equity, flexibility, medical and parental leave, ally-ship opportunities, anti-discrimination policies, and accountability resources.
How does your leadership/role forge inclusivity at the GCI/RIOT?
As co-chair of the Research Information Outreach Team (R.I.O.T.), I create leadership roles for all team members. We interact with patients and their families, students of all ages, and the broader community and strive to be attentive to the diverse backgrounds of our audiences. We also intentionally select our examples to use our workshops as platforms to combat the lack of representation of women and other marginalized groups in science.
How do you envision and/or experience GCI as a place where women in STEM thrive and where their achievements are celebrated?
As a student at the GCI, I am often inspired by my fellow women scientists' achievements. I feel a strong sense of community through R.I.O.T.'s ongoing collaboration with GCSS and get to work alongside incredible women scientists in all of our projects. In the past year, I've been glad to see their achievements being noted and celebrated on GCI's social media. In the future, I envision a transition at the GCI, and in other academic centers, toward a faculty that mirrors the diversity of the student community.
Diana Berry (she/her) & Mara Whitford (she/her), Ph.D. Candidates – Young Women in Bio (YWiB) Leaders
What is the focus of your studies?
Diana: I study melanoma response to immune checkpoint inhibitors. My project aims to understand why certain genetic subgroups of melanoma have improved responses to immune checkpoint inhibitors, to better inform how they are used in the clinic.
Mara: My research focuses on the understanding of the earliest stages of breast cancer development. Specifically, I am looking to understand how epithelial tissue architecture is protective against cancer development, and how oncogenes overcome these protective mechanisms to promote tissue multilayering and tumour development.
What does equity in research and STEM mean to you?
For us, equity in research and STEM means providing all students with the tools and encouragement that they need to thrive. We aim to empower the high school students and graduate student volunteers who participate in our Young Women in Bio (YWiB) workshop. Not only is there a place for women in STEM, but there is a critical need for their diverse perspectives and experiences in order for STEM fields to continue to thrive. In the face of historical and continued challenges to success that women face in STEM, we connect young women with supportive mentorship and leadership opportunities to overcome these obstacles.
How does your leadership/role forge inclusivity at the GCI?
In our role as organizers of bi-annual Young Women in Bioworkshops, we connect girls who are interested in studying STEM with women pursuing graduate studies at the GCI. Our event encourages the girls who participate to pursue careers in STEM, which can often be exclusionary. We enable hands-on lab experiences in the safe and inclusive context of an event designed specifically for girls interested in STEM. Importantly, the graduate student volunteers also have the opportunity to engage their own leadership abilities and to network with other colleagues who value inclusivity at the GCI.
How do you envision and/or experience GCI as a place where women in STEM thrive and where their achievements are celebrated?
At the GCI, we work with incredibly talented and successful women at the trainee level. We are excited for the progress that is being made in increasing the diversity at the faculty level to better reflect all of our colleagues in science. We are grateful that we work in an environment where women are celebrated for their contributions and encouraged in their scientific careers. We aim to reflect this spirit in YWiB events to inspire the next generation, who will one day be the leaders in our field.
Trina Johnson, Ph.D. (she/her), Deputy Director
In Fall of 2021, Trina Johnson joined the Rosalind and Morris Goodman Cancer Institute as our newest Deputy Director. In conjunction with the GCI Director, Trina develops and implements the strategic plans and business model for the GCI.
What is your role at the GCI?
This role would most closely resemble that of a Chief Operating Officer within the private sector. It is a rare position within the McGill University structure in that it requires me to provide strategic direction, lead the operations of the Rosalind and Morris Goodman Cancer Institute as well as work closely across the campus with our partners and collaborators. The day-to-day in this position can mean anything from financial management to developing strategic plans or projects and programs as well as providing support to our PIs, researchers, staff and trainees through research support team initiatives and administration. It requires both a scientific background as well as significant experience in operational best practices.
What does equity in research and STEM mean to you?
My position no longer includes 'research' per se but instead operates in the space of enabling or advancing research of excellence. Equity can be challenging for organizations to enhance as it includes not only representation and opportunity but also justice and individual need, a tougher concept to tackle when building generic or broad processes and standards. Despite the challenges, we know that doing research and working in a research environment is better and truly worthy of the word 'excellence' when we can do it fairly.
How does your leadership/role forge inclusivity at the GCI?
While there are obvious contributions at a leadership level, including putting forth an EDI statement for the GCI, and incorporating priorities into both the GCI strategic research excellence plan and operational plans, there are a number of everyday things that I do to promote inclusivity in practice including; bringing awareness of unconscious bias into discussions and decision-making, enabling pay equity conversations with my staff, promoting and attending EDI and people-centric trainings at the GCI, acknowledging holidays of all cultures and providing safe spaces for conversations about cultural practices, and most of all, learning from my mistakes and growing my understanding of EDI principles.
How do you envision and/or experience GCI as a place where women in STEM thrive and where their achievements are celebrated?
While my experience is only one perspective, I have been impressed with the peer-to-peer support of women at the GCI. There is a strong representation of women within the leadership teams and across the Institute. Our student associations, committees, volunteer organizations, and staffing all have women who I am proud to work with and support. They display the GCI values of Integrity, Creativity, Collaboration and Commitment and they inspire me."