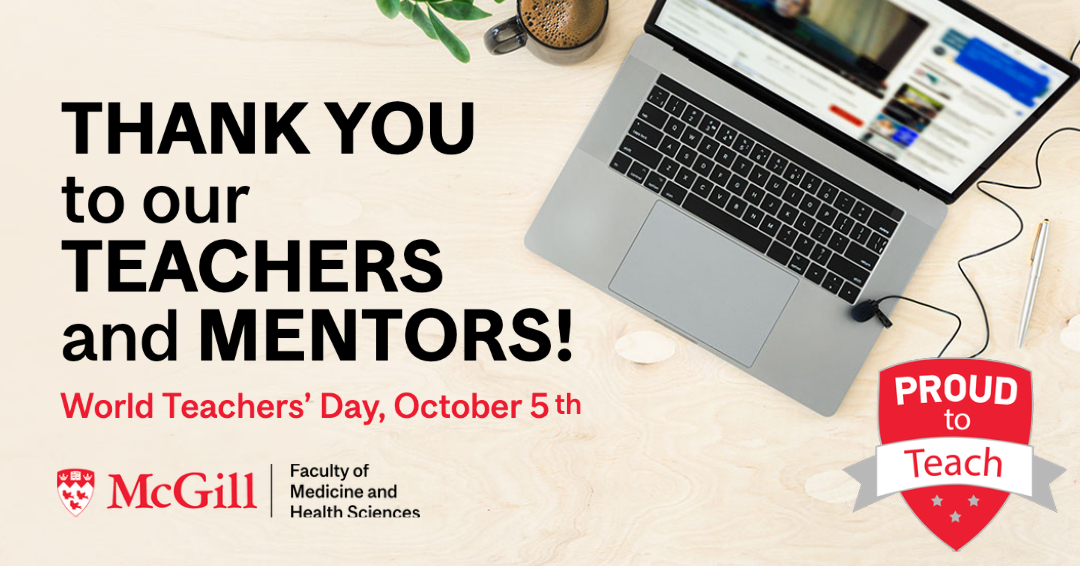 Dear colleagues
October 5 is World Teachers' Day and we would like to take this opportunity to thank all the teachers, clinician-teachers, mentors, lab instructors – in short, all of you who help us fulfil our Faculty's central mission of Educational Excellence.
Your work is valued so much by your learners, by your peers and by the Faculty leadership. Over the past year, you embraced the 'Cs of Change': Commitment, Collaboration, Creativity, Collegiality and Continuing faculty development. This was accomplished through multiple pivots between fully remote, blended and in-person teaching formats.
This year, World Teachers' Day has the forward-looking theme "Teachers at the heart of education recovery," acknowledging the central role teachers play in helping learners navigate the many challenges they continue to face.
Staying connected
If the past year has taught us anything as educators, it is the importance of staying connected to our learners and to each other. Thank you for finding ways, big and small, to connect with learners, and ensure that their education journey in these unusual times has been fulfilling. We recognize that sometimes your efforts to maintain this high standard of educational excellence have come at a cost. We thank you for going the extra distance. Now that our two campuses are once again buzzing with life (as our clinical teaching labs and clinical sites have been for some time), it will be a delight to reconnect with many of you in person.
Changing for the better
The pandemic has once again shown us the inequities that exist in healthcare and education around the world, including at home. Compared to our teaching colleagues in other parts of the world, we have been fortunate to have at our disposal the full range of enabling technologies that have allowed us to reinvent ourselves. That's not to say it's been easy – we know it has not. Teaching will never be the same again. Forward evolution has resulted from your innovations, sometimes by trial and error, in your classes, at the bedside and at the bench.
Changes to our teaching have also been brought about by seismic shifts in our society to include greater awareness of systemic racism and inequities. As health educators, we have a duty to acknowledge our failings in order to do better. Here in the Faculty, we are already working on this, enhancing training for our teachers and learners in equity, diversity and inclusion. And we know you are constantly looking for new ways to make all our students feel they belong and that we want to hear what they have to say.
200 years of excellence in teaching
This year McGill celebrates its 200th year. Our Faculty was founded with the primary mission to train doctors to improve the health of our local community in Montreal. Two centuries later, we are a very different Faculty, with six schools offering an array of world-renowned health professional and biomedical science programs and a focus on improving health locally and globally. Our primary mission remains: to train the next generation to improve the health of our communities through educational, clinical and research activities. We are proud to educate future and current scientists/researchers in the health sciences as well as nurses, occupational therapists, physical therapists, physicians, and speech language pathologists.
So, thank you, for being part of this wonderful 200-year teaching tradition and for continuing to inspire the next generation to greatness. We are so proud to teach alongside such a dedicated group of educators.
Sincerely,
Dr. Annette Majnemer
Vice-Dean, Education
Dr. Terry Hébert
Assistant Dean, Biomedical Sciences Education
Dr. Beth-Ann Cummings
Assistant Dean, Health Professions Education