SPOT community event offered walking tips to help older adults stay active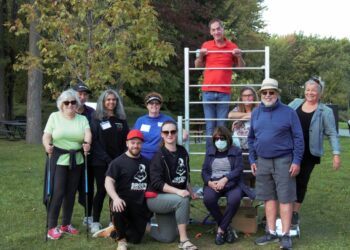 On September 26, Walk the BEST You Can, the innovative community event organized by McGill rehabilitation researcher Dr. Nancy Mayo and her collaborators to promote BeST (BEtter, faster, longer, STronger) walking techniques and exercises to older adults and people with mobility challenges, took place in Côte Saint-Luc's Pierre Elliot Trudeau Park.  The new Walk-BEST Exercise Structure designed by McGill University's School of Physical & Occupational Therapy (SPOT) rehabilitation science researchers and clinicians was also unveiled.
With over 200 people in attendance, the group was able to share walking expertise and gather feedback on the exercise structure, walking technologies and assessments, and fitness activities from those who dropped by.
"The whole team of researchers, clinicians and fitness experts were occupied the entire time answering questions, leading workshops, and provided over 70 walking assessments. It was a super successful event!" according to Dr. Mayo, of SPOT.  The team was delighted to unveil the prototype of the exercise structure, manufactured and installed by Dimartech, a Montreal steel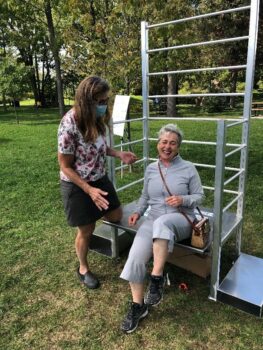 manufacturing company.  Resembling a large chair, the structure is designed to allow people of different sizes and abilities to perform stretches and exercises that target the muscle groups required for healthy walking and balance. A helpful list of diagrams depicting the numerous exercises and stretches possible will be available beside the structures once they are permanently installed in public spaces.
Chair yoga and Qigong movement activities were demonstrated by fitness experts from the Coop Sportive Santé, a gym in the Côte Saint-Luc area that has partnered with Dr. Mayo and her team to help people perform the best they can in walking activities and mobility independence at any point in their lives.
Dr. Mayo and her team have been conducting research on the promotion of healthy walking in older adults and people with mobility challenges for over 10 years. Stay tuned for the next Walk the BeST You Can community event coming to a Montreal park in the spring of 2022.
Read more about the September 26 event here.
About Dr. Nancy Mayo
Dr. Nancy Mayo is the James McGill Professor in the Department of Medicine and the School of Physical & Occupational Therapy at McGill University (Division of Geriatrics and Division of Clinical Epidemiology). In addition, she is a Research Scientist at the McGill University Hospital Center Research Institute where she leads a research program on Function, Disability and Quality of Life for vulnerable populations. She received her BSc in Physical Therapy from Queen's University and her MSc and PhD in Epidemiology and Biostatistics from McGill University.  Recently Dr. Mayo has blended an academic career with entrepreneurship.  She is President and co-founder of PhysioBiometrics Inc., a McGill start-up company committed to improving people's ability to be the best they can be given circumstances of health, through accessible technologies helping people be active, safe, and independent.  The Walk-BEST Exercise Structure and Heel2ToeTM sensor are the most recent examples of such accessible technologies. In 2020, the start up company, were the winners of the McGill Dobson Cup – Health Sciences Track, for a wearable technology to improve gait pattern, Heel2ToeTM.