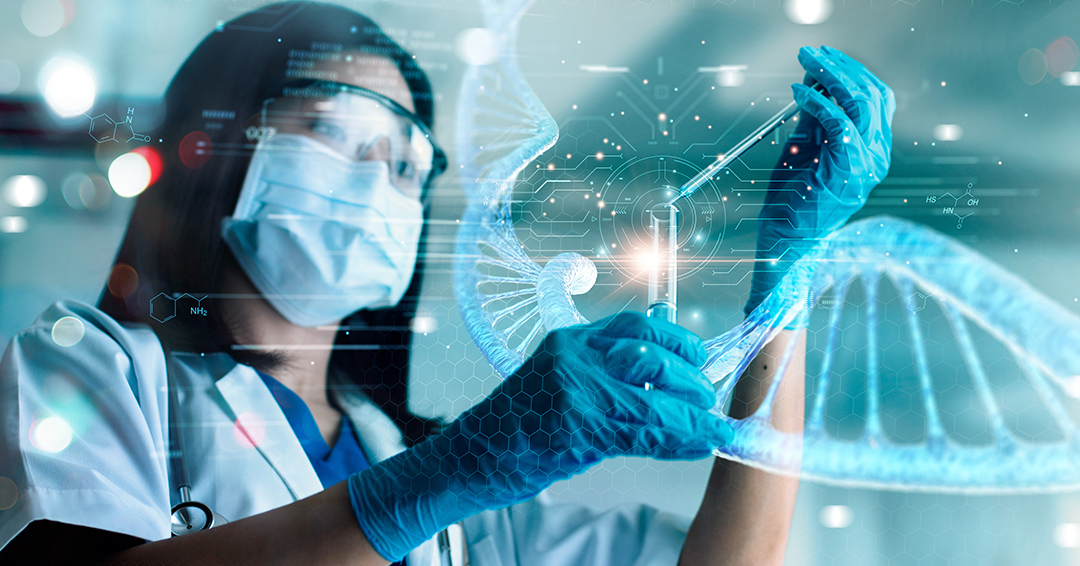 The Victor Phillip Dahdaleh Institute of Genomic Medicine is leveraging the latest genomics technologies to advance diagnostics and treatments for cancer, rare genetic disorders and other diseases     
During the COVID-19 pandemic, genomics researchers, immunologists and infectious disease specialists at the McGill Genome Centre came together to work on understanding the deadly virus—playing a critical role in stemming its spread and mitigating its effects on infected individuals.  
Today, as SARS-CoV-2 continues to circulate, their efforts continue in the form of several large-scale projects. These include a program aimed at sequencing and analyzing genomic DNA and RNA from more than 10,000 patients across Quebec to understand disease susceptibility, progression and outcome.  
Ambitious research efforts like these are at the heart of the newly minted Victor Phillip Dahdaleh Institute of Genomic Medicine. The Institute, which will be housed at multiple sites across McGill—including the McGill Genome Centre—will enable close collaboration among scientists across various fields, such as genetics, immunology, microbiology and social science to advance the development of new diagnostics, therapeutics and preventative tools for a wide range of diseases.  
"The research environment worldwide is transforming. It's no longer possible to conceive of the next generation of scientific advances coming out of siloed departments," says Mark Lathrop, PhD, Director of the new Institute. "Fundamentally, what this Institute does is it brings scientists across disciplines together to work in a common environment with shared goals, creating a dynamic that is more than the sum of its parts." 
A legacy of genomics at McGill 
Medical genomics at McGill traces its roots back to the late Charles Scriver, MDCM, a former professor of human genetics in the Faculty of Medicine and Health Sciences who passed away in April. A pioneer in the field of medical genetics, Dr. Scriver conducted invaluable research on rare genetic disorders known as inborn errors of metabolism that led to the formation of newborn screening programs for congenital diseases used worldwide today. In 1972, Scriver established the McGill Group in Medical Genetics, which turned McGill into a leader in medical genetics research in Canada. 
In 1996, another leader in the field of genomics, Thomas Hudson, MD, established the Montreal Genome Centre at McGill. Since its inception, the Centre has become a hub for genomics research, providing researchers in Canada and abroad with state-of-the-art technologies such as next-generation sequencing to carry out investigations in biomedicine and the life sciences.  
"The remarkable success of the Genome Centre, both with respect to the research, but also the development of critical infrastructure and technology platforms for genome sequencing, provided the foundational basis to further expand into what we call 'omics' areas," says Philippe Gros, PhD, Deputy Vice-Principal of Research and Innovation at McGill and the founder and co-lead of the McGill Research Centre on Complex Traits, which is part of the new Institute. 
These "omics" areas include transcriptomics, the study of the product of the genome known as RNA; proteomics, which assesses the proteins that are formed from that RNA; and metabolomics, the analysis of the molecules involved in the biochemical pathways that drive biological processes. Researchers at the Institute will also conduct research on the microbiome—the world of bacteria, viruses and other microorganisms that live within us and contribute to both health and disease.  
The next chapter 
Using genomics and other associated omics technologies, including computational methodologies, researchers at the Institute of Genomic Medicine will work to advance both the diagnosis and treatment of a wide range of diseases, including cancer, infectious diseases, chronic inflammatory diseases and rare genetic disorders. "One of the main goals of the institute is to make the link between genomics and clinical translation," Prof. Lathrop says.  
In the area of rare genetic disorders, for example, researchers are working on recruiting patients and sequencing their genomes in order to pinpoint the underlying mechanism of the disease with the ultimate goal of developing new treatments. Emphasis will be put on diseases such as congenital lactic acidosis, which are prevalent in Quebec.  
Similar approaches will be applied to areas such as cancer, where researchers can apply sequencing technologies to pinpoint the key molecular characteristics of a given tumour—and use that information to develop targeted therapeutic interventions, such as RNA-based vaccines.  
Researchers at the Institute will also work toward extending the existing genomics toolbox to make it suitable for multiple populations. "A lot of the fundamental work in genomics has been done primarily in individuals of European descent," Prof. Lathrop says. "We need to extend those studies to other ethnic groups to ensure that there's benefit for everyone from advances in this area."  
The Institute also includes a Center of Genomics and Policy, which is focused on exploring the socio-ethical and legal issues associated with genomics and its role in human health.  
Looking to the future 
One of the major goals of the Institute is to provide students with opportunities for multidisciplinary training at McGill and abroad. To this end, first year graduate students will go through a year of lab rotations that will provide a taste of the multidisciplinary aspects of the program as well as an opportunity to spend time at one of the universities with which McGill has existing partnerships. An existing joint PhD program with the University of Kyoto in Japan, where a select number of students from both universities carry out their doctoral studies in the areas of genomic medicine, is already a part of the Institute.   
The training program will include students from diverse backgrounds, particularly those from lower-and middle-income countries. 
In addition to training, the Institute will provide funding for new projects focused on innovative research to help these novel initiatives get off the ground. "Researchers sometimes come up with ideas but need a modest but quick infusion of funds for validation, testing and preparing to leverage more standard sources of financing," Prof. Gros says. "This is something we are excited about."  
The formation of this Institute was made possible by a $30 million donation from Canadian entrepreneur and philanthropist Victor Phillip Dahdaleh and his wife Mona Dahdaleh. This donation provides the crucial seed money needed for many of the Institute's programs, as well as the funds needed to hire a leader in the field of genomics as Research Chair. "Both Victor and Mona Dahdaleh were very excited about the idea for the Institute from the very beginning," Prof. Gros says. "They're an integral part of the Institute's vision and implementation."  
The Institute has also helped McGill secure one of the largest grants in its history. In April of this year, the Canada First Research Excellence Fund (CFREF) announced that McGill would be a recipient of a $165 million grant to kickstart "DNA to RNA: An Inclusive Canadian Approach to Genomic-based RNA Therapeutics (D2R)." D2R is an initiative aimed at developing genomic-based RNA therapeutics. "The creation of the Institute for Genomic Medicine was an impetus for this success," says Prof. Lathrop, who is also the Scientific Director of D2R.