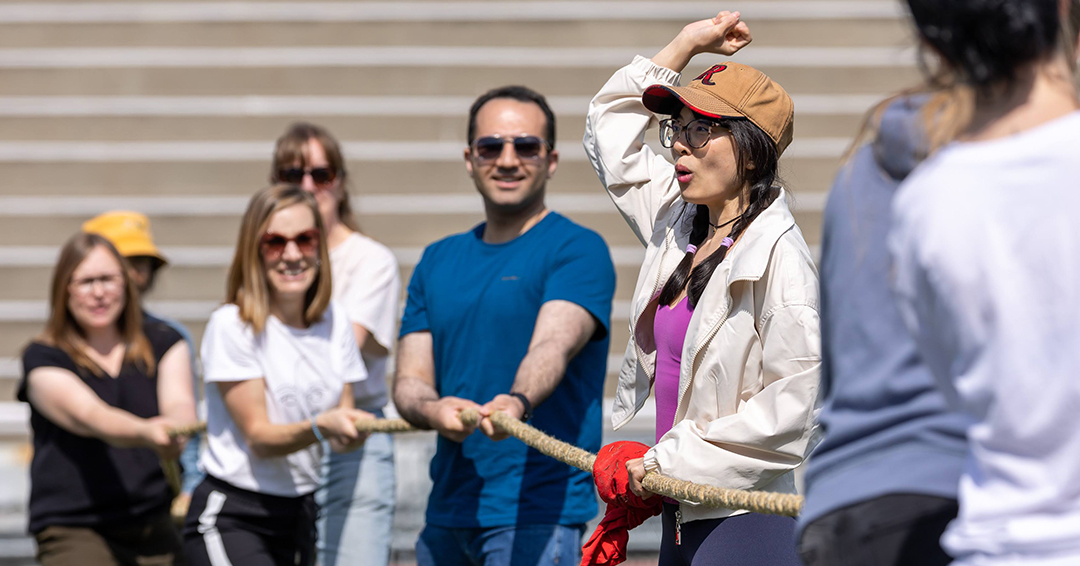 June 14 was a beautiful day to celebrate our stellar FMHS administrative & support staff community and say Thank you! 
The second annual Faculty of Medicine and Health Sciences Community Celebration Breakfast was held on June 14, 2023, at the Percival Molson Stadium. More than 400 administrative and support staff members enjoyed a delicious breakfast and refreshing beverages under the beaming sun with the sounds of live music filling the air.  
The field was vibrant with laughter and conversation amongst colleagues and peers. Games and activities like tug-of-war kept energy levels high, the Creatives' Corner showcased our staff's craftmanship and artistic talent, and our community outreach kiosks drew curious and engaged crowds. There were also several McGill kiosks, such as Organizational Development, Health & Well-Being and My Healthy Workplace, to spread knowledge and awareness of the various services available to our administrative and support staff. The celebration concluded with a much-anticipated draw for door prizes, which included a one-night stay at the Hotel Omni Mont-Royal. Thank you to our generous sponsors! (Learn who won what!)  
The day was made extra special by providing an opportunity for VP-Dean David Eidelman and staff members to share memories, gratitude and farewells as Dr. Eidelman wraps up his tenure as Dean this summer.  
Thank you to everyone who attended the celebration! 
Photo credits: Owen Egan and Joni Dufour