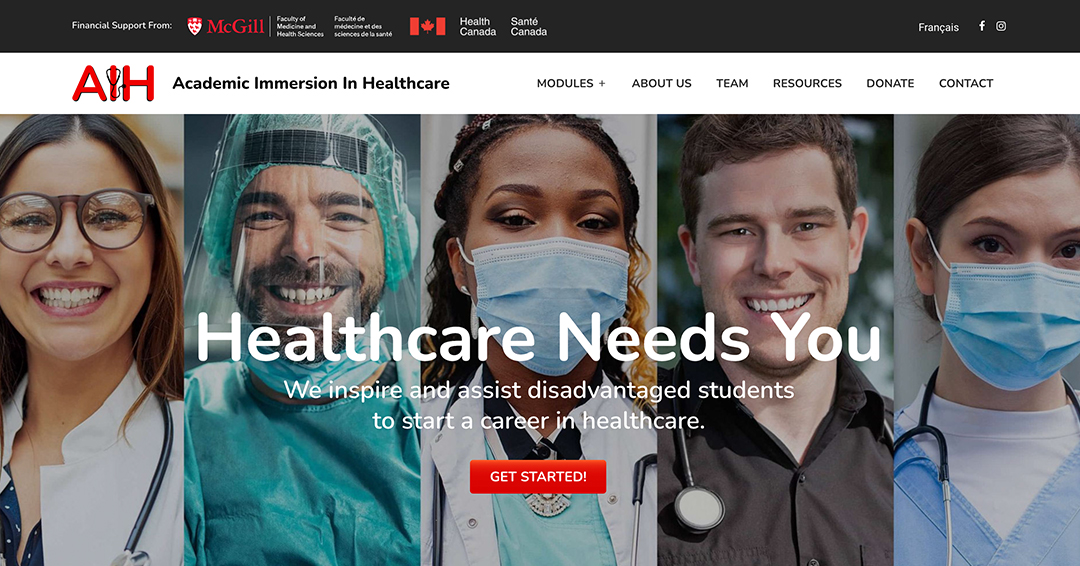 Today more than ever, our healthcare system needs passionate and dedicated health advocates from diverse backgrounds.  Yet students from low socioeconomic (SES) backgrounds and rural regions are staggeringly underrepresented in the health professions, with less than 6% of medical students in Canada from low SES neighborhoods.
A team of McGill University healthcare students, led by Antoine Denis and Sami Chergui, are working to change that. They created an award-winning virtual platform to inspire high school students from these underrepresented communities to pursue a career in healthcare.
The Academic Immersion in Healthcare (AIH) e-learning platform was designed to give young students an understanding of what a career in this field entails. The team worked for over a year to develop and refine the content. They sent out surveys to high school students to find out what they were interested in learning about, and based their platform on the feedback they received.
Next, they worked with healthcare professionals to script four different medical situations involving a heart attack, a car crash, a sports injury and a pregnancy, and filmed these simulated scenarios at the Steinberg Centre for Simulation and Interactive Learning.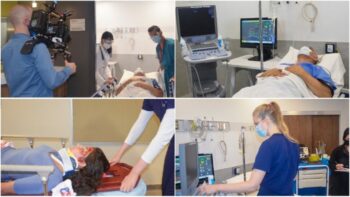 In addition to immersive videos and quizzes, the AIH platform offers career information, resources and mentorship. And best of all, it is freely accessible in both English and French on their website, aih.healthcare.mcgill.ca.
AIH is reaching out to high schools and inviting teachers to encourage their students to participate in this fun and interactive activity at home. It takes approximately one hour to complete the module, after which the students receive an official certificate of completion.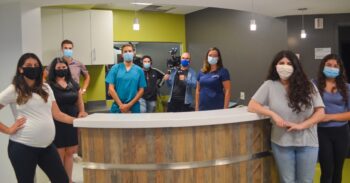 Widening the circle to foster a more inclusive society
This student-led initiative was supported by the Widening Participation Committee (WPC) in McGill's Faculty of Medicine and Health Sciences, and funding was provided by Dialogue McGill through a Health Canada financial contribution. The mission of the WPC, which falls under the Social Accountability and Community Engagement (SACE) Office, is to develop programs and initiatives that encourage underrepresented populations to consider applying for one of McGill's health professions programs.
"We find that students entering these programs usually have parents who are healthcare professionals.  It may feel unreachable for students who are not from these backgrounds.  We want to give them a pathway that they can follow," explains Nicole Li-Jessen, Associate Professor at the McGill School of Communication Sciences and Disorders and Chair of the WPC.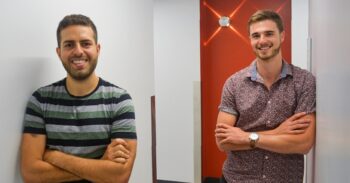 Antoine Denis grew up in a Charlesbourg, a small town in Quebec, and neither of his parents worked in the healthcare field, so he understands the challenges.  "Sami and I wanted to share our passion for healthcare because we really like what we do in Medicine," he says.  "We were originally planning in-person activities, but when the COVID-19 pandemic hit, we brainstormed ideas to see how we could move this online. This virtual platform has enabled new possibilities. We can now reach out to schools in remote areas like Northern Quebec and Nunavit, and hope to expand across Canada."
While their initial content is more medicine-focused, the AIH team would like to expand the offering of videos to present other health professions, such as nursing, physiotherapy, and so on. "This was an incredible collaboration between so many people, created during a high-stress pandemic. I'm really proud of what we've accomplished, and I hope that thousands of student will visit our website to learn more and be inspired to pursue a career in healthcare," expresses Antoine.
"I really admire the students," concludes Li-Jessen.  "They have a busy schedule, with so much uncertainty and upheaval, yet they take on this huge challenge. They have such creative ideas and feed us with their energy and collaboration, injecting new ideas and energy into the WPC."
And there's even more exciting news to share…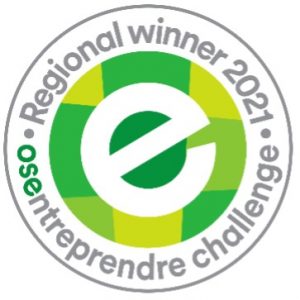 The AIH interactive e-learning platform was recognized as the best university-level scholastic initiative in the Greater Montreal area at the 2021 OseEntreprendre Challenge, a competition that aims to foster the spirit of entrepreneurship in Québec. They went on to compete in the provincial competition as one of only five finalist teams, chosen from among 40,000 participants across the province of Quebec, attesting to their spirit of entrepreneurship. Congratulations to the entire team on this well-deserved recognition!