MUHC joins Canadian research team for precision medicine and expands genetic sequencing to the French Canadian population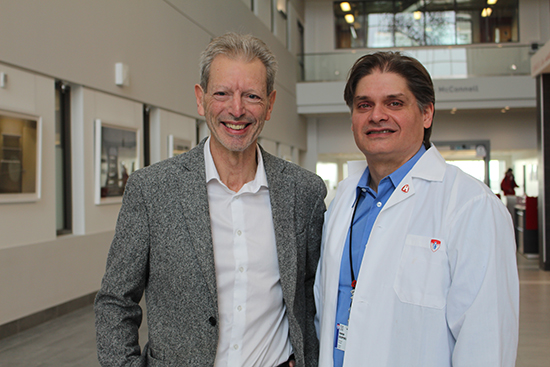 Few early detection tests, undetectable symptoms, limited treatment options and no known biomarkers that can be used to direct therapy. These are among the clinical challenges Canadian research team EPPIC (Enhanced Pancreatic Cancer Profiling for Individualized Care) is tackling over the next five years to improve personalized treatments for patients with pancreatic ductal adenocarcinoma (PDAC), a disease with just an eight percent five-year survival rate.
The Research Institute of the McGill University Health Centre (RI-MUHC) is proud to join forces with other partners under this Terry Fox initiative bringing new hope with personalized medicine for patients with this deadly disease. Recently funded by the Terry Fox Research Institute, this $5-million pan-Canadian precision medicine initiative is led by investigators at BC Cancer and  the University of British Columbia.
"Pancreatic cancer is expected to move past breast and colorectal cancer to become the second leading cause of cancer-related death in Canada by 2030. We need to develop innovative ways in order to better understand the biology of this aggressive cancer, identify molecular signatures and hereditary mutations, and study tumours at a deeper level. An ambitious and large project like EPPIC will help us achieve these goals," says Dr. George Zogopoulos, EPPIC's co-principal investigator, who is a pancreatic surgeon and a scientist at the RI-MUHC and at the Goodman Cancer Research Centre at McGill University.
Sequencing metastatic tumours at a deeper level
The EPPIC team aims to sequence metastatic pancreatic tumours of 400 patients in Quebec, Ontario, Alberta and British Columbia. They hope to improve understanding of pancreatic cancer biology to create personal treatment strategies and facilitate the development of new treatment options.
"The majority of the time, pancreatic cancer is diagnosed when it has already spread because the pancreas sits deep in the abdomen, and there are often no early symptoms. Sometimes we catch the cancer earlier, when the tumour blocks the bile duct to cause yellow jaundice, but even then, the chance of cure is less than 30 percent," explains Dr. Zogopoulos.
Four out of five patients have metastatic cancer at the time of diagnosis and most will die within a year. EPPIC will focus on metastatic cancer instead of surgically removed primary tumours (non-metastatic), because this is the clinical problem clinicians see most often. According to researchers, the priority is to identify molecular subtypes of pancreatic cancer that could be better treated with precision medicine.
This project is currently under way in Toronto, Vancouver and in Montreal, where Dr. Zogopoulos' team is currently recruiting patients at the Cedar Cancer Centre (Glen site) at the MUHC. It will be expanded shortly to include eligible patients from other hospitals across the country.
Expanding genetic sequencing to the French Canadian population  
On top of the EPPIC project, Dr. Zogopoulos' team is also investigating subtypes – sometimes hereditary – of pancreatic cancer that may be more frequent in the Quebec population.
In a recent study*, Dr. Zogopoulos and his colleagues looked at the  frequency of hereditary mutations in the BRCA1, BRCA2 PALB2 and ATM genes – more commonly known to cause breast cancer – in patients diagnosed with pancreatic cancer. In this large study of 350 patients, researchers found that mutations in these genes are a major cause of pancreatic cancer in French Canadian, because of a genetic phenomenon known as founder population effect (previously shown in the Ashkenazi Jewish population).
A genetic founder effect results from a loss of genetic variation that occurs when a new population is established by a small number of individuals from a larger population. The researchers found that nearly eight percent of patients with French Canadian ancestry carried mutations in one of these four genes compared to approximately five percent in the general population. They also found that mutations were more frequent in patients diagnosed at 50 years old or younger and in patients who had family histories of pancreas, breast, ovarian or prostate cancer.
"Our findings tells us that we need to clarify how to bring genetic testing for mutations in these genes to the cancer clinics for all patients diagnosed with pancreatic cancer who have French-Canadian ancestry," states Dr. Zogopoulos. "Knowledge of the mutation may provide opportunities for precision medicine in targeting the tumour and also lead to genetic counselling for patients' relatives." Based on their research, the researchers also believe that patients with mutations in these genes will benefit from existing precision medicine therapies that target these mutations.
Richard Beauchamp, 60, from Montreal was diagnosed with pancreatic cancer in 2014. He was given a few months to live as his tumour was too big to be removed. Dr. Zogopoulos' team identified a recurrent mutation in the PALB2 gene that occurs in French Canadians. By sequencing his tumour, researchers also showed that this hereditary mutation was the cause of his cancer. This knowledge helped his doctors select chemotherapy that they believed would attack the specific pancreatic cancer subtype that Beauchamp had. That helped shrunk the tumour and allowed Dr. Zogopoulos to remove a cancer that was originally inoperable. Beauchamp has been cancer-free for more than three years.
"Everything happened so fast, says Beauchamp. My diagnosis was a shock, but I decided to be combative and to take actions. I was referred to Dr. Zogopoulos, who literally gave me a second chance at life," says M. Beauchamp. "My daughters and brothers were screened for the same mutation I have, and some of them are being followed by the clinical screening program at the MUHC.
"Richard's story, among others, helps build the EPPIC project," states Dr. Zogopoulos. "Pancreatic cancer is a type of cancer that doesn't respond to one common therapy. We hope to be successful in our ongoing projects so we can provide better treatments for patients with this incurable disease and develop better preventative strategies for their relatives."
National media release about EPPIC
Paper published in JCO Precision Oncology
Related coverage

CBC Radio | A pancreatic cancer survivor's French-Canadian genes held the clue that helped save his life
March 8, 2018