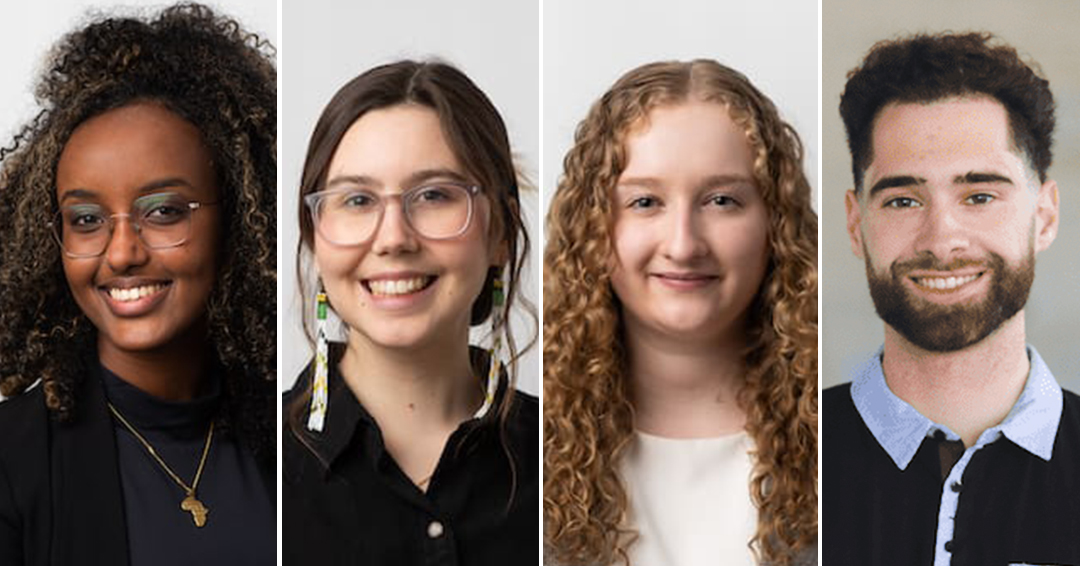 Scholarship provides mentorship, coaching, a leadership curriculum, and full funding for a master's or professional program at McGill
Aspiring policy-makers, health innovators, entrepreneurs and non-profit leaders are among the 20 newly selected McCall MacBain Scholars at McGill, Canada's comprehensive leadership scholarship program for master's and professional studies. The new scholars come from 17 Canadian universities and will begin their degrees in seven faculties at McGill in September 2022.
We are delighted to announce that four of them will join us in the Faculty of Medicine and Health Sciences this fall. They are: Yasmine Elmi (MSc, Family Medicine); Sidney Leggett (MSc, Epidemiology & Biostatistics), Hannah Beddow (MSc(A), Communication Science & Disorders), and Bryden Bukich (MDCM program). Congratulations to all four outstanding scholars, who were in the top 20 of nearly 700 applicants this year. (Please click on their names to read their full profiles.)
In addition, we're very excited that seven more prospective FMHS students have been offered a $10,000 McCall MacBain Finalist Award by McGill, pending their acceptance.
Future leaders across disciplines
Three faculties – Dental Medicine and Oral Health Sciences, Education, and Management – will welcome scholars for the first time.
The scholarship provides mentorship, coaching, a leadership curriculum, and full funding for a master's or professional program at McGill. The funding covers the program's tuition and fees, as well as a living stipend of $2,000 per month.
"We need inclusive, collaborative, and forward-thinking leaders in all sectors and fields," said John McCall MacBain, who, together with Marcy McCall MacBain, created these scholarships through a historic gift to McGill University. "With this scholarship, students will expand their networks, deepen their leadership skills, and benefit from full funding to pursue their dreams of improving their communities – and the world. Congratulations to these students and the hundreds of candidates across Canada who applied."
Each scholar was chosen based on their character, community engagement, leadership potential, entrepreneurial spirit, academic strength, and intellectual curiosity.
"Our new scholars have taken different paths and will contribute unique perspectives to the scholarship community," said Natasha Sawh, Dean of the McCall MacBain Scholarships. "The selection committees looked for leadership potential, a willingness to engage with diverse perspectives, and traits like empathy, integrity, and grit. Our process incorporates a wide range of volunteer readers and interviewers, who understand the candidates and their varied experiences."
More than 130 Canadian leaders volunteered their time to help select McCall MacBain Scholars. They reviewed nearly 700 applications, interviewed 146 students regionally, and invited 50 to a final set of interviews which took place in March.
Learning to lead with purpose
The scholarship enables students to pursue a fully funded master's or professional degree at McGill University while connecting with mentors and participating in an intensive leadership development program. Mentors for the first cohort include pediatric emergency physician Joanne Liu, urban design advocate Ken Greenberg, and Nova Scotia supreme court judge Diane Rowe.
Built to last
The McCall MacBain Scholarships are the result of a historic $200-million gift to McGill University, which at the time was the largest single donation in Canadian history. The scholarships are planned to continue in perpetuity and will expand this year to include students from around the world. Information sessions for the first global cohort of McCall MacBain Scholars are currently underway, and applications will open in June.
In addition to selecting 20 McCall MacBain Scholars, the McCall MacBain Scholarships program and McGill University have offered 54 entrance awards of $5,000 or $10,000 each to promising candidates. Altogether, this year's 74 scholarships represent an estimated commitment of nearly $2 million in tuition and living costs alone, which will be complemented by mentorship and leadership development programming.
Scholars' perspectives
The first cohort of scholars began their studies at McGill in September 2021.
"The opportunities for mentorship have blown me away – we get to interact with individuals who are giants in their respective fields! The program instills a sense of responsibility to ensure that we're using our opportunities not only to benefit ourselves, but to benefit the communities that we're a part of."
Zeytouna Suleiman
BCL/JD Candidate, Faculty of Law
McCall MacBain Scholar from Montréal, QC
"The McCall MacBain Scholarship really excites me – having a fully funded graduate program with mentorship and leadership training is incredible. The program's case-based learning activities are a really unique, practical, exciting way to approach leadership development, gain experience, and learn new skills."
Josh Swain
MSc in Public Health student, Faculty of Medicine and Health Sciences
McCall MacBain Scholar from Winnipeg, MB
Volunteer's perspective
"The McCall MacBain Scholarships are designed to encourage and develop purposeful leadership for the future," said Kathleen Taylor, a Canadian business executive and volunteer interviewer. "A program of this caliber attracts and connects diverse talent to life changing opportunities. As a volunteer, I can say it's incredibly motivating to meet such talented young people from all walks of life and hear how they want to change the world for the better."
About the McCall MacBain Scholarships at McGill
Established in 2019, the McCall MacBain Scholarships enable outstanding students to pursue a funded master's or professional degree at McGill University while participating in mentorship and leadership development opportunities.
https://mccallmacbainscholars.org/
About McGill University
Founded in Montreal, Quebec, in 1821, McGill University is Canada's top ranked medical doctoral university. McGill is consistently ranked as one of the top universities, both nationally and internationally. It is a world-renowned institution of higher learning with research activities spanning three campuses, 11 faculties, 13 professional schools, 300 programs of study and over 40,000 students, including more than 10,200 graduate students. McGill attracts students from over 150 countries around the world, its 12,800 international students making up 31% of the student body. Over half of McGill students claim a first language other than English, including approximately 19% of our students who say French is their mother tongue.