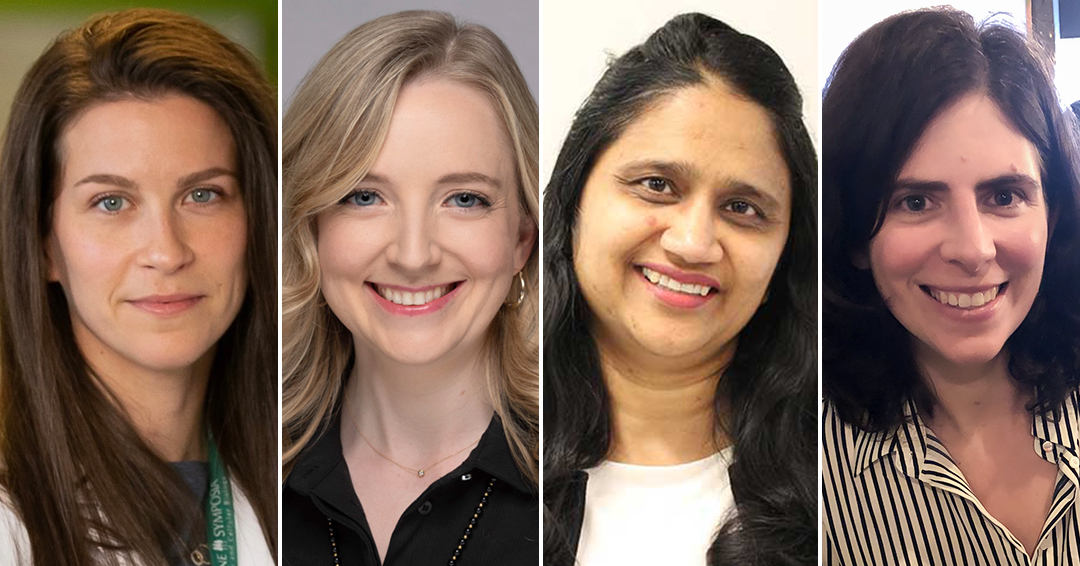 The McGill Faculty of Medicine and Health Sciences each year bestows three major awards – the Maude Abbott, Haile T. Debas and Rosemary Wedderburn Brown Prizes – on outstanding faculty members for their exceptional contributions to the tripartite mission of education, research and service to society, as well as the legacy of McGill luminaries who continue to inspire us today.  
It is with great pleasure that we announce this year's recipients.
 
Maude Abbott Prize
The Maude Abbott Prize, named for the pioneering McGill heart disease researcher, was established in 2010 by the Faculty to recognize outstanding women faculty members with academic appointments who excel in teaching, research or administration in the early stages of their career. With a particular focus on research this year, the 2023 co-recipients of the Maude Abbott Prize are Daniela F. Quail, PhD, and Emily McDonald, MD.  
Daniela Quail is an Assistant Professor in the Department of Physiology and the Rosalind and Morris Goodman Cancer Institute, with a cross-appointment in the Division of Experimental Medicine, Department of Medicine. She holds a Tier II Canada Research Chair in The Tumour Microenvironment. Prof. Quail leads a research program that focuses on the influence of the immune system on the tumour microenvironment and response to therapy. Her research interests are focused on intersectional determinants of cancer health disparities, by considering variables like diet, weight, age, sleep or sex on the immune response to tumours, as well as how the immune microenvironment can be manipulated for new therapeutic opportunities in cancer. Her successful contributions earned her the 2023 McGill Principal's Prize for Outstanding Emerging Researchers.  
Emily McDonald is a clinician-scientist, general internist and epidemiologist. She is an Associate Professor in the Department of Medicine, Division of General Internal Medicine, with cross-appointments in the Divisions of Clinical Epidemiology and Experimental Medicine. She is also the Associate Chair of Quality and Safety for the Department of Medicine, as well as attending physician at the McGill University Health Centre and Scientist at the Research Institute of the McGill University Health Centre (RI-MUHC). Dr. McDonald is a global expert on the appropriate use of medication. With the goal of helping clinicians deprescribe medications to seniors, she co-invented MedSafer, a licensed clinical decision tool for medication management. Her efforts to enhance health education and improve quality of care were recognized nationally when she was appointed to the Canadian Task Force for Preventive Health Care by Dr. Theresa Tam, Chief Public Health Officer of Canada (2020-22). Dr. McDonald is now the Scientific Director of the Canadian Medication Appropriateness and Deprescribing Network.  
Haile T. Debas Prize 
Established in 2010, the Haile T. Debas Prize, named for the McGill grad and global health trailblazer, recognizes a faculty member who promotes equity, diversity, inclusion and anti-racism through practical action across all levels in the Faculty of Medicine and Health Sciences. The 2023 recipient is Nitika Pant Pai, MD, PhD.  
Nitika Pant Pai is an Associate Professor in the Department of Medicine, Division of Clinical Epidemiology, and a research scientist at the RI-MUHC. Dr. Pai's research program is centered on sexually transmitted infections (STIs) and human immunodeficiency virus (HIV), clinical epidemiology, digital health innovations and diagnostics. As part of her large research program on HIV/STIs, she co-created nine innovative programs using smart technology to improve access and increase linkages to quality care for patients with HIV/STIs in marginalized populations. In her quest to help underrepresented communities and to democratize access to health care, Dr. Pai has built fruitful partnerships with community-based organizations in Canada, Colombia, India and South Africa, and she has trained dozens of front-line healthcare professionals in these countries to serve their populations. Dr. Pai serves on diversity and inclusion committees at the RI-MUHC and recruitment committees to increase representation of minorities at McGill. She is also a member of the CIHR-funded Research Excellence, Diversity, and Independence (REDI) initiative. 
Rosemary Wedderburn Brown Prize
The Rosemary Wedderburn Brown Prize, named for the McGill alumna who was the first Black woman elected to a provincial legislature in Canada, recognizes a faculty member from the Schools of Communication Sciences and Disorders, Nursing and Physical and Occupational Therapy demonstrating outstanding scholarly potential and research excellence in the early stages of their career. With this year's focus on the School of Physical and Occupational Therapy, the 2023 recipient is Laurence Roy, OT, PhD.  
Laurence Roy is an occupational therapist, Associate Professor in the School of Physical and Occupational Therapy and a researcher at the Douglas Mental Health University Institute. Her research program aims to enhance our understanding of the factors that lead individuals with mental illness to experience stigmatization, precariousness and social exclusion. Her research contributions have been key in supporting communities in identifying, developing, evaluating and implementing interdisciplinary and cross-sector practices that explicitly focus on long-term community integration for persons with severe mental health problems as well as those experiencing multiple and intersecting discrimination, such as those who identify as Indigenous. She currently leads AMONT, a multi-site longitudinal follow-up study examining the housing situation and risk of homelessness among new mental health service users in seven Quebec sites. Prof. Roy worked with the Quebec Ministry of Health by serving on the Comité de suivi de l'évaluation des projets de Stabilité résidentielle avec accompagnement (2018-21) and the Comité scientifique, Réalisation du Portrait d'itinérance au Québec, Direction des dépendances et de l'itinérance (2017-20).
 
Special Ceremony
We extend our heartfelt congratulations to the 2023 recipients of the Maude Abbott, Haile T. Debas and Rosemary Wedderburn Brown Prizes: Prof. Daniela Quail, Dr. Emily McDonald, Dr. Nitika Pant Pai and Prof. Laurence Roy!  
We look forward to celebrating them and learning more about their extraordinary and impactful work at a special awards ceremony this Fall.
 
Related:
Prof. Daniela Quail:  
Daniela Quail among outstanding emerging researchers honoured by Principal 
McGill researchers' studies offer promise for lung and brain cancer treatment 
Two McGill researchers are awarded through the TRANSCAN international grant competition 
Dr. Emily McDonald: 
MedSafer wins 1st Jury Prize in Acfas Génies en affaires competition 
MedSécure: Managing our medication overload 
Dr. Nitika Pant Pai:  
Multiplexed technologies are paving the way to rapid and equitable screening for sexually transmitted infections 
Socioeconomic factors play a role in detection, transmission and treatment of HIV 
Prof. Laurence Roy:  
Two Faculty of Medicine members honoured by the CAOT