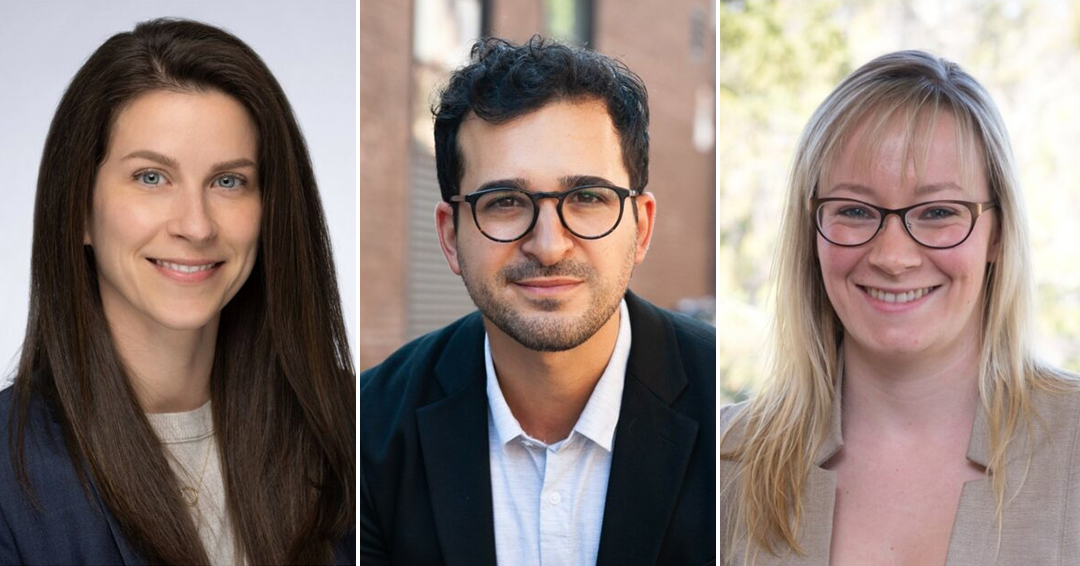 Three highly accomplished early career researchers have received a significant McGill distinction: The Principal's Prize for Outstanding Emerging Researchers
At the spring convocation ceremonies, three McGill scholars who have pushed the boundaries of research in their fields were presented with Principal's Prizes for Outstanding Emerging Researchers.
The 2023 awardees are Ignacio Cofone, Assistant Professor and Canada Research Chair in Artificial Intelligence Law and Data Governance (Faculty of Law), Daniela Quail, Assistant Professor (Faculty of Medicine and Health Sciences), and Jennifer Ronholm, William Dawson Scholar and Assistant Professor (Faculty of Agricultural and Environmental Sciences). Since 2013, McGill has honoured 27 early-career researchers with the prestigious Principal's Prize for Outstanding Emerging Researchers.
"I am delighted and honoured to recognize and celebrate Professors Cofone, Quail, and Ronholm for their exceptional contributions and ground-breaking research," said Deep Saini, Principal and Vice-Chancellor. "This prestigious award serves as a testament to McGill's dedication to fostering innovation and cultivating the next generation of leading scholars and scientists."
Administered by the Office of the Vice-Principal, Research and Innovation, the prize, which includes a monetary award, honours researchers across all disciplines. McGill awards up to three prizes annually. Quail was honoured at the Health Sciences Convocation Ceremony on May 30, Cofone was honoured at the Law Convocation Ceremony on May 31, and Ronholm was honoured at the Agricultural and Environmental Sciences Convocation Ceremony on June 2.
Ignacio Cofone: World-leading privacy law and artificial intelligence scholar
"AI is changing the world," states Professor Ignacio Cofone, Assistant Professor and Canada Research Chair in Artificial Intelligence Law and Data Governance in the Faculty of Law. "But we're still figuring out how to foster its development and the economic benefits that come with it while curbing its harm to individuals and groups," he adds.
With a research focus on privacy harm, Cofone's pioneering work aims to help people benefit from new AI technologies while protecting their rights. According to Cofone, "AI has immense potential to improve well-being, efficiency, and environmental sustainability. It affects people's daily lives in fields as critical as pandemic responses, healthcare, finance, housing, employment, and incarceration"
Influencing policy to make AI less discriminatory and more accountable
The gap between AI innovation and legal research in the field is widening at a rapid speed. "Game-changing AI developments are common news," says Cofone. "The work to come is making sure their benefits are equitably distributed. We need to facilitate the development and use of AI in a manner that is beneficial to all groups in our society."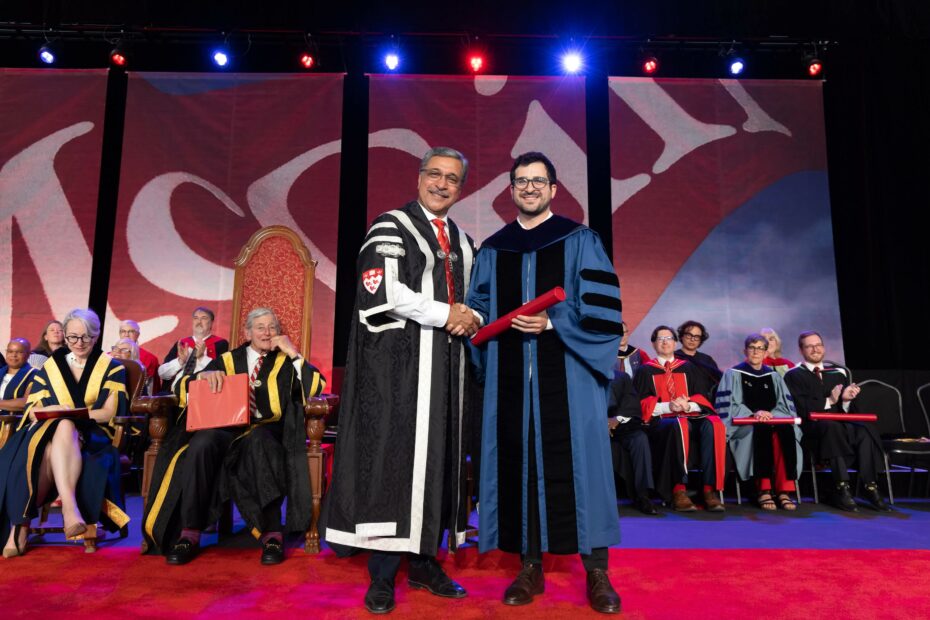 Cofone is focused on changing the legal and regulatory frameworks that govern data. He is developing frameworks for the governance of data that prioritize human rights. "AI decision-making also poses serious risks," he says. "It disproportionately disadvantages members of vulnerable minorities. It also makes detecting bias and assigning responsibility more difficult because decisions are opaque." Cofone is also focused on developing systems of redress for citizens harmed by the misuse of their personal data.
In 2020, Cofone was invited by the Office of the Privacy Commissioner of Canada to author a report to set direction for the most significant reform to federal privacy law in the last two decades. This year, the Government of Canada is considering a reform proposal that incorporates most of the report's principal recommendations. "What Parliament decides this year will affect the lives of millions of Canadians for decades," says Cofone. "We need to see these discussions as issues not only of industrial policy but also issues of justice."
In 2022, the National Judicial Institute invited Cofone to present on AI in judicial decision making to its Leadership Seminar for Chief Justices and Associate Chief Justices. He has held visiting teaching and research positions at the universities of Oxford (UK), Bar-Ilan (Israel), St. Gallen (Switzerland), Tilburg (The Netherlands), and Di Tella (Argentina).
Impactful research contributions and fostering inclusion
Cofone's pioneering work has earned him accolades including the Canadian Institute for the Administration of Justice's Gonthier Award, the Future of Privacy Forum Best Privacy Papers for Policymakers Award, and a McGill Faculty of Law Norton Rose Fulbright Faculty Scholar.
In addition to teaching and supervising multiple students, Cofone has held a remarkable 87 speaking engagements in the past five years. He has published 26 articles across three continents in top national and international venues, plus policy reports, academic blogs, and a book that will be published this year titled, ​The Privacy Fallacy: Harm and Power in the Information Economy ​(Cambridge University Press). He has also obtained significant external research funding.
With a strong passion for equity, diversity, and inclusion, Cofone also serves as the Chair of McGill's Subcommittee on Queer People and has organized legal workshops with a commitment to inclusion and broad representation.
Daniela Quail: A leader in advancing our understanding of the tumor microenvironment
Professor Daniela Quail holds a Tier II Canada Research Chair in The Tumour Microenvironment and is an Assistant Professor in the Department of Physiology at the Rosalind and Morris Goodman Cancer Institute. She conducts highly critical research focusing on how chronic inflammation influences the immune response to cancer, with a focus on high-fatality tumours and modifiable risk factors that underlie cancer disparities.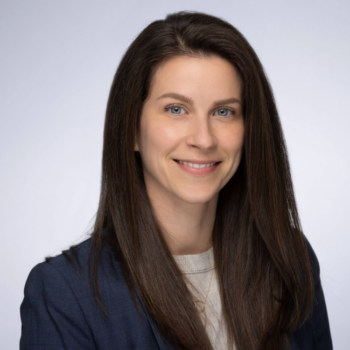 Quail's innovative research and discoveries have made a significant impact on advancing our understanding of the tumor microenvironment. A pioneer in her field, Quail provided one of the first mechanistic links between obesity-associated inflammation and cancer metastasis, which is estimated to underlie up to 20 per cent of all cancer deaths in adults. Along with her team, she has also made major contributions to the study of immunological drivers of brain and lung tumour progression through high-parameter spatial profiling and AI approaches. These studies are the largest of their kind and will serve as standards for the field for years to come.
"My research program is focused on understanding how our immune system reacts to cancer, and how we can leverage those interactions to improve outcomes in high-risk patients," says Quail.  She is also interested in how the immune microenvironment can be manipulated for new therapeutic opportunities in cancer.
Among these contributions, Quail and her collaborators have applied deep learning AI approaches to successfully predict the likelihood of recurrence in patients with early-stage lung cancer with up to ~95 per cent accuracy, highlighting the potential value of AI in informing clinical decision-making. Her innovative research is thus building the foundation needed to develop new clinical interventions.
Pioneering breakthroughs in the tumor microenvironment and AI-driven clinical insights
At the Rosalind and Morris Goodman Cancer Institute, affiliated with McGill University's Faculty of Medicine and Health Sciences, Quail took on leadership of the Single Cell and Imaging Mass Cytometry facility, where she developed the highly multiplexed antibody panels required for studies of the immune microenvironment in cancer.
Quail is also a corresponding author on multiple articles of original research, including one in Nature Cancer that was named among the top 12 most influential articles published by the journal in 2021. The paper probes the link between obesity and the increased risk of metastasis in breast cancer, a particularly troubling relationship given the prevalence of breast cancer and the rising rates of obesity. She is also a corresponding author on two seminal papers published this year in Nature that uses the cutting-edge technique of imaging mass cytometry to define the cellular immune microenvironments of brain and lung tumours.
Inspiring excellence in cancer immunology research
As an early-career researcher, Quail maintains an exceptionally high level of productivity. In addition to having published multiple influential papers and reviews in top-quality medical journals, she has secured millions in research funding through national and international grants, including a grant from the Canada Foundation for Innovation which aims to build cutting-edge single-cell spatial technologies at McGill.
Quail played a leadership role in two international research consortia, one funded by the Brain Tumor Funders' Collaborative and the other funded by TRANSCAN-3 which supports high-impact translational cancer research. Of the twenty consortia selected for the highly competitive TRANSCAN-3's Next generation cancer immunotherapy: targeting the tumour microenvironment funding call, only three selected projects included Canadian teams.
In addition to her impressive scholarship, Quail is a dedicated supervisor to multiple graduate students in her research laboratory which she established in 2017. "I am proud to be supported by an amazing team," says Quail. "This prize is a direct reflection of the brilliant and hard-working trainees and staff in my lab."
Jennifer Ronholm: Pioneering strategies to eliminate antibiotic use in agriculture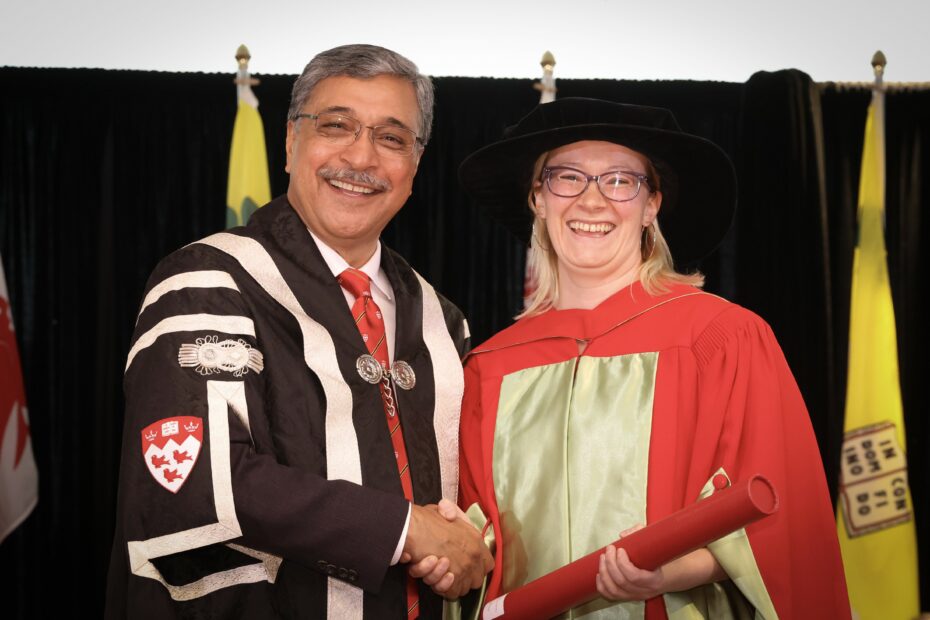 "My research aims to reduce the number of people who suffer and die from antibiotic resistant infections by eliminating the need to use antibiotics on commercial farms," says Jennifer Ronholm, a William Dawson Scholar and Assistant Professor in the Department of Food Science and Agricultural Chemistry and the Department of Animal Science.
Ronholm conducts innovative and highly significant research on replacing antibiotics used in agricultural animals and bases this approach on investigating the microbiology of livestock. This includes combining approaches including next-generation sequencing and molecular biotechnology tools to understand and manipulate the animal's microbiome.
Ronholm's research has the potential to effect transformational change in antibiotic resistance and infectious disease management and prevention, a critical issue that threatens not only livestock production but population health.
"My work is focused on understanding the microbial ecology of the livestock microbiome and if certain microbiome communities offer resistance to infectious diseases," says Ronholm. "The idea is to exploit the power of the microbiome to prevent infections in livestock, thereby negating the use of antibiotics and preserving their use for human medicine."
A rising star in the national and international scientific community
Ronholm's groundbreaking work has gained international visibility.  She was selected as one of only twenty-five of the World Economic Forum's Young Scientists in 2020 — and the only Canadian scientist to receive the prestigious award that year. She was also named as Pioneer in Nutrition and Food Science at the World Economic Forum's Sustainable Development Impact Summit in 2021.
Ronholm leads ongoing collaborations with international and national partners through a number of highly competitive grants, including an NSERC International Alliance Catalyst grant, a SSHRC New Frontiers in Research grant, and a Fonds de recherche du Québec FRQNT Team Research and Equipment grant.
In addition, Ronholm is the recipient of national awards including the Government of Canada Deputy Minister of Health's Excellence in Research, a McGill William Dawson Scholar, and McGill's Faculty of Agricultural and Environmental Science Prize for Teaching Excellence.
Using public engagement to address antimicrobial resistance
Ronholm's rapidly rising profile reflects her ability to maintain a high level of productivity, having earned millions of dollars in competitive funding and publishing more than 60 publications in top-tier microbiology and biotechnology journals including Nature Biotechnology and Microbial Genomics.
Since starting her position at McGill in 2017, Ronholm has also held a remarkable track-record for an early career researcher in terms of instruction and mentorship, having supervised 55 students, including 25 undergraduate projects. "I see this prize as a vote of confidence in my lab's work and our approach," says Ronholm.
In addition to an impressive scholarship and teaching record, Ronholm is committed to public outreach with the goal of fighting against antimicrobial resistance. She has produced a documentary film on antimicrobial resistance and organized a student competition for producing short public outreach videos highlighting the causes and threats of antimicrobial resistance, and the actions citizens can take to tackle this problem.