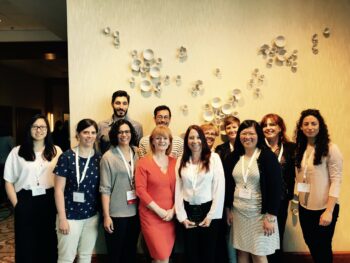 The Canadian Association of Occupational Therapists honoured two McGill University Faculty of Medicine representatives during their annual meeting held earlier this summer in Prince Edward Island. Dr. Annette Majnemer, Vice-Dean, Education at the Faculty of Medicine was presented with the prestigious 2017 Fellowship Award, established to recognize and honour the outstanding contributions and service made by an occupational therapist over an extended period of time. Dr. Laurence Roy, Assistant Professor in the School of Physical and Occupational Therapy was presented with the 2017 Golden Quill Award, which acknowledges an individual author or a group of authors that has/have published an exceptional article in the Canadian Journal of Occupational Therapy in the previous volume year.

"I am very honoured to receive this prestigious Fellowship Award from the CAOT and am privileged to have been the Director and Associate Dean of the School of Physical & Occupational Therapy (SPOT) at McGill over a six-year period," said Dr. Majnemer about receiving this honour.  "We are very lucky to be occupational therapists. This profession provides us with remarkable skills in seeing the big picture, understanding the factors that hinder functioning and determining the best adaptive strategies to attain meaningful goals. These OT skills have been instrumental to me in my academic career and I feel very fortunate to be an OT."

A three-time graduate of McGill, Dr. Majnemer served as Associate Dean and Director of SPOT from 2011 to 2017. Under her leadership, and through her commitment and acumen, the School made great strides, including developing a new strategic action plan that refocused its goals and activities, recruiting highly qualified professors to support new master's programs and developing an innovative concept map for research.  Her research interests focus on the developmental, functional and quality of life outcomes of children with disabilities and the determinants of activity limitations and well-being in children and adolescents with disabilities (preterm survivors, congenital heart defects, cerebral palsy, among others). She currently leads CHILD-BRIGHT, a pan-Canadian patient-oriented research network. In her position as Vice-Dean, Education, Dr. Majnemer provides oversight to the Faculty's major teaching programs, including medicine, nursing, physical and occupational therapy, and communication sciences and disorders, as well as to its services, such as simulation, faculty development and accreditation, among others. She is currently in the throes of a strategic planning exercise for education at the Faculty.

Dr. Laurence Roy earned her undergraduate degree in Occupational Therapy as well as her PhD focused on readaptation at Université de Montréal before completing postdoctoral training in Psychiatry at McGill.  Dr. Roy's research focuses on the way communities shape and are shaped by the engagement, inclusion, and occupations of persons who live in or near the margin. Her and her team conduct projects on psychosocial rehabilitation, community integration, occupational engagement and recovery of adults who live with mental illness or experience psychosocial challenges, particularly in the areas of housing, homelessness, education and justice involvement. She is particularly interested in building and documenting participatory partnerships where knowledge can be exchanged and co-constructed, particularly around the position of occupational therapy in the field of homelessness, and of intersectoral work of mental health, social services and justice services with and for persons who experience both residential instability and mental illness.

Congratulations Dr. Majnemer and Dr. Roy!

August 7, 2017