Launch of Canadian VirusSeq Data Portal will provide a single platform for comprehensive, standardized data in real time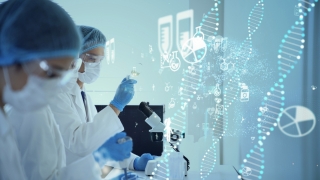 Genome Canada launched the Canadian VirusSeq Data Portal today to track the evolving COVID-19 pandemic across Canada. McGill University researcher Guillaume Bourque, a professor in the Department of Human Genetics, along with his research team, led the development of the portal. They worked in collaboration with CanCOGeN VirusSeq and world-leading genomics scientists, including Drs. Fiona Brinkman (Simon Fraser University), William Hsiao (Simon Fraser University), Lincoln Stein (Ontario Institute for Cancer Research) and Yann Joly (McGill University).
The portal enables real-time data sharing and brings together SARS-CoV-2 genome sequences used to detect, diagnose, and anticipate the spread of new variants. Related metadata from the Public Health Agency of Canada's National Microbiology Laboratory (NML) and public health labs across the country will also be included. Genome Canada will serve as the data custodian.
The portal is one of the key deliverables of the $53 million Variants of Concern Strategy the Government of Canada announced on February 12, 2021. Scientists, public health leaders and other experts involved in shaping Canada's pandemic response will gain a clear picture of the virus across the country, including data on detection, transmission, evolution, and tracking variants of concern.
"The world still has a long way to go to defeat COVID-19, and rapid data sharing is one of the most effective weapons at our disposal," says Bourque, Director of Bioinformatics, McGill University & Genome Quebec Innovation Center. "With the launch of the VirusSeq Data Portal, we now have a platform for all Canadian SARS-CoV-2 sequences and associated metadata. Ultimately, it will amplify our ability to make the kinds of decisions and discoveries that will lead Canada out of this pandemic—and help us to manage the next one."
Building tools, facilitating analysis
Dr. Bourque's team will work with DNAstack to integrate COVID Cloud, a cloud-based platform that helps researchers and decision makers derive insights about COVID-19 from genomics and other datasets. COVID Cloud shares data over open standards developed by the Global Alliance for Genomics & Health and provides tools for researchers to find, visualize, and analyze datasets in the cloud. COVID Cloud is developed by a consortium of Canadian partners and funded by Canada's Digital Technology Supercluster.
Until now, Canadian public health laboratories and researchers have been restricted to piecing together a picture of the COVID-19 pandemic by contributing to and then accessing data through a variety of international databases, including the Global Influenza Surveillance & Response System (GISAID), the largest global database of coronavirus sequences. However, no single database contained all the information required for a comprehensive pan-Canadian genomic surveillance strategy, and until today, there were numerous barriers to sharing the available data specific to the Canadian context.
The portal is now live and ready to receive viral genome sequences and metadata data from labs and researchers across Canada in the coming days and weeks. The portal will evolve with the addition of viral sequences, Bourque's team will continue to develop additional tools to navigate, analyze and interpret the data.
About McGill University
Founded in Montreal, Quebec, in 1821, McGill University is Canada's top ranked medical doctoral university. McGill is consistently ranked as one of the top universities, both nationally and internationally. It is a world-renowned institution of higher learning with research activities spanning two campuses, 11 faculties, 13 professional schools, 300 programs of study and over 40,000 students, including more than 10,200 graduate students. McGill attracts students from over 150 countries around the world, its 12,800 international students making up 31% of the student body. Over half of McGill students claim a first language other than English, including approximately 19% of our students who say French is their mother tongue.
April 28, 2021