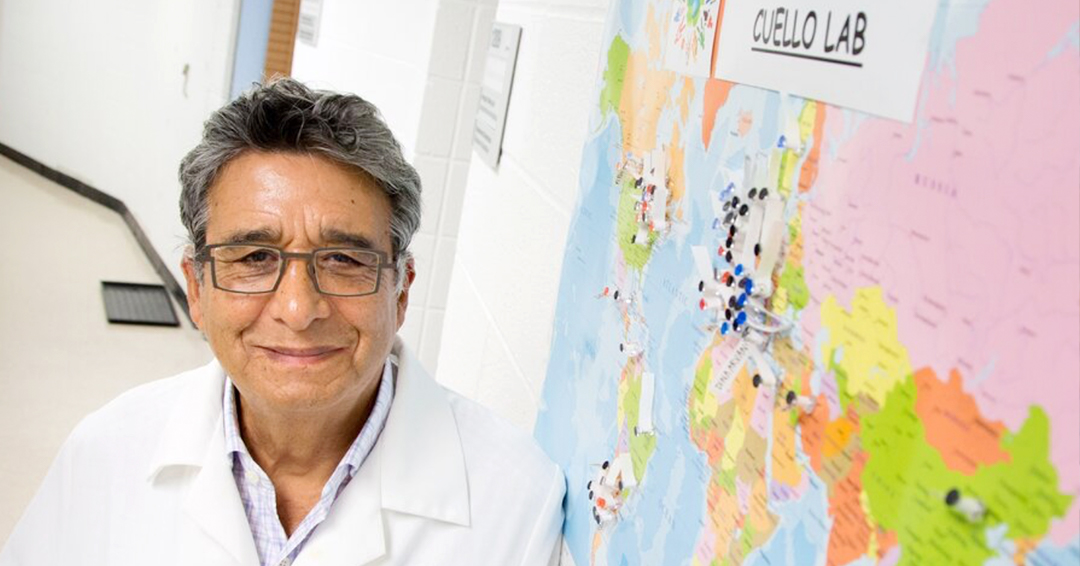 Dr. Claudio Cuello, Professor and inaugural Charles E. Frosst/Merck endowed Chair in Pharmacology at McGill University's Faculty of Medicine and Health Sciences was recently elected as an International Fellow of the Royal Academy of Medicine of Spain in recognition of his pioneering contributions to the fields of Neurosciences and Neuropharmacology.
Nominated by his peers
"Professor Cuello was elected by large majority because of his impressive life contribution to the advancement of neuroscience," notes Dr. José Obeso, Professor of Neurology at the University of Navarra Medical School and Clinica Universitaria in Pamplona, Spain, who nominated Dr. Cuello. "His impressive training and collaboration with giants of modern neuroscience and his own achievement made him a major figure of contemporary neuroscience."
"The announcement of my election as International Fellow of the Royal Academy of Medicine of Spain means a great deal to me on both a professional and personal level," says Dr. Cuello. "First as my ancestral roots in Spain trace back to the 1500s. Additionally, in my 'Neurotree' I have been identified as a scientific grandson of the originator of the "neuronal theory" and the person known as the father of modern neuroscience, Ramon and Cajal. I also had the good fortune of being trained in electron microscopy by Amanda Pellegrino, who was trained in brain histopathology by Pio del Rio Hortega, who discovered the microglia and the oligodendroglia. I am honoured and touched by this recognition."
A storied McGill career
Dr. Cuello was recruited to McGill from Oxford University to Chair the Department of Pharmacology and Therapeutics in 1985. He held this position until 2000, elected for three consecutive terms. During that period the Department experienced a major transformation. It was modernized and fully equipped. Dr. Cuello recruited outstanding Professors and the Graduate Program grew from 12 to 80+ registered graduate students. During his Chairmanship departmental publications rose from 30 to 100 annually, trebling their average journal impact. The Department generates presently about 5% of all North American PhDs in the field.
At McGill Dr. Cuello directs a vibrant and successful research group searching for early biomarkers and novel experimental therapies capable of arresting or reverting the early Alzheimer's pathology. His group recently made important contributions to the understanding of CNS trophic factor deregulation both in Alzheimer's disease and in Down syndrome. He has made pioneering publications on dendritic release of neurotransmitters, the localization and role of central and peripheral neuropeptides, trophic factor-induced repair and synaptogenesis, novel applications of monoclonal antibodies in the neurosciences and the generation of novel transgenic models of the Alzheimer's-like amyloid pathology. He has authored over 400 scientific publications, with over 25,000 citations. He has given a number of named lectures in Europe and North America and he is frequently invited to give lectures at major international meetings.
Dr. Cuello has received numerous recognitions including the Estela A de Goytia Award of the Argentina Society for the Advancement of Science, the Robert Feulgen Award (Germany), the Iberdrola Visiting Professorship Award (Spain), the Grass Foundation Traveling Scientist Award, the Heinz Lehman Award and the Novartis Award of the Canadian Pharmacological Society. Universities and organizations around the world have honored him with prestigious awards, honorary doctorates and professorships. He is a Fellow of the Royal Society of Canada and was named Officer of the Order of Canada in 2011.
Congratulations Dr. Cuello!