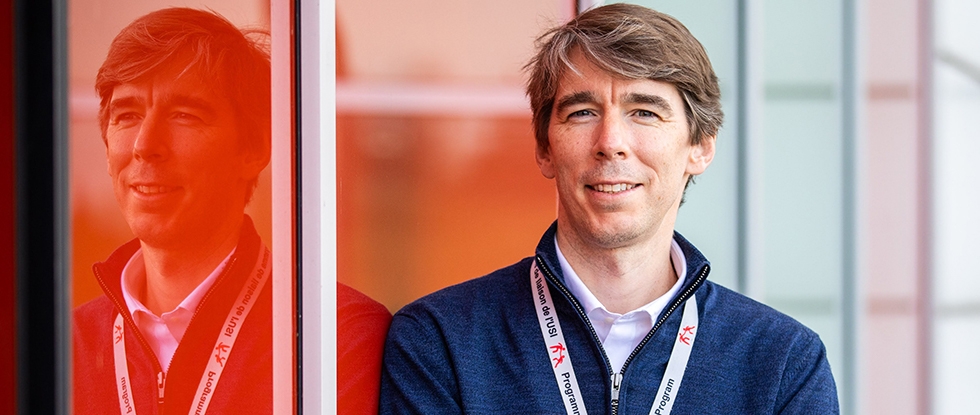 Preliminary results by MI4 researcher indicate that isolation period for healthcare workers could be cut in half.
We all know that 14 days of self-isolation is mandatory for healthcare workers and others following unprotected exposure to a confirmed case of COVID-19. But this infection control strategy can put a serious strain on workforce capacity.

New research by MI4 (McGill Interdisciplinary Initiative in Infection and Immunity) scientist Benjamin Smith, BSc'01, MCDM'05, MSc'12, is evaluating a shorter infection control strategy. Preliminary results from his study of Montreal-area healthcare workers tested at home after high-risk exposure to the coronavirus indicate that the standard 14-day isolation period could potentially be shortened by as much as half, while making sure patients are safe.

"Our study suggests that a simple infection control strategy consisting of symptom-triggered testing from day 0 to 7, followed by a standard home-based test on day 7, detects all or nearly all healthcare workers who develop COVID-19 after high-risk exposure. It's a promising result. If these findings are confirmed as we test a larger number of people, this testing strategy could significantly shorten the self-isolation duration required for healthcare workers," says Smith, a clinician-scientist and member of the Meakins-Christie Laboratories at the Research Institute of the McGill University Health Centre (RI-MUHC), and an associate professor in the Department of Medicine at McGill University.

The impetus for the study, supported by the MI4 Emergency COVID-19 Research Funding Program, came during the first wave of the pandemic when Smith began to question whether a full 14-day quarantine for exposed healthcare workers had the prospective data to back it up.

"As a pulmonary physician, it become apparent that the capacity of our hospitals to provide care for COVID-19 patients and our respiratory patients was potentially threatened. If you have to remove frontline healthcare workers for two weeks at their time of greatest need, this can be a big problem and cause a shortage of essential medical staff in hospitals to treat patients with COVID-19 and many other conditions including pulmonary disease," he says.

Smith and his spouse, Madeleine Sharp, MCDM'07, also an MUHC physician, had self-isolated for 14 days after returning from a family trip to the Adirondacks in upstate New York during March break. "We were both sidelined for two weeks and it raised the question, what is the evidence behind 14 days?"

As an epidemiology researcher, Smith was struck by emerging global data about the incubation period that put his scientific radar on high alert. People in close contact with the virus who go on to develop COVID-19 typically do so within five or six days, and the vast majority by day 9. "Studies were also showing that nasal swabs and other testing methods can detect virus two or three days before symptom onsets. I thought, if we swabbed people on day 7 after exposure, this might allow us to identify those who might go on to develop symptoms by day 9 or 10," he explains.

"What was lacking was prospective evaluation of this testing strategy. We were interested to see if the testing strategy could rule out the possibility of healthcare workers going on to develop COVID-19 in the second week of self-isolation. If that proved to be the case, this could be a useful testing strategy, allowing healthcare staff to safely return to work much sooner, which would have a positive impact on care."

In Smith's study, each healthcare worker received symptom-triggered nasopharyngeal swab testing from day 0-7 post exposure, and a standard home-based nasopharyngeal swab and saliva test on day 7. This strategy successfully detected all of those who developed COVID-19 by day 14. He also performed standard tests on day 9, 10 and 14, to detect asymptomatic virus, with none occurring after day 7.

He is expanding the ongoing study to confirm these preliminary results and provide much-needed evidence for public health officials to make informed decisions about shortening the isolation period for healthcare workers while keeping patients safe. Smith's team is enrolling more healthcare workers in and around Montreal, and now including family members and caregivers exposed to the coronavirus when a loved one is hospitalized with COVID-19. He also plans to enroll healthcare workers at other sites in Quebec and across Canada.

"We can pool the data from different sites to get a larger sample. This also broadens the potential impact of the findings from healthcare workers in hospitals to caregivers in long-term care facilities and family members of patients who develop COVID-19. These policy decisions are context-specific, but it's possible that the isolation time for other essential workers, such as police and firefighters, could be shortened as well if there is strong evidence to support that."

As the second wave of the pandemic puts more strain on hospitals and other care facilities in Quebec, other provinces and worldwide, there is an urgent need for evidence-based strategies that could safely shorten isolation time. "We don't have the luxury of time in dealing with the second wave of the pandemic. That's what prompted our decision to release interim results. We're proposing a bold and aggressive strategy in shortening the strategy of self-isolation by 50%, but evaluating it in a rigorous way," says Smith.

About MI4:
Formally established in April 2018 thanks to a $15 million gift from Montreal's Doggone Foundation, MI4 is one of the largest grouping of experts focused on infectious and immune-mediated diseased in the world. It brings together more than 250 researchers from McGill, the MUHC, the Jewish General Hospital and other clinical partners, as well as from affiliated research centres. 
November 18 2020