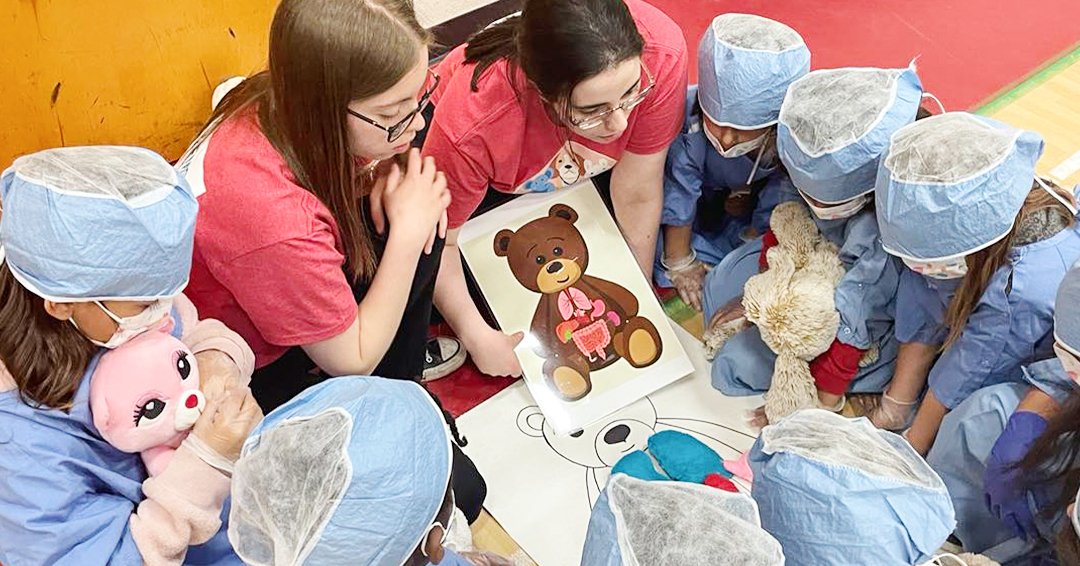 Following the successful introduction of the internationally celebrated Teddy Bear Hospital at its Montreal campus a year ago, medical students at McGill University's Faculty of Medicine and Health Sciences' Campus Outaouais have established their own spinoff called L'Hôpital des Toutous (HDT). 
A student-led, pediatric project supervised by Gatineau-area pediatricians, the students' mission is to help children overcome any anxiety they may develop during visits with healthcare professionals. The initiative has its origins at the International Federation of Medical Students Associations (IFMSA), one of the world's oldest and largest student-run organisations, founded in 1951.  
According to Han Zhang Huang, a second-year medical student at the Campus Outaouais, and one of the co-founders and co-presidents of HDT, "Studies conducted internationally have shown strong evidence that this program really helps in alleviating the symptoms of white coat syndrome, the stress and anxiety related to clinical and hospital settings." 
Under the program's framework, children from four to eight years of age are invited to bring their favourite stuffed animals, usually teddy bears, to a mock clinic typically set up in a school gymnasium, for a health evaluation and/or treatment plan.  
Should one be inclined to regard this exercise as all play and amusement, a closer observation reveals it to be somewhat realistic, and certainly educational, as Han's description illustrates. "We'll go through a nursing station, essentially triaging, getting some of that basic medical information of weight and height and temperature, and then send the patient over to the imaging station. We'll do a quick X-ray to help figure out what's wrong. Maybe it won't reveal much, so we'll send you over to surgery. We may have to fix an arm or a leg. While this is taking place children get an education in anatomy as well. For example, where are the lungs, where is the heart. We'll send them over to occupational therapy and physiotherapy to learn a little bit about how you can adapt the environment for your stuffed animal, how you can get your stuffed animal back to its original shape.  
"We'll also send them over the pharmacy where they'll learn a little bit about the prescription that they're allowed to administer, and the ones they are not permitted. And we'll finish off with a station on nutrition and lifestyle, learning about how to stay healthy so you don't have to visit the hospital so often." 
For the students' first iteration, twenty volunteer health professions students, were on hand at École l'Oiseau Bleu in Gatineau on May 26, 2023, to help teach kids how to use the stethoscope, how to measure the height of the stuffed toy, how to create a prescription, and to demonstrate physiotherapy exercises. "We try to make it as interactive as possible, so we do ask questions and we leave space for imagination and creativity. The kids can decide if the teddy bear's heartbeat is not great. They can decide if the teddy bear is not growing. Normally they can decide if the teddy bear has a fever," Han said. 
The event attracted more than 120 children, accompanied by parents. "We received a lot of great feedback, and the kids genuinely did not want to leave. We did ask the kids how much they loved the events and they all said they would love to come back and they want to be doctors. Some of them came up to me and said I want to be like you. I hope that we kind of planted that seed and that the kids can develop an interest in healthcare," Han added. 
Local businesses including Desjardins and Access Pharma sponsored HDT, as well as the McGill Medical Students' Society. The Hôpital de Gatineau donated material for the various medical stations including gloves, gowns and scrub pads. 
Given the success of HDT, Han hopes to bring the project to other schools in Gatineau. "Maybe two or three schools in the next year in Gatineau and Hull, repeating this initiative and solidifying it and making it a more concrete initiative for future years. We'll think about branching out and think of different initiatives that we can also do along the same objective of reducing white coat fear, reducing the stress and anxiety." 
As for the patients, Han is happy to report their treatment has resulted in a 100 percent success rate. "All  stuffed animals left much healthier, maybe with a band-aid on their arm or with a prescription in hand."