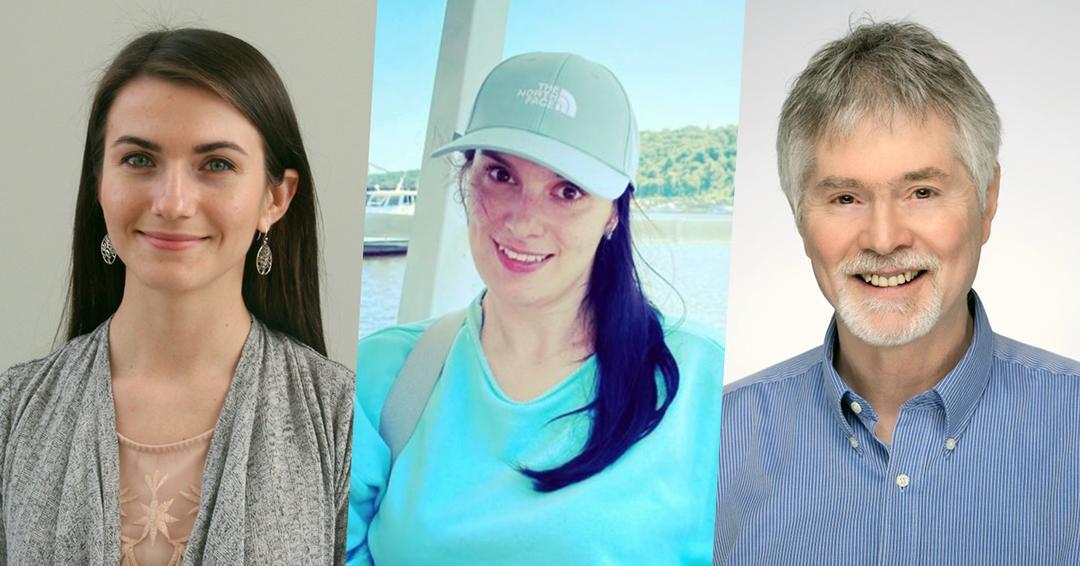 The Nepveu laboratory recently welcomed Tanya Petrachkova and Olga Soldatkina, two post-doctoral fellows from Kyiv, Ukraine.
When the war was declared in Ukraine, Alain Nepveu, Ph.D. and professor at The Rosalind and Morris Goodman Cancer Institute shared a job posting on the website ScienceForUkraine.eu, dedicated to disseminating information about support opportunities for Ukrainian scientists. It is estimated that 6300 academics from Ukraine are searching for academic positions outside of their home country. Through his posting, Prof. Nepveu met Tanya Petrachkova, Ph.D., and Olga Soldatkina, Ph.D., two talented scientists who are now post-doctoral fellows in his laboratory. : "I feel I am privileged to be Canadian, and I was glad to provide an opportunity for a skilled Ukrainian scientist. Olga quickly got in touch with me and we started working on the immigration procedures for herself and her 8-year-old son, Ruslan. By the time Tanya reached out, the Canadian and Quebec research agencies had announced special programs for Ukrainian scientists, and I was able to offer her a position as well," explains Prof. Nepveu, whose research is focused on DNA damage in the context of many types of cancer.
Prof. Nepveu was delighted by the amount of people who mobilized to help with the process of helping his new post-doctoral fellows to safely make it to Montreal and to start their journey here: "Throughout the whole process, I have been impressed with all the help we received and the kindness of everyone. Someone at the Canadian government guided us through the procedures and the maize of websites. My daughter Émilie helped me find an apartment for Olga and her son right in front of a skate park. Olga's landlord quickly put her in contact with a network of people who helped find a school for Ruslan. When we took the metro the first time, the attendant offered us a free ride."
Without surprise, the McGill and the Rosalind and Morris Goodman Cancer Institute communities mobilized to offer a warm welcome to its new talented members "Ms. Naomi Belinski did marvels to ensure our two new recruits would rapidly receive a salary. In the lab, people organized a big clean-up to make space for the new arrivals. Ms. Jan Walker at the McGill Graduate and Postdoctoral Studies told me where to apply for financial support and put us in touch with people at the Fonds de Recherche du Québec, where our dossiers were processed very rapidly thanks to Ms. Geneviève Dorion and Ms. Marine Degeilh. This experience made me proud of our people and I feel even more privileged than before."
We invite you to discover Petrachkova's and Soldakina's stories and to learn more about their scientific and personal journeys.
Tanya Petrachkova, Ph.D.
Petrachkova grew up in Kyiv. She performed her doctoral studies at the department of biological science of Western Michigan University under the supervision of Professor Donald Kane. Her studies focused on developmental genetics using zebrafish as a model organism. She elucidated the role of cyclin B1 in the early development of the zebrafish through its function in the cell cycle. When she came back to Ukraine in 2020, she soon acquired experience in the pharmaceutical industry, managing projects, raising funds, and coordinating biobanking resources.
Two days after the war started in Ukraine, Petrachkova managed to cross the border in Hungary and make her way to Poland with her sister-in-law and her nephews. Her close family members are now back in Kyiv, where the risk appears to have been minimized for now. Coming alone to a new city can be challenging, yet Tanya is optimistic, and is excited to be part of a research community: "Alain has been really helpful through the application process. I immediately got along with everybody and am already started making friends."
Petrachkova is very driven and was compelled by the Rosalind and Morris Goodman Cancer Institute because of its strength in translational research: "I believe personalized medicine is the future and I need my research to be applicable. I want to see my research in action within a 5–10-year horizon". Alongside Prof. Nepveu, she will work on genes involved in DNA repair and determine their impact on tumour development and progression.
Olga Soldatkina, Ph.D.
Soldatkina obtained her Ph.D. from the Taras Shevchenko National University in Kiev with the supervision of Professor Sergiy Dzyadevych. Her Ph.D. research focused on developing and improving biosensors and chemosensors able to detect small molecules. For instance, Soldatkina et al. developed in 2018 a biosensor consisting of two enzymes immobilized on a gold electrode, which elicits an electrical signal upon binding of the amino acid arginine. The applications of Soldatkina's Ph.D. research go from biopharmaceutical quality control to measurements enabling personalized medicine.Unlike Petrachkova, Soldatkina has not lived in North America before. Moreover, she came here with her eight-year-old son. "When the war started, my first concern was to get my son somewhere he would be safe", explains Olga. Now, she has safely made it to Montréal and is starting to settle here. We genuinely wish this young family a good start to their journey!
Given the nature of her expertise, Soldatkina brings to the Institute the potential for interdisciplinary research. Prof. Nepveu sees his new post-doctoral fellow's skill set as a true asset to measure the types of DNA damage in cancer cells: "We currently use various types of biosensors to detect and measure specific DNA lesions that are produced in cancer cells as the result of alterations in their metabolism. The expertise of Soldatkina in biosensors will allow us to extend our arsenal of detection methods in the field of DNA damage."
On behalf of the Rosalind and Morris Goodman Cancer Institute, we welcome both post-doctoral fellows to our community!