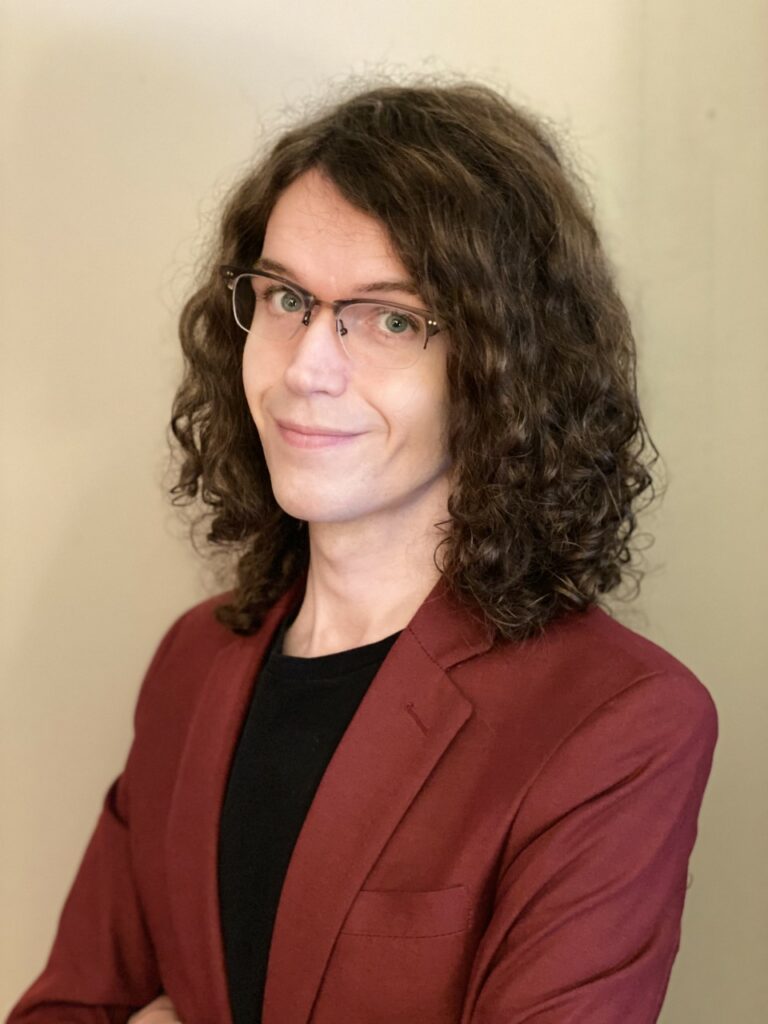 As part of our series of Q&As to mark International Day Against Homophobia, Biphobia and Transphobia, we speak with Professor Jason Harley
May 17 is International Day Against Homophobia, Biphobia and Transphobia. The day was created was created in 2004 to draw the attention to the violence and discrimination experienced by lesbian, gay, bisexual, transgender, intersex people and all other people with diverse sexual orientations, gender identities or expressions, and sex characteristics. 
It also offers people an opportunity to reflect upon the importance of building more inclusive communities, including here at McGill.
"Having a more diverse and inclusive campus community means there is the potential for all to thrive at McGill," says Andrea Clegg, Equity Education Advisor, Gender Equity and 2SLGBTQ+ Education. "Having more diverse experiences actively represented on our campuses enhances and enriches the University's core activities of research, teaching, and service to the broader society."
"We need to continue to work towards building a campus environment where all students, staff, and faculty – including members of 2SLGBTQ+ communities – can reach their full potential. I don't think work in this area will ever be finished, and we also need to remain vigilant in ensuring that progress on 2SLGBTQ+ issues made thus far remains in place," says Clegg.
To mark the International Day Against Homophobia, Biphobia and Transphobia, the Reporter has prepared a series of Q&As with staff and faculty members of McGill's 2SLGBTQ+ community. We asked them about everything from their personal experiences as students – and later staff and faculty – who identify as 2SLGBTQ+, to the efforts McGill is making to support 2SLGBTQ+ people, to how instructors can make their classrooms more inclusive.
"Building an inclusive campus community means marking internationally recognized days of significance that honour the experiences of diverse social groups that have faced adversity in higher education contexts. These commemorative efforts must centre the voices and experiences of McGillians who are members of those communities," says Angela Campbell, Associate Provost (Equity and Academic Policies).
"For that reason, I am so pleased that colleagues who are members of our 2SLGBTQ+ community at McGill have agreed to share their perspectives as we mark the International Day against Homophobia, Transphobia, and Biphobia 2022. Their insights show that, while McGill is making strides in relation in relation to advancing EDI, we still have much important work left to do."
Jason M. Harley
Jason M. Harley, PhD, is an Assistant Professor (tenure-track) in the Department of Surgery, Faculty of Medicine and Health Sciences at McGill, and a Scientist at the Research Institute of the McGill University Health Centre (RI-MUHC). They are also the Director of Research at the Steinberg Centre for Simulation and Interactive Learning, Director of the Simulation, Affect, Innovation, Learning, and Surgery (SAILS) Lab, and an Associate Member of the Institute for Health Sciences Education (IHSE).
They truly were 'made at McGill'. They completed a BA in Psychology, MA in Educational Psychology, and FRQSC- and SSHRC-CGS-funded PhD in Educational Psychology at McGill University followed by a FRQSC-funded postdoctoral fellowship in Computer Science at the University of Montreal. Prior to returning to McGill, they were a tenure-track assistant professor of Educational Technology and Psychology at the University of Alberta.
The overarching goal of Harley's research program is to support the current and future well-being and clinical performance of healthcare trainees through innovative educational interventions, leveraging interactive simulations and emerging technologies. Their research has attracted over 1 million dollars of funding (as PI) from the Social Sciences and Humanities Research Council of Canada, The Killam Foundation, Mitacs, the McGill Interdisciplinary Initiative in Infection and Immunity, and others. Their research has led to dozens of broadcast and print interviews in venues such as The Guardian, CBC News, The Globe and Mail, Global News, CTV News and the Montreal Gazette. One of their most successful research projects to-date was the development and evaluation of a SSHRC-funded queer history app that was featured on all major Canadian news media and endorsed by elected federal, provincial, and municipal politicians. They have also been invited to consult on queer issues for Stats Canada and a Provincial Supreme Court case.
What are some of the ways in which the McGill community is promoting EDI, especially in relation to 2SLGBTQ+ inclusion?
McGill has services for queer undergraduate and graduate students (e.g., Queer McGill, Queer McGill Grad Club), a Subcommittee on Queer People (part of the Joint Board-Senate Committee on Equity) as well as events around Queer History Month. McGill also includes sexual orientation and gender identity as recognized minority groups in hiring and reporting.
 What still needs to be done?
As an invisible minority group, sexual orientation and gender identity people need to be better integrated into representations and discussions of equity, diversity, and inclusion. Too often, discussions and representations of EDI completely exclude any mention or illustration of sexual orientation and gender minority people. This is a problem because queer people are both a statistical minority as well as a vulnerable minority – something research is clear on. We are also a group whose existing rights are so recent one might say "the ink is still drying" on the pages of history.
Thinking back to when you were a student, how much progress – if any – has there been in making classrooms more inclusive to 2SLGBTQ+ students?
McGill is a progressive university in a progressive city and country: it is a wonderful place for queer people to learn and work. As a queer rural kid attending a Catholic high school, starting my undergraduate degree at McGill in 2004 felt like stepping from a world in greyscale to one of vibrant colour. That said, I have not noticed any marked changes since I started my undergraduate degree. Initiatives like this make me hopeful that this is soon to change.
How can professors make their classrooms more inclusive of diverse lived experiences among our students?
A. Introduce yourself, even if it's just on day one, using your pronouns and put them in your email footer. This can help make gender identity minority students, teaching assistants, and junior colleagues feel more comfortable using their preferred pronouns. "Hi, I'm Professor Jason Harley and my pronouns are they/them." Easy, right?
B. If you find yourself teaching about people – whether it's how to teach, heal, or otherwise help them – include non-tokenizing examples of sexual orientation and gender identity minority people. What do I mean by non-tokenizing? Exclusively discussing gay people in the context of STDs or queer people in the context of suicide. Queer people are more than death, disease, and invisibility. Examples can go a long way to help illustrate that.
Do we need to make space to discuss sexual or gender identity in the workplace and/or in the classroom? Why is this important?
We do, especially in courses where students are being prepared to help or help better understand people. For example: how can we prepare healthcare workers to give the best standard of care possible when they don't understand the unique stressors queer people face? How can we expect teachers to be ready to foster inclusive classrooms if they have not cultivated the reflexes to be open to students' diverse gender identities and expressions and to avoid assuming that all their students have a mom and a dad?
Some see diversity as a threat to power. What are the benefits, and perhaps also potential risks, of fostering and celebrating a more diverse community, at McGill and in the larger world?
By celebrating and uplifting diversity at McGill we can create an environment that helps showcase how diversity magnifies – not retracts power. When everyone is treated fairly and given opportunities not only can the best truly rise to the top, but new, different, and bold ideas can take organizations to new heights. In a world facing many challenges, innovation and new ways of thinking are more needed than ever.
Is there anything you would like to add?
Research can transform the world. It has helped people understand disparities that women and racialized people face, for example, and is helping to catalyze and direct change. Researchers, especially quantitative researchers: collect data on sexual orientation and gender identity people, whenever possible, to help build a better understanding of queer people's strengths and needs.
We also need to avoid the temptation of making efforts to only share our findings and insights with our own communities. In an increasingly polarizing social landscape we can't assume that our would-be audience will "do their homework" (spoiler: they won't even show up for metaphorical class). We need to speak to a broad audience to catalyze change and that often means avoiding assumptions about what our audiences knows and even cares about. Leave "should" behind. Start simple, don't talk down to members of your audience, and cultivate empathy and understanding of a problem and potential positive steps rather than outrage.