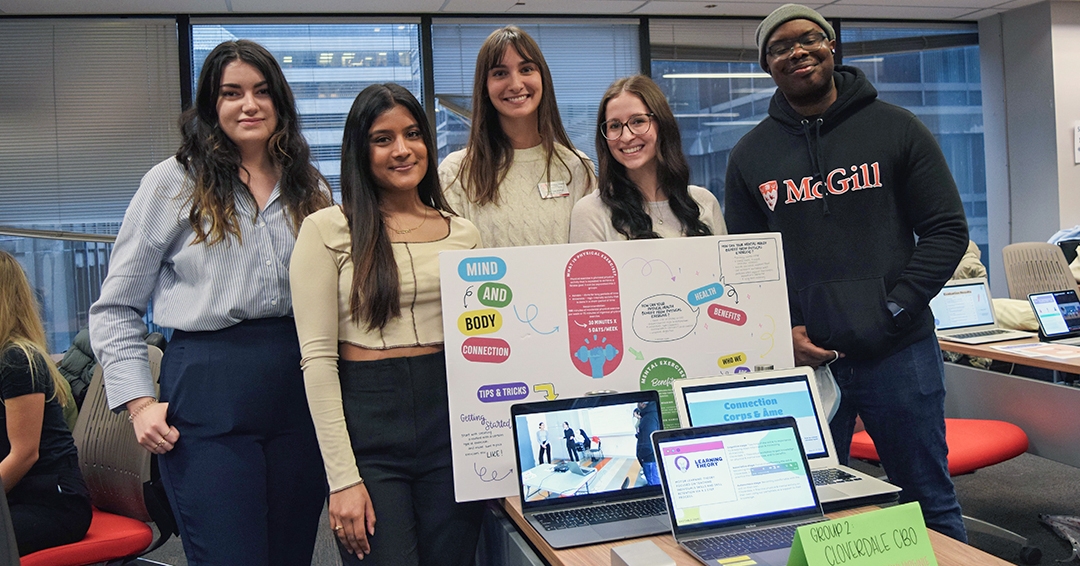 As part of their Community Nursing placements, students created unique projects to meet clients' needs.

Excitement was in the air at the Undergraduate Community Nursing Health Fair held at the Ingram School of Nursing (ISoN) during the afternoon of April 5th. Twenty-seven teams of undergraduate students proudly presented projects they initiated and completed as part of their placements at community health organizations in and around Montreal. Teams were tasked with identifying an issue or need that resonated strongly with clients and developing projects to address these needs. "I'm very proud of all the students. Their projects showed a deep understanding of the issues and a lot of creativity," said event organizer and ISoN Professor Françoise Filion. Congratulations to all and a special shout-out to the winning teams as chosen by the audience.
Pictured here, in first place, is Team 2, left to right: Virginie Voyer, Dishani Sinnathamby, Nicole Sokolovitch, Geneviève Kojoian and Samuel Zeidel. Their winning project, entitled Mind & Body Connexion, consisted of informing clients of the Cloverdale Multi-Ressources Community Center of the benefits of physical and mental well-being. The students created pamphlets, presented the topic and brought in a professional Zumba instructor to lead a Zumba session tailored to the group. "We received great feedback, and the participants were thrilled to have joined," said team member Dishani Sinnathamby.
2nd place: Team 26 – Kahnawake Survival School. Project: Body, Mind, and Growing: Promoting Health and Well-being at Kahnawake Survival School. Students: Janvi Patel, Analisa Astorino, Samantha Seltzer, Stephanie Dade, Vanessa Ruel.
3rd place: Team 5 – Italian-Canadian Community Services of Quebec. Project: Overcoming Isolation: Creative Solutions for a Complex Problem. Students: Marco Liu, TaÏna Beauchamp, Diana Canuto, Stephanie Papandrea, Victoria Pallota.