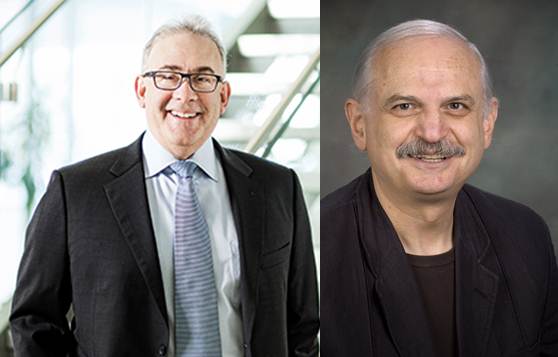 Since 2007, the Paediatric Chairs of Canada (PCC) has been giving annual awards recognizing paediatric leadership in Education, Research and Practice.

Two members of the McGill Faculty of Medicine's Department of Pediatrics have recently been announced as 2015 recipients. Dr. Ronald Gottesman has received the 2015 PCC Award for Leadership as a Clinician Educator, while Dr. Constantin Polychronakos has received the 2015 PCC Award for Leadership as a Clinician Investigator.

A nationally and internationally recognized leader in Critical Care Medicine and simulation-based healthcare education, Dr. Gottesman is currently a Full Professor of Pediatrics in the Faculty of Medicine at McGill University and the former interim director of the Arnold and Blema Steinberg Medical Simulation Centre. He has active appointments at the McGill Centre for Medical Education, the MUHC Research Institute, the Ingram School of Nursing and McGill Teaching and Learning Services. He is also the Chair of the Specialty Committee of Critical Care Medicine (adult and pediatric) at the Royal College of Physicians and Surgeons of Canada.

His current research interests include technology-enhanced instruction, high stakes team training, resuscitation skills efficacy and clinical trials based -knowledge translation in intensive care.

Dr. Gottesman receives this PCC award for his enormous contributions in medical education, and in particular his pioneering and innovative work in simulation education. "This award is especially meaningful to me as it represents the efforts of many colleagues and friends," says Dr. Gottesman. "I also sincerely thank all of my students who have taught me innumerable lessons of how to become a successful educator and mentor."

Dr. Polychronakos studied medicine at the Aristotelian University in Greece and trained in pediatrics at Dalhousie and in endocrinology at University of Montreal, followed by an MRC-supported three-year research fellowship at McGill under Harvey Guyda. He has been on faculty at the McGill Department of Pediatrics with uninterrupted research funding since 1984, at the rank of Professor since 2000. After three consecutive 5-year terms as director of the Division of Pediatric Endocrinology, he is now Program Leader of Child Health and Human Development at the Research Institute of the McGill University Health Centre.

Dr. Polychronakos's award recognizes his international stature in furthering our understanding of the molecular and genetic mechanisms underlying both Type I and Type II diabetes mellitus, as he had a central role in the first genome-wide association studies for both types of diabetes and did seminal work on the role of the thymus in the immune self-tolerance to tissue-specific antigens like insulin.

"As scientists, we must spend our lives doubting," notes Dr. Polychronakos. "Peer acceptance and recognition is one of the few reference points we are allowed to have."

Previous McGill recipients of these awards include: Charles Scriver, Michael Kramer (Clinician Investigator), Wendy MacDonald, Saleem Razack (Clinician Educator) and Emmett Francoeur (Clinician Practitioner).

The awards will be presented during the PCC's annual conference, held October 18-20 in Quebec City.

Congratulations Dr. Gottesman and Dr. Polychronakos!