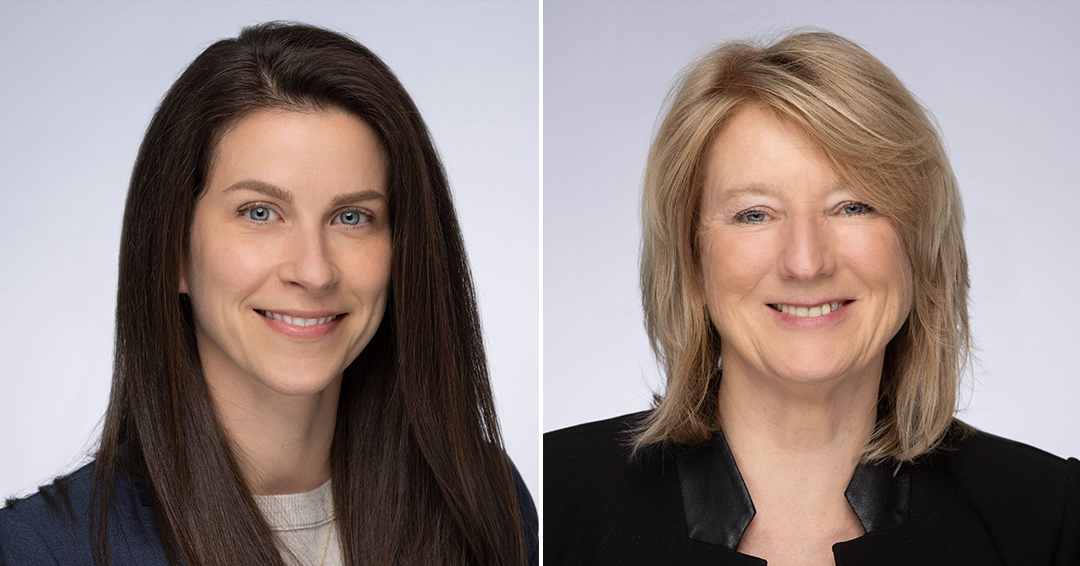 Translational cancer research ties new knowledge to the clinical needs of patients and is the key to developing new ways for addressing, understanding, and preventing cancer. The EU-funded TRANSCAN-3 project brings together 31 funding organizations from 20 countries, with the common goal of supporting high-impact translational cancer research.
The results of the "Next generation cancer immunotherapy: targeting the tumour microenvironment" funding call (JTC 2021) are out. Twenty consortia were selected for funding with a total amount of €25.9 million. Only three of these included Canadian scientists and two of these were Rosalind and Morris Goodman Cancer Institute researchers, Professors Daniela Quail, and Morag Park.
Women scientists are leading ground-breaking research across the world. But despite their remarkable discoveries, women still represent just 33,3 % of researchers globally, and their work rarely gains the recognition it deserves. Representation is important and if we have examples of successful women scientists, we can inspire and show trainees and academics that this male-dominated industry can and should change. We are extremely proud that two independent applications from women researchers from McGill University were selected for this highly competitive international competition.
Professor Daniela Quail, McGill University,
LipidMac and tackling cancer health disparities
The immune system is supposed to be helpful, is supposed to get rid of tumour cells, overcome infection, and keep you healthy, but sometimes our immune cells can change in ways that are unfavourable. For this project the scientists will look at specific immune cells called macrophages and how they can engulf lipids. Lipid-loaded macrophages are bad for the host because they promote tumour progression by preventing the immune system from killing cancer cells.
Importantly, we can potentially modify these lipid-laden cells by changing our diet and the amount or type of fat we eat. For example, the researchers found that a high-fat diet leads to an accumulation of lipid-loaded macrophages while a low-fat diet does not.
This raises the possibility that lipid-loaded macrophages are more prevalent in the setting of obesity, which is estimated to be responsible for about 20% of all cancer deaths. Having a high body mass index is influenced by socioeconomic status, age, gender identity and racialization, among other intersectional factors, and contributes to cancer health disparities. "If we don't tackle these problems and try to understand how we make evidence-based health recommendations then we will continue to underserve people who are already subject to major health inequities" explains Prof. Quail.
Paradoxically, research shows that obese cancer patients tend to respond better to immunotherapies, so the answer to these problems is complex. Some nuances must be considered and by making them visible we create awareness of the importance of collecting more information.
Professor Quail and two other women junior scientists, coming from different parts of the world, lead the basic research, and a senior clinician will lead the clinical trial, "we tend to interact with people that think the same way we do, but when we establish multidisciplinary collaborations new ideas emerge, and we are able to tackle questions differently" explains Prof. Quail. As early-career PIs, they are all at the peak of their careers in terms of the ideas and technologies they bring to the table, these strengths alongside the importance of the outcomes of their research were key factors in the success of this important grant.
This project will allow them to explore the small and the bigger picture of an issue that could go beyond the biological sciences, "as scientists, we tend to be obsessed with the microscopic details because our brains are trained to think like that, but there is always a bigger picture and that is where we can make a real impact" concludes Prof. Quail.
To learn more about the project please visit: https://transcan.eu/output-results/funded-projects/lipidmac.kl Follow Professor Quail on Twitter: @DanielaQuail
Professors Morag Park, McGill University, and John Staag, Université de Montréal
MAGNOLIA – Mapping adaptation of triple negative breast cancer microenvironments to immunotherapy
Total grant for all partners CAN $2.5M
Immunotherapy has emerged as a game changing therapy in the last decade, yet many patients still do not benefit from this. The goal of this project is to improve outcomes and quality of life for patients with poor outcome triple negative breast cancer (TNBC), establishing which patients benefit from immunotherapy together with standard of care chemotherapies and why and to identify predictive biomarkers to improve selection of patients. No one centre or country has access to both appropriate clinical trial cohorts and the multidisciplinary research skills required to address the challenge to improve immune therapy and overall responses for patients with triple negative breast cancer.
This transnational collaboration includes John Stagg, as the project coordinator, from CHUM Research Center (CR-CHUM) and Morag Park, Director, Rosalind and Morris Goodman Cancer Institute at McGill in Montreal, together with collaborators from Jules Bordet Institute and University of Ghent, Belgium, Curie Institute, Paris and University Cancer Center Frankfurt-Marburg. This provides an unprecedented opportunity to bring research leaders in the field of tumor and immune microenvironment of breast cancer, together with experts in immune therapy clinical trials for TNBC. Access to longitudinal samples from patients from two large randomized phase II clinical trials performed in our partners centres in Europe, provides a unique and optimal cohort to define response and adaptation of TNBC to immune checkpoint blockade. This transnational application provides the first opportunity to undertake large scale translational research studies utilising these pioneering clinical trials.
The multidisciplinary approach of the program will provide in-depth comprehensive analysis of the tumor immune microenvironment to fully explore TNBC response to immunotherapy. High dimensional technologies using the latest technologies to profile the genomic and immune landscape in cancers, will be used to define cellular phenotypes and spatial patterns associated with specific immunological states of the tumor microenvironment that impact immunotherapy outcomes. With our access to longitudinal samples and data collected from two large, randomized phase II clinical trials, we have the unique opportunity to follow the adaptation of TNBC to immunotherapy in both the early and metastatic setting. By using multiomics analyses with high dimensional techniques, they will deliver unprecedented detail of the spatial architecture of TNBC that will elucidate pivotal cell interactions driving TNBC behaviour and resistance to therapy.
Overall, this application will allow the formation of a multidisciplinary consortium of world experts bringing together expertise to join forces that will provide a solid basis for better tailoring of TNBC immunotherapy and tackle the challenge to improve outcome for women with TNBC.
To learn more about the project please visit: https://transcan.eu/output-results/funded-projects/magnolia.kl
Follow Professor Park on Twitter: https://twitter.com/Parklabmcgillu