By Earl Zukerman and Michel Belanger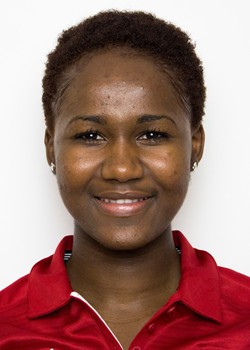 Two student-athletes from McGill are among the CIS Top Eight Academic All-Canadians for the 2013-14 season announced Tuesday by Canadian Interuniversity Sport. Representing the Réseau du sport étudiant du Québec conference are McGill standouts Mariam Sylla, a basketball player and pharmacology student, as well as Cédric McNicoll, a hockey player and accounting major.

The elite group will be honoured at Rideau Hall in Ottawa later on Nov. 17.

Sylla, a native of Conakry, the capital city of Guinea, has been nothing short of phenomenal in her first two seasons with the McGill women's basketball program. After being voted CIS rookie of the year in 2012-13, the 6-foot-1 centre was named MVP of the RSEQ conference and a first-team all-Canadian in her sophomore campaign thanks to her Quebec-leading 9.4 rebounds per game and her 13.1 points per contest, good for second in the league. She has led the Martlets to back-to-back RSEQ titles and a pair of CIS championship appearances.

A two-time CIS Academic All-Canadian, Sylla has a cumulative GPA of 3.63 out of 4.0 in pharmacology, including a stellar 3.77 last winter. At McGill's athletic banquet last April, she merited the Uldis Auders Memorial Trophy as most outstanding sophomore student-athlete.

A co-captain of the Martlets, Sylla helps to coordinate the team's annual wheelchair basketball game with the Montreal Action Centre as part of the "Chair Aware" campaign to promote awareness about those with physical disabilities. She will be participating for the third straight year in the Varsity Council's annual Christmas food drive and is also coordinating the team's upcoming visit the Montreal Children's Hospital, to hand out Halloween treats to the young patients who are unable to leave the hospital.

"Mariam brings great raw athleticism and toughness to our team," says McGill head coach Ryan Thorne. "She is a great competitor who will sacrifice her body for the ball, which makes her a force on the boards. Her ability to knock down the 15-footer, makes her a threat both inside and out, which I believe has contributed largely to our team's success over the past two seasons."

Click here to read the full story in The McGill Reporter