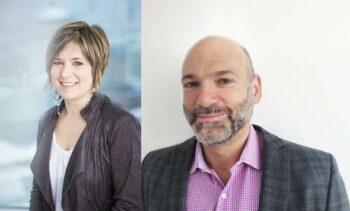 Dr. Karine Igartua, Associate Professor, Department of Psychiatry and Dr. Richard Montoro, Assistant Dean, Resident Professional Affairs in the Faculty of Medicine were announced as the 2016 recipients of the Association of Faculties of Medicine of Canada's (AFMC) May Cohen Equity, Diversity and Gender Award, recognizing their achievement in improving the gender equity environment in academic medicine in Canada.

"We are truly honored and pleased to have been awarded this prize," says Dr. Igartua. "We have been teaching medical classes about sexual minority patients for more than 15 years, helping future physicians become more knowledgeable and open minded.  Over the years we have seen a shift, with students becoming increasingly accepting of differences.  This prize is wonderful because it is main stream academia recognising the importance of embracing gender and sexual diversity "

In 1999 Dr. Montoro, a pioneer in training medical students and residents in lesbian, gay, bisexual, trans and queer (LGBTQ) issues in medical practice, co-founded the McGill University Sexual Identity Centre with Dr. Igartua. The Centre is Canada's only academic mental health centre for LGBT persons with the tripartite mission of education of medical learners, clinical research and mental health care.

Of the award, Dr. Montoro, an Assistant Dean since 2011, adds that, "Being nominated by our Faculty's leadership is especially gratifying. This national recognition helps add weight to our work on equity for gender and sexual diversity in the learning environment that we have been pursuing for more than a decade."

The award will be formally presented at the 2016 Canadian Conference on Medical Education in Montreal, April 16-19.

Congratulations Dr. Igartua and Dr. Montoro!

February 4, 2016