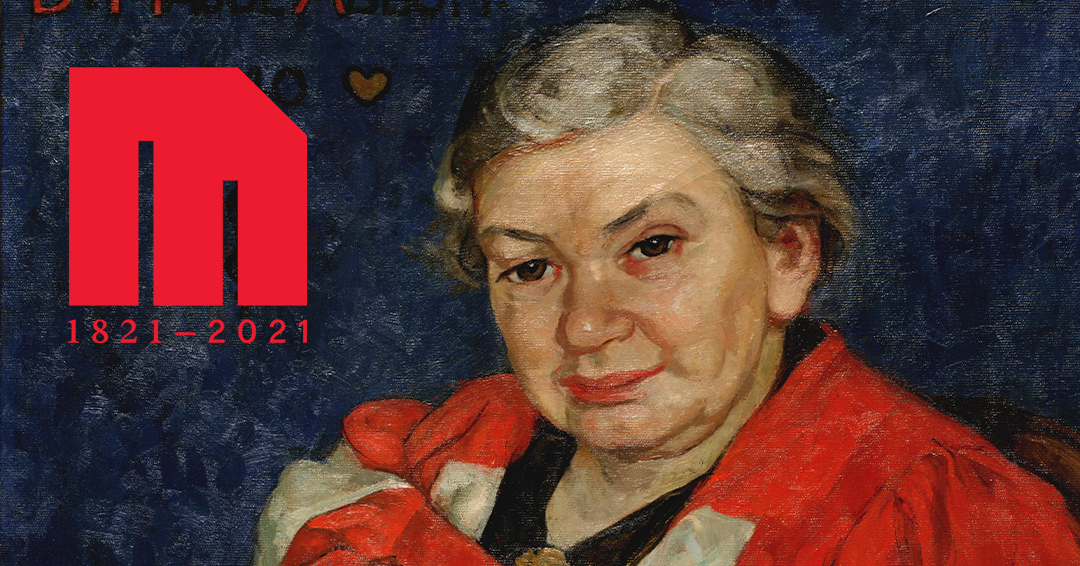 The event included a virtual tour of McGill's Maude Abbott Medical Museum, a Holmes Lecture by UK expert Sam Alberti on the past and future medical museums and a full-day symposium on Dr. Abbott's life and work
The recent Bicentennial event, Maude Abbott and the Medical Museum, gathered medical museum, history of medicine and Abbott scholars over two days.
Contending with several pandemic-related postponements, the event was a labour of love for organizers Annmarie Adams, PhD, former Chair of the Department of Social Studies of Medicine, Richard Fraser, MDCM, Director of the Maude Abbott Medical Museum (MAMM) and Professor of Pathology at McGill and MAMM Administrative Coordinator Joan O'Malley. Held over March 17 & 18, 2022, it coincided with the 10th anniversary of the museum's resurrection and renaming after McGill's pioneering curator and congenital heart disease researcher, Maude Abbott, MD.
The dates chosen were special for another reason: they fell on the birthdays of both Dr. Abbott (March 18), and Dr. Andrew Holmes (March 17), one of the founders of McGill's medical faculty and the namesake of the Faculty's signature lecture series that was part of the event.
March 17 marked the 225th anniversary of Dr. Holmes' birth in Cadiz, Spain, in 1797, while March 18 was the 154th anniversary of Dr. Abbott's birth in St. Andrews East, Quebec in 1868.*  Though they lived a century apart, their legacies are inextricably linked by the Holmes heart. Discovered and preserved by Dr. Holmes in 1822 and rediscovered by Dr. Abbott around 1901, the specimen helped launch her famous career in cardiology research. The Holmes heart remains to this day the MAMM's most famous item.**
Virtual tour of the MAMM
The event kicked off on March 17 with a virtual tour of the Maude Abbott Medical Museum (MAMM), followed by a live Q&A with Dr. Fraser. Over a hundred people tuned in to see what's new at the museum, including historic items such as a set of dolls portraying nursing uniforms at the former Homeopathic Hospital (later the Queen Elizabeth Hospital) and an early device called a Junker inhaler for administering anaesthetic through a tube, as well as an exhibit on inorganic dust and related pulmonary diseases.
Holmes Lecture with Sam Alberti
A little later in the evening, Sam Alberti, PhD, Director of Collections, National Museums Scotland, joined virtually from Edinburgh to present his long-awaited Bicentennial Holmes Lecture. During his opening remarks, host David Eidelman, MDCM, Vice-Principal (Health Affairs) and Dean of the Faculty of Medicine and Health Sciences, contextualized the aims of the event within the Faculty's larger Bicentennial goals to not only celebrate our past, but to reflect on where we could have done better, and to give space to voices that have been silenced. "I can think of no better way to do so than by celebrating the great Maude Abbott, whose genius – though now universally acknowledged – was not officially recognized during her lifetime for no other reason than that she was a woman," he said.
In "Museums and medical knowledge: Past present and future," Alberti offered an overview of the history and place of medical museums through the centuries, which naturally closely paralleled medical developments of the day. He then presented some fascinating projects that make use of medical museum collections for the public good, specifically in the area of perceptions about human difference and disability. In recent years, these perceptions have evolved, and activists, artists and curators have come together to use the collections to explore the history and challenge current ways of thinking about these issues and how to connect with people today.
Maude Abbott Symposium
On March 18, the full-day symposium dedicated to Maude Abbott's life and work was held in hybrid fashion, with some speakers delivering their talks at McGill's Faculty Club and others virtually from all over the world. Dr. Fraser and Prof. Adams jointly hosted the event. Among the topics explored were Dr. Abbott's time at the Woman's Medical College of Pennsylvania; an architectural and feminist examination of the exhibits she curated; her relationship with her sister, Alice, who suffered from a debilitating mental illness; Dr. Abbott's friendship with Helen Taussig, another towering figure in congenital heart disease; and many more.
Consult the full program. Watch recordings of all the symposium sessions via this playlist.
*The MAMM's Joan O'Malley investigates Dr. Abbott's birth year controversy, along with other myths, in her talk with Dr. Fraser, Maude Abbott: Alternative Facts and Accolades (1868 – 2018)).
**The specimen was the subject of the talk, "The Holmes heart: still beating nearly two centuries later," by Clyde Partin, MD, of Emory University School of Medicine.
Read more about the Faculty of Medicine and Health Sciences' history on its Bicentennial website, 200 Years, 200 Stories. Have a story to share? Please send it to bicentennial-bicentenaire.fmhs-fmss@mcgill.ca