Dr. Marjorie Montreuil and Dr. Isabelle Gagnon apply clinical expertise to their investigations in order to advance health care for children.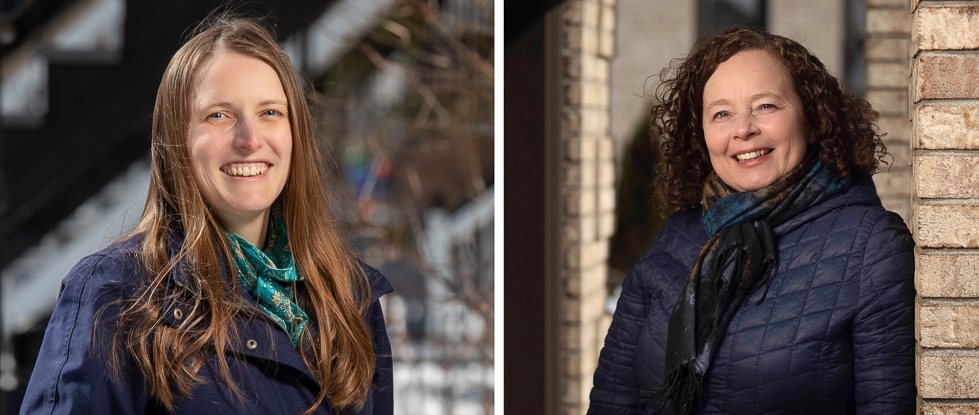 When people think of physiotherapists or nurses, research isn't always the first thing that comes to mind. Two McGill professors, Dr. Isabelle Gagnon, BSc(PT)'92, and Dr. Marjorie Montreuil, MSc(A)'10, PhD'17, are challenging that view.

Gagnon and Montreuil both developed their passion for research while in the clinic, and today, they each strive to advance health care in their respective fields—physiotherapy and nursing—through their work.

Bridging research and clinical work has come with its challenges. For Gagnon, because it is uncommon for practicing physiotherapists to also engage in research, establishing herself in this role was not easy. "For physiotherapists [who conduct research], the more traditional route is to be a university professor, which I am, but maintaining clinical activities [at the same time] is very rare in my field," Gagnon says. "So that's been a challenge, trying to find that model that would allow me to maintain my work with patients."

Both Gagnon's and Montreuil's studies have been guided by their experience in the clinic, which enabled them to find places where more evidence for best practices is scarce. "For me, there is always the aim of trying to apply my research to improve practices," Montreuil says.
Introducing physiotherapy to the ER
Dr. Isabelle Gagnon always enjoyed working with kids, and, when she was training to become a physiotherapist, was naturally drawn to pediatrics. "I liked that physiotherapy could help kids get back to moving, back to physical activities, and back to the things that they love," she says.

Today, Gagnon is an associate professor at McGill's School of Physical and Occupational Therapy, where her research focuses on traumatic brain injuries (TBIs) in children and adolescents. Gagnon says that she didn't start out wanting to be a researcher—she had wanted to become a clinician. But after spending time in the hospital working with kids with injuries, she realized that there were areas in which research was necessary. "Back in those days, there was not much attention around concussions," Gagnon says. "People were always saying how minimal this injury was, and how it didn't lead to any big problems. But we kept having these kids who came back to us saying, I just don't feel the same as I did before."

That realization triggered Gagnon's desire to dig deeper into this issue and investigate how concussions—mild TBIs—differed from more severe brain injuries, and to find out whether there were any beneficial interventions that she could bring back to the clinic. "It was always a very pragmatic desire to do research," Gagnon says.

This work helped raise awareness of concussions in children and led to the development of novel interventions. Gagnon is now working on extending this research into younger children, namely those below age five. This group is important, Gagnon says, because even though these younger kids aren't involved in sports, they can sustain head injuries through everyday activities—for example, by falling off furniture. These kids also present a unique challenge: The main mode of determining whether someone has had a concussion is by asking questions, which is difficult to do with children of this age.

Gagnon is also leading a pilot project at the Montreal Children's Hospital of the McGill University Health Centre examining the role that physiotherapists can play for the assessment and care of children who are admitted to an emergency room (ER) with concussions. Ultimately, the goal of that work is to have a physiotherapist in the ER who can assess concussions and contribute to prognostic decisions. The project, which is made possible thanks to the generosity of the Richard and Edith Strauss Foundation, has brought together people in various roles in the health sector, including physicians, physiotherapists, and department managers. "I think this is going to be the start of a collaboration that will extend way beyond concussions," Gagnon says.

Being able to work as both a researcher and clinician has enabled her to bring ideas from her investigations to her practice and vice versa, according to Gagnon. But building a career with these dual roles while balancing child care was no easy feat. "It's a big challenge, especially as a woman, trying to balance out having a young kids and family and the high demands," Gagnon says. "But it's feasible to fulfil the passion that you have. The path may have been different if you were not a woman or didn't have a young family, but don't get discouraged by the challenges."
Recognizing patients' voices
As an undergraduate, Dr. Marjorie Montreuil studied international relations and law, with a focus on children's health and rights. But soon after graduation, she realized that she wanted to work more closely with people. After volunteering at a children's hospital for a year, Montreuil found her calling: nursing.

Once she made the pivot to nursing, Montreuil discovered that she was drawn to mental health, particularly children's. Her earliest positions as a nurse were at the Douglas Mental Health University Institute, first as a mental health nurse, then as a clinical nurse specialist. "Through experiences within daily practices, there were so many ethical issues in mental health, such as the use of control measures and privacy," Montreuil says. "This is where I really developed an interest in research. I wanted to try to address some of these challenges."

For Montreuil, now an assistant professor at McGill's Ingram School of Nursing, a key focus since the beginning of her doctoral studies has been in developing methods for participatory research, which integrates the perspectives of the populations under investigation, for her field of childhood mental health. "I am working on the development of research methodologies to involve children as partners in research, but also within clinical care," Montreuil says. "In constructing knowledge together, we can really try to address tough challenges."

Although investigators do not always integrate the perspectives of patients into their research, particularly when studying children, Montreuil sees this as a crucial element in her work. "As the researcher, I have the expertise in research, but without the perspective of the stakeholders, the value is not as high," she says.

One of Montreuil's ongoing projects is examining ways to assess and manage suicide risk in children age 13 and below. She has also started a new project in the wake of the pandemic. The toll of COVID-19 on people's mental health has been of increasing concern to experts around the globe, and Montreuil is using participatory research to assess its repercussions on the mental health of children. "We're currently interviewing children and adolescents to get their perspectives on how they're living through this and how it is for their well-being," she explains.

Outside of the lab, Montreuil collaborates with community organizations to apply her research to provide mental health support to families considered as disadvantaged.

Montreuil says that nursing, a female-dominated profession, does not always get the recognition it deserves despite playing a major role in health care: "People don't realize that nurses do research" she adds. "But nurses are in all healthcare settings, from the community settings to specialised care. There's a huge impact that nurses can have."

March 8 2021