McGill leads the pack among Quebec universities in the inaugural New Frontiers in Research Fund investment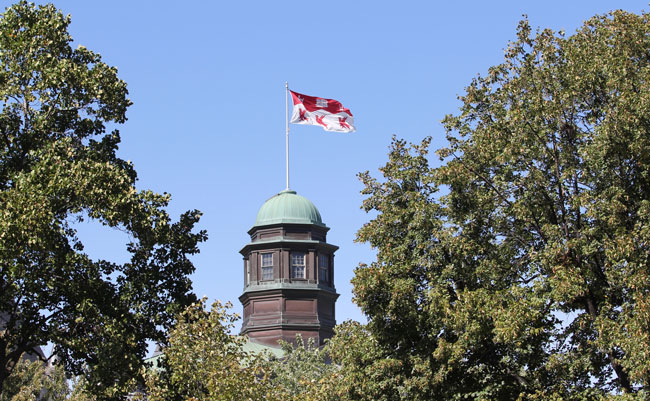 By Meaghan Thurston, McGill Newsroom

On May 13, the Honourable Kirsty Duncan, Minister of Science and Sport, was at Laurentian University to announce the inaugural cohort of 157 early career researchers to receive funding from the New Frontiers in Research Fund (NFRF). McGill will receive $3 million shared among 13 researchers, with each recipient receiving up to $250,000 over the next two years. In Quebec, including McGill's recipients, 24 researchers received funding.

The NFRF, launched in December 2018, promised an investment of $275 million over five years, and $65 million per year ongoing, to support research that is international, interdisciplinary, fast breaking and high-risk. This first investment of $38 million will support early career researchers with five years or less of experience since their first academic appointment.
"McGill recognizes the significance of early career research and the New Frontiers in Research Fund's Exploration Grants that supported this important mission. With this substantial inaugural investment, 13 of McGill's outstanding early career researchers have the opportunity to build unique partnerships across scientific disciplines, open new areas of inquiry and undertake potentially field-defining work." —Martha Crago, Vice-Principal, Research and Innovation
McGill Professor and cosmologist Adrian Liu is among the 13 receiving funding in this round. He will use the grant to push the boundaries of astrophysical simulations using machine learning. Fellow recipient and Assistant Professor of Nutritional Epidemiology Daiva Nielsen will apply machine-learning technology for an entirely different aim: to analyze eating habits using big data from mobile weight loss apps. Jianyu Li, Assistant Professor of Mechanical Engineering, received funding to hone his expertise in developing multifunctional soft biomaterials, specifically, to engineer tough adhesive blood clots to control hemorrhages. Janine Metallic, Department of Integrated Studies in Education, will launch a contemporary study of Indigenous Language, digging into linguistic archives along the way.

The Canada Research Coordinating Committee designed the New Frontiers in Research Fund (NFRF) following a comprehensive national consultation, which involved Canadian researchers, research administrators, stakeholders and the public. The NFRF is administered by the Tri-agency Institutional Programs Secretariat, which is housed within the Social Sciences and Humanities Research Council(SSHRC), on behalf of Canada's three research granting agencies: the Canadian Institutes of Health Research, the Natural Sciences and Engineering Research Council and SSHRC.
"I am pleased today to celebrate the very first researchers to benefit from the New Frontiers in Research Fund. Our government's vision is for our researchers to take risks and be innovative. We want our scientists and students to have access to state-of-the-art laboratories and equipment, and we want the halls of academia to better reflect the diversity of Canada itself. This new fund will help us achieve that vision." —Honourable Kirsty Duncan, Minister of Science and Sport

Faculty of Medicine recipients:
David Labbé, Assistant Professor, Department of Surgery

Project title: Role of sugar-dependent extracellular matrix stiffening in driving prostate cancer metastasis

Geraldine Merle
, Assistant Professor, Department of Surgery (Division of Orthopedic Surgery)
Project title: Electro-click devices for clean surgical margins in breast cancer.

William Pastor
, Assistant Professor, Department of Biochemistry
Project title: Determining how inherited modifications of DNA control cell division and the correct development of the placenta

May 23, 2019