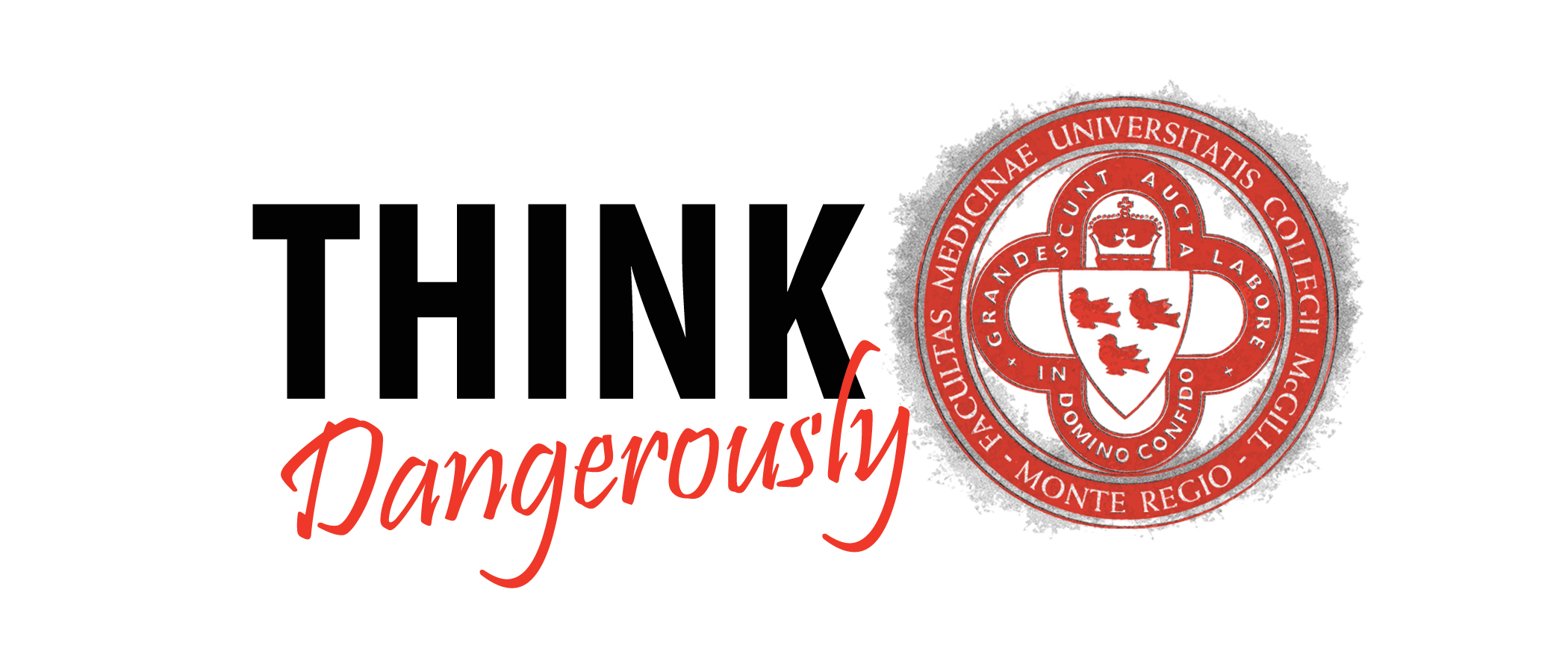 Over the last century there has been considerable change in the conditions and capacities that define the academic health sciences. This evolving landscape demands innovative thinking to maintain high standards of excellence in education, research and practice in all facets of health care. Earlier this year, the Faculty of Medicine launched its Think Dangerously strategic planning initiative to explore three critical domains – education, research, and the professorial lifecycle – in order to define its vision for the future.

The Research Design Group is leading the initiative in the research domain, taking stock of current practices in the Faculty of Medicine and studying the best ways to meet new challenges. We caught up with the Design Group co-chairs Dr. Marianna Newkirk, Associate Dean of Research; Dr. David Y. Thomas, Professor and Chair, Department of Biochemistry; and Dr. Rémi Quirion, Vice-Dean for Life Sciences and Strategic Initiatives and Senior University Advisor on Health Sciences Research, to find out more about the Research Design Group's work.

What is the mandate of the Research Design Group?Dr. Marianna Newkirk
– The research mandate is pretty broad. We want to look at where we are, see what our strengths are, and what we can do to build for the future. None of us have crystal balls, but we want to try and predict future trends to be ahead of the game. McGill is well recognized for its research strengths and we want to maintain that and build on it. Since our graduate students and our post-docs also fall under our mandate, we have adequate representation from both groups on our committee.
How are you going to tackle such a broad topic?Dr. David Y. Thomas
– We started a white paper process, asking for ideas. I've done strategic plans before for other organizations across Canada and this is going to be a different sort of strategic plan – this is one that will grow from the ground up. We really want everyone to have a say.
Can you give some examples of the issues that the group is examining? Dr. Newkirk
– One of the big ones is: what is the best way to do research? Do you do it based on classical departments or do you do it based on groups of individuals who have similar interests, such as within centres? We will also explore how we measure and reward research excellence, how we compare to the other major research intensive universities in terms of success and how we can maximize the training opportunities of our graduate students.
What are some of the challenges that the Research Design Group is facing?Dr. Thomas
– The challenge is mostly financial. We have a surfeit of ideas, we have incredibly bright world-class scientists here and it really comes down to giving them the means to do things. That costs money. We can buy machines but we have to keep them running. Support for that is something we are always looking for.
Dr. Rémi Quirion
– One of main challenges is to make sure that we don't end up where we started, that we really come up with very innovative ways of fostering health research at McGill. We have been doing things in one way for the past century and we've succeeded very well. McGill is very well known for health research; that is not the problem. The challenges of health research over the next 50 years will mean more and more collaboration between different disciplines, and that's something that we must find a way to foster better than we are now.
How can people within the Faculty get involved? Dr. Newkirk
– We held a Town Hall meeting on October 13 to share what the Faculty of Medicine is thinking about concerning research. We really want people to have a voice in the process.
Dr. Thomas
– We welcome people to talk to us. The doors are open to accept white papers. I hope that we'll have some good meetings and, as a result, come up with a reasonably concise and doable plan. We're there to organize and transmit the input and ideas we receive. We're there to facilitate this process.
What are the next steps? Dr. Quirion
– We have to develop a process to establish priorities because, although McGill is strong and relatively large, we will not be able to continue to do everything. We will have to focus on a few key areas of excellence if we want to be the very best. For that, we will need to make difficult choices. The next step will then be to develop ways to put our plan into action.
For more information on submitting a white paper for consideration by the Research Design Group, please contact Ilde Lepore at 514-398-8302 or ilde.lepore@mcgill.ca.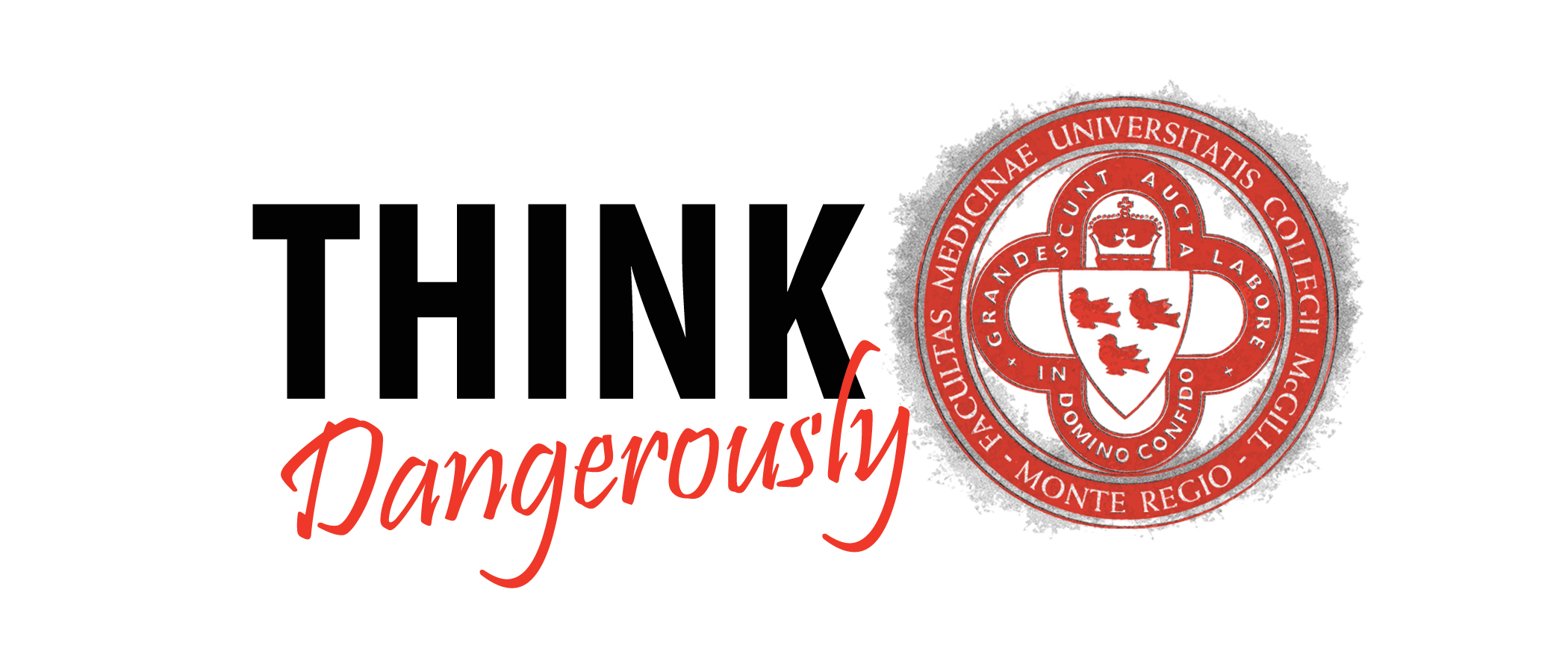 Au cours du siècle dernier, les conditions et les capacités des sciences de la santé dans les universités ont subi des modifications considérables. Ce paysage en évolution exige que nous développions une pensée novatrice si nous voulons conserver des normes d'excellence élevées en enseignement, en recherche et en pratique médicale, dans toutes les facettes des soins de santé. Plus tôt cette année, la Faculté de médecine a lancé son initiative de planification stratégique intitulée L'année des idées novatrices pour explorer trois domaines essentiels, l'enseignement, la recherche et le cycle de vie du corps professoral, et ainsi définir sa vision de l'avenir.
Le Groupe de conception de la recherche mène l'initiative dans le domaine de la recherche, en faisant l'inventaire des pratiques actuelles de la Faculté de médecine et en étudiant les meilleures manières de relever de nouveaux défis. Nous avons rencontré les co-directeurs du Groupe de conception pour nous mettre à jour sur le travail de ce dernier. Il s'agit de la Pre Marianna Newkirk, vice-doyenne (recherche), du Pr David Y. Thomas, professeur et directeur du Département de biochimie, et du Pr Rémi Quirion, vice-doyen (sciences de la vie et initiatives stratégiques) et conseiller principal de l'Université (recherche en sciences de la santé).

Quel est le mandat du Groupe de conception de la recherche?Pre Marianna Newkirk
– Le mandat de la recherche est très vaste. Nous voulons déterminer où nous en sommes, constater nos forces et définir ce que nous pouvons faire pour bâtir l'avenir. Aucun de nous ne possède de boule de cristal, mais nous voulons essayer de prédire les tendances pour être à l'avant-garde. L'Université McGill est bien reconnue pour ses forces en recherche; nous voulons conserver cette réputation et tabler sur ces forces. Puisque nos étudiants de deuxième et troisième cycles et nos étudiants au post-doctorat sont aussi couverts par notre mandat, la représentation des deux groupes sur notre comité est adéquate.
Comment allez-vous aborder un sujet aussi vaste?Pr David Y. Thomas
– Nous avons entamé un processus de livre blanc, en demandant des suggestions. J'ai préparé des plans stratégiques pour d'autres organisations au Canada, mais il s'agira d'une sorte différente de plan stratégique, un qui partira de zéro. Nous voulons vraiment que chacun ait son mot à dire.
Pouvez-vous donner quelques exemples des problématiques sur lesquelles se penche le Groupe? Pre Newkirk
– Un des meilleurs exemples est : quelle est la meilleure manière de faire de la recherche? Doit-elle dépendre des départements traditionnels ou de groupes ou d'individus possédant des intérêts similaires, comme ceux qui œuvrent dans les centres de recherche? Nous étudierons aussi comment nous mesurons et récompensons l'excellence en recherche, comment nous nous comparons aux autres universités qui font de la recherche intensive en termes de succès et comment nous pouvons maximiser les occasions de formation de nos étudiants diplômés.
Quels sont certains des défis que doit relever le Groupe de conception de la recherche? Pr Thomas
– Le défi est principalement financier. Nous avons un surplus d'idées, nous avons des scientifiques de catégorie internationale incroyablement brillants ici et tout consiste finalement à leur donner les moyens de faire des choses. Cela coûte de l'argent. Nous pouvons acheter des machines, mais nous devons les faire fonctionner. Nous serons toujours à la recherche de soutien pour cela.
Pr Rémi Quirion
– Un des principaux défis est de s'assurer que nous ne reviendrons pas à notre point de départ, que nous découvrirons vraiment des manières très novatrices de parrainer la recherche en santé à McGill. Nous avons fait cela d'une seule manière pendant le dernier siècle et nous avons très bien réussi. L'Université McGill est très bien connue pour la recherche en santé qu'on y fait. Ce n'est pas le problème. Les défis de la recherche en santé pour les 50 prochaines années nécessiteront de plus en plus de collaboration entre différentes disciplines, et c'est quelque chose que nous devons soutenir mieux que nous ne le faisons maintenant.
Comment les membres de la faculté peuvent-ils contribuer? Pre Newkirk
– Nous avons organisé une assemblée générale le 13 octobre, pour partager les réflexions de la Faculté de médecine sur la recherche. Nous voulons vraiment que les gens puissent s'exprimer au cours de ce processus.
Pr Thomas
– Nous invitons les gens à nous parler. Les portes sont ouvertes et nous acceptons les mémoires. J'espère que nous aurons quelques bonnes assemblées et que nous en arriverons à un plan raisonnablement concis et réalisable. Nous sommes là pour organiser et transmettre les renseignements et les idées que nous recevons. Nous sommes là pour faciliter ce processus.
Quelles sont les étapes suivantes? Pr Quirion
– Nous devons élaborer un processus pour établir les priorités parce que, bien que l'Université McGill soit solide et relativement importante, nous ne pourrons continuer de tout faire. Nous devrons nous concentrer sur quelques secteurs-clés d'excellence si nous voulons être vraiment les meilleurs. Pour cela, nous devrons faire des choix difficiles. La prochaine étape sera de mettre sur pied des manières de traduire notre plan en action.
Pour plus de renseignements sur le dépôt d'un mémoire au Groupe de conception de la recherche, veuillez communiquer avec Ilde Lepore au 514 398-8302 ou à ilde.lepore@mcgill.ca.