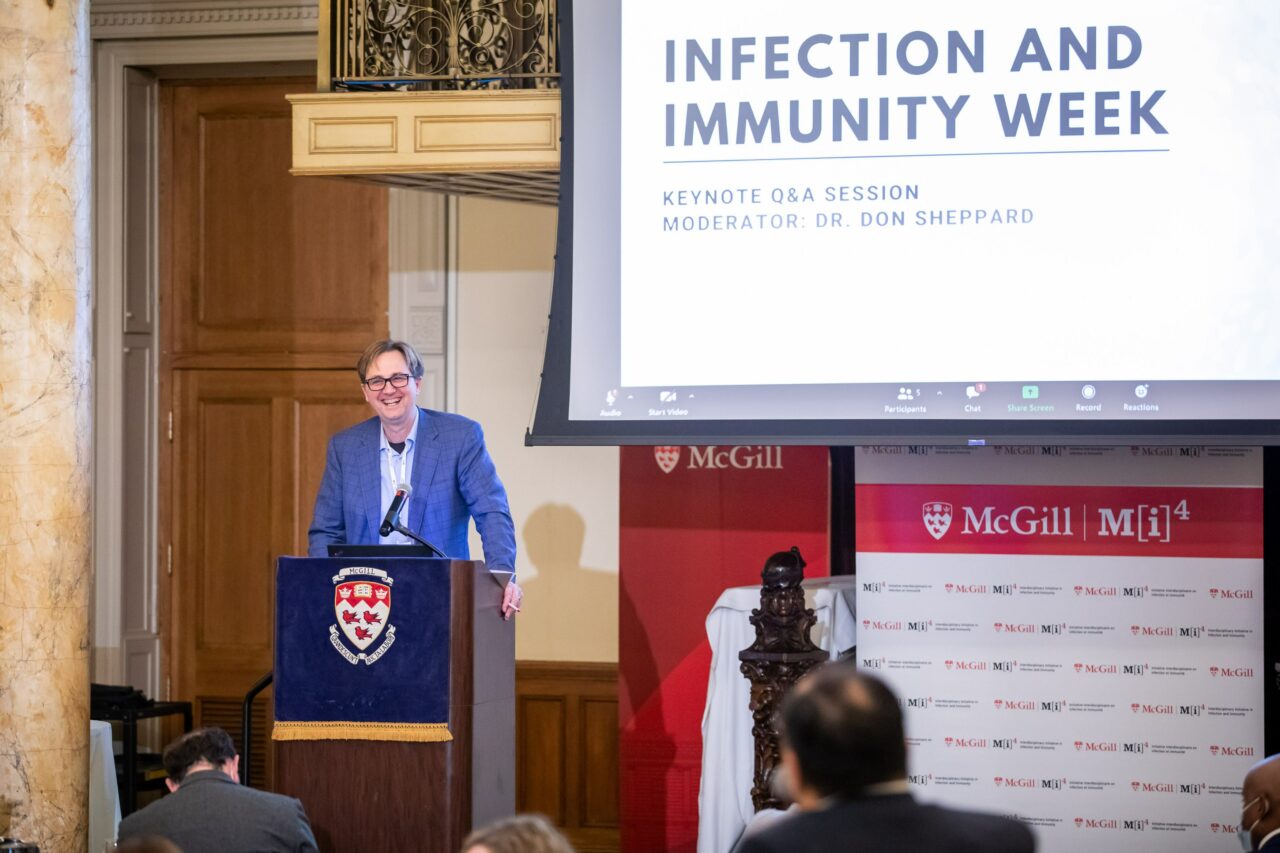 From Monday, November 29 to Friday, December 3, members of the greater McGill Interdisciplinary Initiative in Infection and Immunity (MI4) community took part in the inaugural edition of Infection and Immunity Week, held as a hybrid in-person and virtual event.
"We are thrilled to have been chosen as one of the flagship events of the McGill Bicentennial. It's both an honour and a pleasure," said MI4 Interim Director Marcel Behr, MD, during the opening event. "This week of symposia about infection and immunity gives us a chance to celebrate the past and reflect on what makes McGill University so great. This is also an opportunity to ponder on how the university can contribute in the future."
A total of six events were held during the week, including a small in-person keynote viewing party at the McGill Faculty Club. Other highlights included keynotes by international speakers, a symposium highlighting the partnership between MI4 and Germany's Helmholtz Centre for Infection Research (HZI), One Health brainstorming and a digital student networking day.
On November 29, hundreds of guests from California to Somalia listened to a keynote talk by Uğur Şahin, MD, PhD, CEO of BioNTech. He outlined how decades of work in cancer vaccine research and mRNA technology led to the quick and successful development of a COVID-19 vaccine
"What struck me with Prof. Şahin's talk was the fact that he had been working on mRNA vaccines to fight cancer for 25 years," said Marie Hudson, MD, MI4 Co-Director, to a crowd of McGill University students on Friday, December 3, 2021. Yet, when the pandemic came along, he quickly realized that this technology could be applied in a matter of months to fight SARS-CoV-2."
Following this exceptional lecture, six researchers from McGill and HZI shared findings on progress and promise in personalized medicine.
On Monday evening and following public health guidelines, guests gathered in-person at McGill University's Faculty Club to watch Arturo Casadevall, MD, PhD, a world-renowned scientist from Johns Hopkins University, deliver a virtual keynote talk linking the evolution of mammals and humans to fungi.
"I think of institutions almost like living entities. When you think of 200 years, you think about all that came before you," said Casadevall, highlighting the McGill Bicentennial. Casadevall went on to discuss important historical events that inform our current understanding of the origins of microbial virulence. His thought-provoking talk was followed by a live Q and A moderated by MI4's Inaugural Director, Don Sheppard, MD.
On Tuesday, November 30, the JD MacLean Centre for Tropical Diseases and the McGill Centre for Viral Diseases brought together clinicians, basic scientists, funders and policymakers to discuss human health through the lens of One Health, a growing movement linking human, animal and environmental health. An actionable agenda for researchers, funders and policymakers was generated at the end of break-out sessions.
Wednesday's event, hosted by the McGill University Research Centre on Complex Traits, explored new frontiers in infectious and inflammatory diseases. Jean-Laurent Casanova, MD, PhD, from the Rockefeller University delivered the keynote address. Casanova showed that decades of work on how inborn errors of immunity lead to life-threatening infectious disease could help us quickly understand the pathogenicity of SARS-CoV-2. The symposium also featured McGill and international faculty, as well as nine McGill students who presented outstanding research that they are conducting at McGill.
Thursday's combined symposium by the emerging McGill Antimicrobial Resistance  (AMR) Research Centre and McGill Centre for Microbiome Research was a dynamic and interactive event. A documentary on AMR research at McGill was premiered at the event. Eric Pamer, MD, from the University of Chicago and Ilana L. Brito, PhD, from Cornell University delivered lectures on the role of the microbiome in health and disease and new methods to study the complex human microbiome.
Winners of the 2021 AMR Video competition, created by McGill students on anti-microbial resistance, were presented. A panel discussion on the future of AMR research, from a One Health perspective, wrapped up the symposium.
Infection and Immunity Week wrapped up with Friday's Student Research Day hosted on an interactive platform recreating the feel of an in-person conference.
The event featured presentations on innovative student initiatives led by Samantha Gruenheid, PhD, (Tiny Earth) and Corinne Maurice, PhD, (SEAPhages), a virtual poster session and networking events.
Although this event marked the end of Infection and Immunity Week,  Hudson invited the students to join the McGill community for the remainder of the bicentennial celebrations.
"I encourage you to use the Bicentennial as an opportunity to participate in meetings completely outside of the health research field," said Hudson. "Get out of your bubble and find your inspiration for your research. Remember, you are the future of McGill."
MI4 would like to thank all organizers, participants, guests, speakers, students, staff, faculty, technicians and photographers who contributed to the success of the event. We are incredibly grateful for your support and participation.