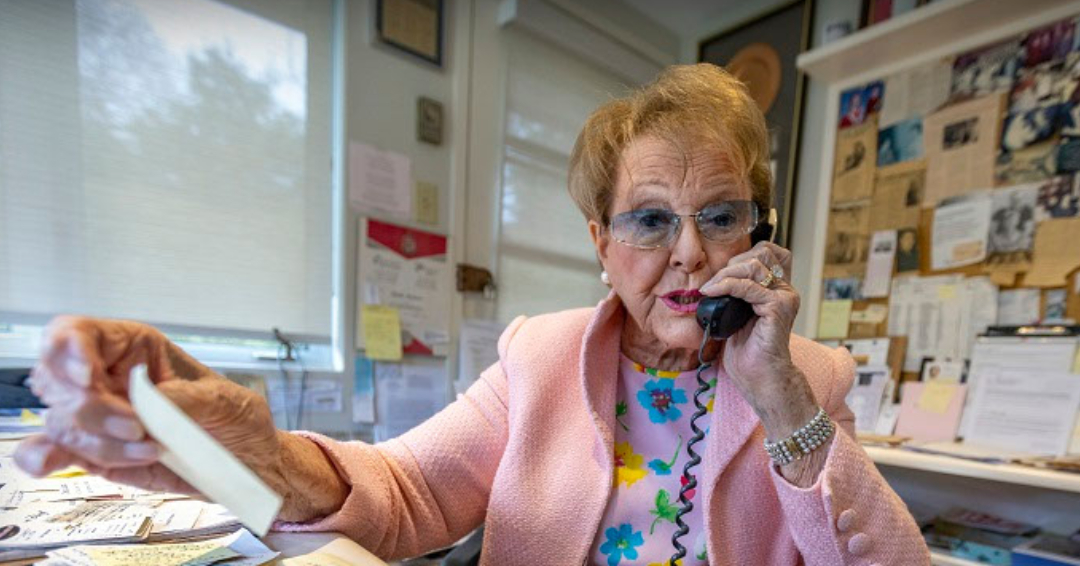 There are a few ways to know that you're kind of a big deal in this city. Being named to the Ordre de Montréal. An appearance on Tout le monde en parle. An invitation to dine with Sheila Kussner.
If you do receive that coveted invitation to share a meal with Kussner, BA'53, LLD'90, you're in for a good time.
The meal will almost certainly be at either the Ritz Carleton or Milos, a celebrated Greek restaurant in Mile End. The service will be impeccable, because Kussner is a prized regular at both spots, valued as a good tipper and a good soul.
She is renowned for her charm, and she is a heck of a storyteller – over the course of a recent interview, she shares colourful tales about her encounters with Rose Kennedy, George H.W. Bush and Donald Trump. Oh, and the time she almost sold a chocolate cake recipe to Sara Lee (somehow, legendary song lyricist Sammy Cahn was involved).
At the end of the meal, she'll pay the bill. Chances are, though, your wallet will still end up considerably lighter.
Kussner has long been one of Montreal's most formidable fundraisers. People rarely say no to her. Some attribute this to her charisma. Some attribute it to her steely determination.
She has her own thoughts on why she has been so successful. "I do my research," she explains. The well-connected Kussner generally has a clear sense of who can give and at what level. If the stock market takes a tumble, she knows who is feeling the pinch and who isn't.
And it helps that the causes she raises money for are always deserving of support.
The cause is usually Hope & Cope, a trailblazing peer-based support organization for cancer patients that Kussner launched in 1981. Closely affiliated with the Jewish General Hospital and its Segal Cancer Centre, Hope & Cope began modestly with six volunteers. It has since provided crucial support to thousands of Montrealers contending with various forms of cancer and is now regarded as a model for similar organizations around the world.
Kussner's life and her work with Hope & Cope are the focus of a new book, Douglas Hunter's Repairing the World: Sheila Kussner and the Power of Empathy. The book was recently launched at the Ritz with video tributes from Prime Minister Justin Trudeau, BA'94 (Kussner describes his late father Pierre as a treasured friend), and former Governor General David Johnston, LLD'00 (during his time as McGill's principal, Johnston got to see Kussner in action – more on that later).
Hunter's book outlines the reasons why Hope & Cope's approach was so distinct when it began and why Kussner's life experiences made her uniquely qualified to serve as its founding force. Her highly energetic approach was certainly a key factor. When Jeannette Valmont, who would become one of Kussner's closest Hope & Cope colleagues, encountered her for the first time, "I told my husband, 'I've just met a hurricane.'"
As a 14-year-old, Kussner lost part of her left leg to bone cancer. Even after the amputation, her prospects didn't look good. Back then, about 80 per cent of the people with the same type of cancer at a comparable stage perished within two years. Kussner was one of the lucky ones.
Decades later, cancer reentered her life, this time striking her husband Marvyn in his forties. She took on the role of his advocate, finding out everything she could about the non-Hodgkin's lymphoma he was battling, and working tirelessly to ensure he had access to the best treatment possible. Kussner already had a firsthand understanding of how cancer could affect someone's life – the fear and uncertainty that cancer patients deal with – "but it was Marvyn's illness that turbocharged her activities and gave them a fresh focus," Hunter writes.
Marvyn survived, thank in large measure to the then experimental treatments of oncologist James Holland. Holland's wife, Jimmie Holland, was a pioneer in psycho-oncology, exploring the psychological impact of cancer at a time when few medical practitioners did. Her work served as an inspiration for Kussner.
Another source of inspiration for Hope & Cope was the volunteer work that Kussner herself was doing. At the request of some doctors, Kussner met with recent amputees and was struck by the impact that the encounters had on them – just knowing that they weren't alone, that she had experienced what they were going through, and that it hadn't prevented her from leading a full life.
"When I was 18, I got a call from the Montreal General Hospital," says Kussner. "'We have an amputee here who is your age. Can you talk to her?' She was going through a rough time. Having a cup of coffee with her, having dinner with her, it made a difference in her life. She thought, 'If you can do it, why can't I?' She turned the corner. It can be so valuable to talk to someone who has been there, someone with the wisdom of the lived experience."
When Hope & Cope was launched, there typically wasn't much thought given to the value of that kind of support. In his book, Hunter quotes Abe Fuks, BSc'68, MDCM'70, a former dean of medicine at McGill and one of Kussner's many friends at the University, about how physicians often regarded cancer patients as simply "the battleground on which the war is fought" rather than as individuals whose whole lives were in upheaval.
Fuks describes Hope & Cope as a "pioneering organization." He tells Hunter that cancer was regarded as "a dirty disease. When you walked into a cancer patient's room, the shades were drawn. Sheila walks in, and kind of lets in the light… She says, 'Here's how we're going to help you, and you're allowed to talk about it.' Suddenly there is an openness for the patient. 'Someone is going to talk to me about it, acknowledge that I'm not stupid, and let me get help from sympathetic figures.'"
When Hope & Cope began, oncology and surgery professor Richard Margolese, MDCM'60, was a crucial ally – though he wasn't wildly enthusiastic about the idea at first. He was the head of oncology at the Jewish General, and Kussner needed his backing. Hope & Cope couldn't exist in the hospital without his approval. Margolese had reservations.
"I remember him saying he was reluctant to have a bunch of do-gooders – and those were his words – coming into the cancer clinic and interfering with the doctors," recalls Kussner about her initial discussions with Margolese. "He was worried we would do more harm than good. I said these were all going to be well-trained people who would know how to talk to patients. Let's just try it. If it doesn't work, we'll drop it. Well, it worked. When the book came out, I sent him a copy with a note: 'It all began with you.'"
Suzanne O'Brien, the interim executive director of Hope & Cope, and Kussner's close collaborator for decades ("Suzanne has been such a major part of this, she is superb," says Kussner), gives Margolese credit for helping to shape Hope & Cope.
"Richard would say, 'Don't just tell me that you do good, show me that you do good,'" says O'Brien. "He lit that spark. He challenged us to go down this road of being more disciplined, more focused, and listening to what patients want. Finding the evidence of what they need, creating programs that met those needs, and evaluating how we did."
A few years later, Margolese and Kussner collaborated on another important project. Along with other cancer specialists at McGill like Carolyn Freeman and Phil Gold, BSc'57, MDCM'61, MSc'61, PhD'65, Margolese believed the University's research efforts in cancer lacked coordination. There was good work being done by individual researchers, but oncologists at one McGill teaching hospital were often in the dark about what their peers were up to at another teaching hospital.
The idea of creating a Department of Oncology at McGill to better organize those efforts began to pick up steam. But it was an expensive proposition, and the University was already wrestling with budget cuts. Kussner played an invaluable role in moving things forward.
"We all realized that we were going to have to find extra money," Richard Cruess, McGill's dean of medicine at the time, told Hunter. "And this was where Sheila was absolutely rock-star stuff."
"She was the chief fundraiser, chief cheerleader, chief promoter, and she just led it brilliantly," David Johnston told Hunter. "We were already pretty respected worldwide, but what Sheila led was a breakthrough that brought us into the really competitive ranks of the top centres in the world."
At the age of 90, Kussner still puts in long hours, using a sunroom overlooking her backyard as her headquarters. She is working on a fundraiser for Hope & Cope that will take place at the end of June. She shares some of the details, but swears me to secrecy. "People are going to flip."
Her phone rings often during the interview. Friends, acquaintances, and people she has just met all regularly seek out her advice on matters related to cancer and other health issues, and she is happy to help when she can – occasionally cajoling some of her doctor friends to lend their expertise. "I'm Don Corleone," she jokingly told Hunter. People have a hard time saying no to her.
"You don't have to be rich to be happy," says Kussner. "I am not a wealthy person, but some of my closest friends are and many of them aren't as happy as I am. When I'm able to help someone, I'm thrilled. It makes my day. I'm going to keep doing it for as long as I can."