Dr. Mylène Arsenault reflects on the tool's importance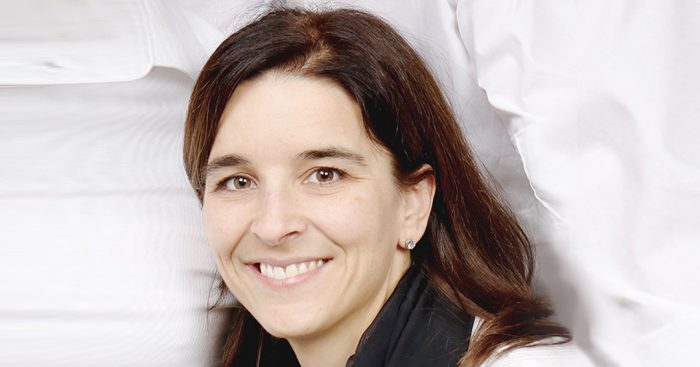 Dr. Mylène Arsenault, family physician at the GMF-U Herzl, puts her heart and soul into everything she does. Passionate about the teaching component of medical education, she is keenly aware of the privileged position that family physicians have in supporting their patients through difficult situations. "I really like our role to promote health and healing for our patients and this is why I chose family medicine," explains Dr. Arsenault, who completed her MDCM degree and residency at McGill University, the latter within the Department of Family Medicine at the GMF-U Herzl.  After completing her residency, Dr. Arsenault lived in Adelaide, Australia or a few years before returning to Canada and to her alma mater. "I had a wonderful experience teaching at the Adelaide Medical School, which brought me back to McGill in 2010," recalls Dr. Arsenault.

These days Dr. Arsenault is interested in cancer survivorship and is currently working on two projects involving head and neck cancer patients as well as colorectal cancer patients. "I am interested in implementing the shared care model for cancer survivors, a model that is based on continuous collaboration at any stage in the cancer trajectory between oncology and primary care," she says.

She advocates for the importance of patient involvement and empowerment in patient care. "My passion about cancer survivorship comes from the fact that I went through cancer with my son when he was three years old. Our experience made me realize how comprehensive and coordinated care is crucial in the journey of patients with complex conditions." Dr. Arsenault wants to raise awareness about the needs of cancer survivors, as it has a long-term effect on patients. "Sometimes I serve like an anchor to my patients, especially when they are going through difficult cancer diagnostics, and they get a lot of information and do not know which decisions to take. I feel privileged to help guide them to make those decisions."

Dr. Arsenault and Dr. Barbara Evans, family physician and Assistant Professor in the Department of Family Medicine, created a telemedicine guide when the COVID-19 pandemic reached Quebec. Dr. Arsenault's vulnerable patients were on her mind when she began working on this project. "We realized that we would need to practice social distancing and that COVID-19 poses an increased risk for cancer patients," she says. Telemedicine is an effective way to reduce community transmission of the COVID-19 virus, while continuing to be there for patients to help guide them through uncertain times. Dr. Arsenault was inspired by some of her colleagues who were already practicing telemedicine in the private sector. "Telemedicine is not part of our medical school curriculum, we haven't explored telemedicine before this," she adds. The guide was created to support residents, physicians and other health professionals at the GMF-U Herzl, to allow them to practice telemedicine safely. "I really think that it is the leadership of Dr. Mark Karanofsky, Unit Director of the Herzl clinic, who played a huge role in our success at Herzl," says Dr. Arsenault.

While the telemedicine guide was initially created for the Herzl clinic, it has been shared with a number of universities in Quebec. The tool was also shared on the website of the Fédération des Médecins Omnipraticiens du Québec as a resource to physicians. "Telemedicine allows us to remain connected to our patients. Distance is no longer a factor in delivering good quality of care," says Dr. Arsenault. "Telemedicine cannot replace in-person visits, but it should continue to complement it after the pandemic. We should always ask ourselves if the condition is appropriate for telemedicine or not."

Dr. Arsenault is currently involved in two other projects. "I am actually very excited to work on a project led by Dr. Samira Rahimi, Assistant Professor in the Department of Family Medicine. We are using artificial intelligence (AI) to help the monitoring of symptoms of patients in long-term care homes," she says. "I am also happy to work on a project that is focused on the use of telemedicine in family medicine and the rapid transformations of the GMF-Us in the context of COVID-19. We are affected by an awful disease right now, and a lot of people are suffering from it, and some have even lost their loved ones. This will mark our hearts for years to come." No matter the situation, Dr. Arsenault remains committed to helping her vulnerable patients and giving them the support they need, never more than during these difficult times.
May 29 2020