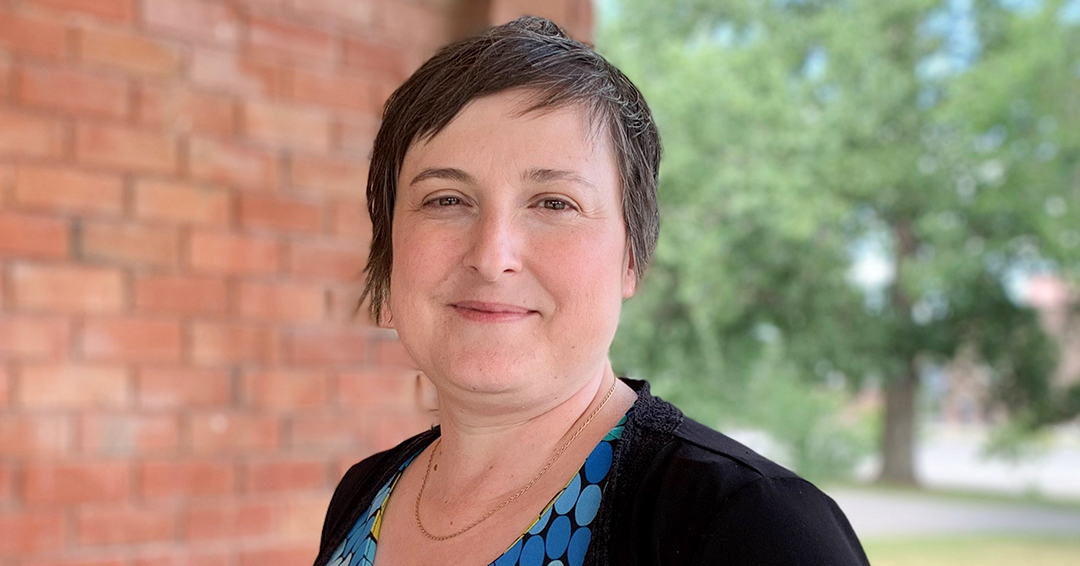 More than 500 faculty members and health professionals facilitate the curriculum, led by the Office of Interprofessional Education 
Amanda Cervantes, RN, Faculty Lecturer at the Ingram School of Nursing, is one of more than 500 faculty and health professionals who currently facilitate the Interprofessional Education (IPE) curriculum at McGill.  
Led by the Office of Interprofessional Education (OIPE), the four-course IPE curriculum brings learners in medicine, nursing, genetic counselling, dentistry, dietetics, occupational therapy, physical therapy and speech-language pathology together in an active learning experience.  
In the first course, IPEA 500, students in small online groups are introduced to interprofessional practice and the roles of different health professionals and the multiple and complex healthcare needs of patients and their families. They then learn effective communication, interaction and collaboration skills in interprofessional teams through individual reading activities and small group discussions in IPEA 501.  
In IPEA 502, they get a chance to put this new knowledge in action in a simulated patient- or family-centred care scenario, coordinated with, and held at, the Steinberg Centre for Simulation and Interactive Learning, in which they work in interprofessional teams to develop a plan of care. In IPEA 503, students learn the skills to resolve conflict or disagreement collaboratively and intentionally in interprofessional teams through individual assignments, online activities and small group discussions. 
Cervantes graduated from McGill before the IPE curriculum was developed and completed some brief interprofessional training during her nursing studies. However, she feels her first in-depth experience of being in an interprofessional team was as a nurse clinician in the Pediatric Intensive Care Unit at the Montreal Children's Hospital.
After becoming a full-time faculty lecturer in 2018, Cervantes was encouraged to facilitate courses in the IPE curriculum by her colleagues at the Ingram School of Nursing.  
"As somebody who also graduated from McGill, I was really interested in the IPE curriculum and learning more about what it was," she recalls. She now facilitates in all four IPE courses. 
Flexibility and training for busy facilitators 
IPE facilitators are usually academic and clinical faculty within the Faculty of Medicine and Health Sciences and the School of Human Nutrition. Some are also health professionals at McGill's affiliated healthcare institutions.  
The OIPE provides Faculty Development training to all volunteer facilitators to give them the skills needed to lead learners in an interprofessional education activity. Written supports and tools are also provided for each course incorporating facilitators.  
"The training is really well laid out, and it's also refined over the years," Cervantes says. "They always help out by giving us a little refresher right before we go in with students. It's really well organized for busy people who move from place to place based on their calendar." 
As of 2023, the OIPE has successfully received 6.5 Continuing Professional Development (CPD) credits for IPEA 503: Managing Interprofessional Conflict. 
Conscious of the busy schedules of faculty and health professionals, the OIPE provides food and hot beverages for those who are facilitating between shifts, classes or other commitments.  
"Since we've been back in person, I know I'll be running late. I know I won't have time to eat, but I'll get there and know there will be lunch and caffeine for me," Cervantes says. "They do a really great job of supporting you through these moments." 
Exposure to interprofessionalism that reflects clinical reality 
Cynthia Perlman, M.Ed., OT(C), erg., Director of the OIPE and Assistant Professor at the School of Physical and Occupational Therapy, says the office is "committed to providing evidence-informed IPE instruction that prepares students in the health professions to engage in interprofessional, collaborative, patient- family- and community-centred practice." 
"Facilitation enables learners to reflect on their own roles, the roles of others and on teamwork in action," she adds.  
Cervantes notes that today's learners in the IPE curriculum receive much greater exposure to interprofessional collaboration and the realities of working as a team in a clinical environment. 
"I think that IPE curriculum reflects the clinical environment that I work in, and the idea of health professionals, their expertise and who they are as people being for the most part valued," she says. 
"I think facilitators who come from the clinical world will see their clinical work reflected in what's happening," she adds. "It's interesting to watch the learners navigate that." 
Supporting her growth as a teacher 
Reflecting on her experience, Cervantes feels that facilitating has not only benefitted her learners, but also helped her grow as a teacher.  
"I feel I have gotten better at making a quick community of learning, partially because of the work in [the IPE curriculum]," she says. "In my other classes, I see the same students over time, so I have time to build that community up. I think the fact I've gotten better at those shortcuts of creating a group has come from IPE." 
"It makes you really reflective on your own practice and communication styles," she adds. "I have learned about how I communicate by watching a lot of students communicate." 
In addition, Cervantes feels the training she receives as a facilitator complements other faculty development activities made available to teaching staff at McGill, such as workshops from the Faculty Development Office.  
Meeting other facilitators is also a "rewarding" experience, she says. 
"I'm often partnered with a clinician, who is not full-time at the University, and I always learn a lot from them," she adds.  
For Perlman, IPE facilitators are "paramount to the success of our IPE curriculum".  
"Through role modelling, facilitators communicate the value of IPE facilitation on student learning, on one's own leadership development and on contributing to the IPE community of practice." 
Interested in joining the OIPE's growing group of facilitators? Contact the Office of Interprofessional Education to learn more about upcoming opportunities.   
Related:  
Focus on McGill Nursing Faculty: Amanda Cervantes