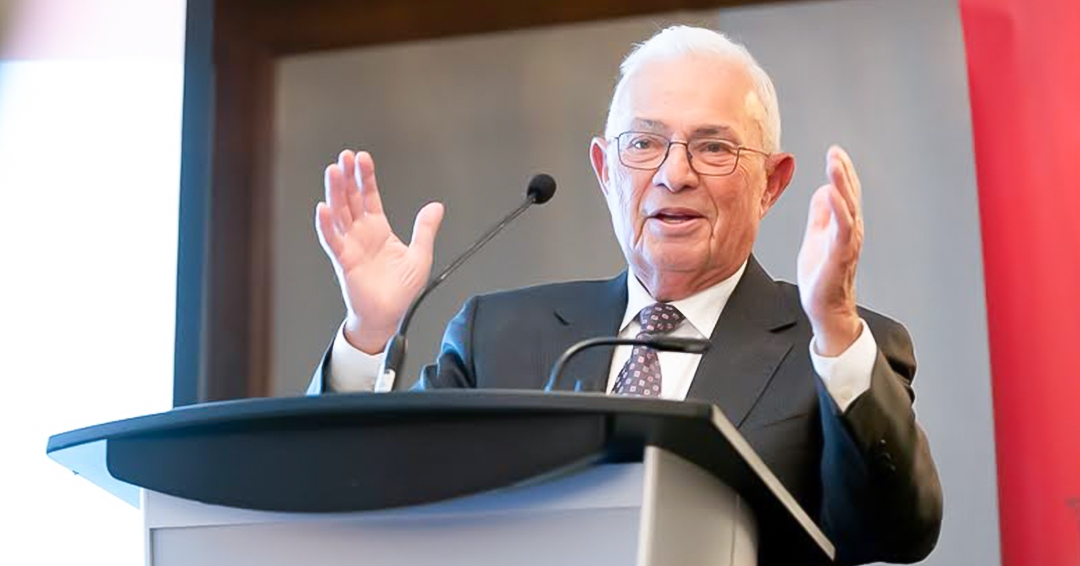 This article originally appeared in FMHS Focus
A new $15.3M gift from the Irving Ludmer Family Foundation aims to take mapping of the brain to the cellular level by further encouraging collaboration in Montreal
Mr. Irving Ludmer (BEng'57, LLD'19), has always been curious as to "how matter creates thought."
The launch this November of the Ludmer Centre Single-Cell Genomics Brain Initiative, made possible thanks to a $15.3 million donation from the Irving Ludmer Family Foundation to McGill University, has its roots in a decades-long conversation between Ludmer and his alma mater.
For Ludmer, an Engineering Physics graduate with a lifelong passion for psychiatry and mental health, the question of how neurons came together to give rise to consciousness "looked like a major physics problem."
A conversation that began twenty years ago
It was in 2003 that the Montreal business icon—a former executive at Steinberg Inc., the grocery chain, and its real estate subsidiary, Ivanhoe Inc.—met with Dr. Joel Paris (MDCM'64, Dip Psych'72), chair at the time of the McGill Department of Psychiatry, to discuss how he might get involved as a volunteer. Two years later he would meet with the then dean of medicine, Dr. Abe Fuks (BSc'68, MDCM'70), to enquire about giving opportunities at the Department.
These conversations, which initially led to a gift from the Irving Ludmer Family Foundation for a much-needed makeover of a departmental building on des Pins Ave.—now known as the Ludmer Building—continued with Fuks' successors.
"We are tremendously grateful to Irving and his wife, Freema, for their support of the Faculty of Medicine and Health Sciences," says Dr. David Eidelman (MDCM'79), Vice-Principal (Health Affairs) and Dean of the Faculty of Medicine and Health Sciences. "I have learned so much from our exchanges over the years."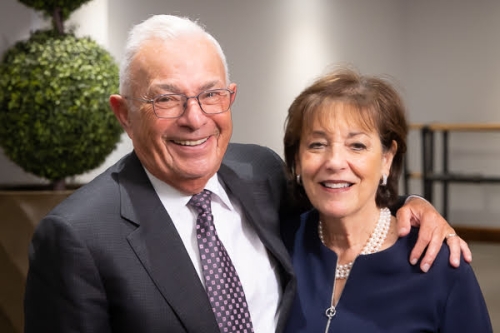 As the conversations continued, Ludmer, who is a founding partner and president of investment holding firm Cleman Ludmer Steinberg Inc., issued a novel challenge: he wanted McGill to take its research to the next level by fostering better collaboration with its hospital research partners.
Enter the Ludmer Centre for Neuroinformatics and Mental Health.
Established in 2013 with a foundational $7.5 million gift from the Irving Ludmer Family Foundation, and bolstered by a $10 million gift five years later, the Ludmer Centre brings McGill together with three partners: The Neuro (Montreal Neurological Institute-Hospital), the Douglas Mental Health University Institute, and the Lady Davis Institute for Medical Research (LDI) at the Jewish General Hospital.
The goal?
To improve the prevention, diagnosis and treatment of mental illnesses, neurodevelopmental conditions (such as autism spectrum disorder), and neurodegenerative diseases (such as Parkinson's and Alzheimer's), through innovative, transdisciplinary—and cross-institutional—research.
"It's a centre for excellence in neuroinformatics, genetics and epigenetics," says Eidelman. "Most importantly, it fulfils Irving's vision to rally four partners around one common pursuit."
"I wanted to see them work as a team," says Ludmer.
Now, yet another one of Ludmer's trademark conversations, this time with Dr. Gustavo Turecki (PhD'99), Chair of McGill's Department of Psychiatry and Scientific Director of the Douglas Institute, has further cemented the collaboration between the four Ludmer Centre partners, with the establishment of the Ludmer Centre Single-Cell Genomics Brain Initiative. This Initiative, which will operate under the auspices of the Ludmer Centre, aims to take the mapping of the brain to the single-cell level.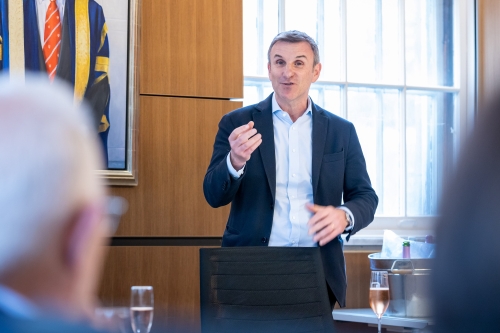 A new era of brain research à la montréalaise
The idea for the Single-Cell Genomics Brain Initiative was born out of a conversation between Ludmer and Turecki, who came with the vision of bringing together researchers across multiple research institutions to use new, cutting-edge tools to probe the brain at the single-cell level. It was a proposal that Ludmer was eager to see through. "Mr. Ludmer was very open and enthusiastic about the idea," Turecki says. "The possibilities for progress on brain diseases and disorders using a single-cell research approach are enormous."
The brain contains multiple cell types that connect to form intricate networks from which the organ's many important functions arise. By examining single cells, researchers hope to home in on the problems that occur within these circuits when disease or disorders occur.  With current tools, scientists can study thousands of individual cells in parallel—making the gargantuan task of mapping out the brain a tractable goal.
"I'm excited about the prospect of generating all this data," says Turecki. "Using the detailed map of the human brain at a single-cell resolution as well as the technological analysis of individual brain cells in greater detail than ever before, researchers will be able to better understand normal brain function and treat psychopathologies, neurological disorders and brain cancers."
Turecki, whose own work as a clinician-scientist involves the investigation of the neurobiology of depression and suicide, will play an integral role in establishing the Initiative.
This latest donation, which brings the Irving Ludmer Family Foundation's total gifts in support of McGill causes to more than $32 million, continues the Ludmer Centre tradition of supporting openness and collaboration in research. The funds will largely go toward funding nine new scientific research positions, with three at each of the Ludmer's Centre's three hospital research partners: the Douglas Institute, for the study of psychiatric disorders; the LDI, for the development of analytical strategies of single-cell data; and The Neuro, where the focus will be on neuroinformatics and neurological disorders.
VP-Dean Eidelman puts his finger on what makes this gift—and all gifts from the Irving Ludmer Family Foundation in support of the Ludmer Centre—so special: "The real genius of this project is that it has brought together our partner institutions to work together in a way that I think should serve as the model for how we do science everywhere."
In the future, Irving Ludmer hopes that the research networks established through the Ludmer Centre will expand even further, to other universities in Montreal and beyond. "I feel that we can expand the whole idea of open science and collaboration," he says.