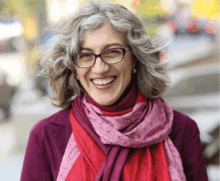 Dr. Mary Ellen Macdonald was working on postdoctoral research about the experiences of parents whose child had died in the pediatric intensive care unit when it struck her: the moment when a family walks out of the hospital and no longer has a child, the family walks into a community that has virtually no ability to support them, talk to them or understand their experience. Dr. Macdonald's interest in the social life of grief crystalized from that moment.

"It is in the community space where work on grief needs to be done," Dr. Macdonald says. "In our communities, people cross the road because they don't know what to say to a grieving person, or they say things that are so hurtful despite being well-meaning. It's in communities where we need to be developing 'grief literacy.'"

Grief Literacy is a concept that Dr. Macdonald has developed with an international team of researchers. It aims to empower everyday citizens, networks and communities to understand the loneliness and isolation caused by grief, and to respond with acts of kindness and compassion. While certainly some bereaved people need professional support, everyone who is grieving, including those most in need of professional support, can benefit from community-based acknowledgment and validation.

A medical anthropologist, an Associate Professor in the Faculty of Dentistry, and Associate Member of the Institute for Health Sciences Education, Dr. Macdonald's research program in palliative care focuses on bereavement, including sociocultural analysis of child death and parental bereavement, grief after assisted dying, private and public acts of memorialization, and grief education. Dr. Macdonald is also Program Head, Pediatric Palliative Care Research, at the Montreal Children's Hospital.

Grief amidst the pandemic
For many academics, there was a sense of urgency to assist in pandemic-response efforts when the virus first began proliferating. This same sense of urgency does not entirely transfer to grief, which is both a stigmatized and poorly understood process that can remain over a long period of time. This has not changed because of the pandemic.

Grief amidst the pandemic is nevertheless an increasing reality in communities worldwide, and Dr. Macdonald is working with others to address this reality.

The Canadian Virtual Hospice has led the development of the Canadian Grief Alliance, a coalition calling for the Government of Canada to invest $100 million over the next three years to implement a national pandemic-related grief strategy. The strategy includes addressing gaps and expanding access to supports for the public and front-line healthcare workers as well as dedicated research funding. Dr. Macdonald is playing a support role in the coalition.

Dr. Macdonald is also an active member of the International Work Group of Death, Dying and Bereavement. She is aware that students may return to class this fall actively grieving, so she will also be creating space for grief and grief literacy in her remote classrooms.

"COVID is shining a spotlight on something that our society never did well," Dr. Macdonald notes. "We have more people grieving because of the pandemic, but the thing is that we always have had people grieving. In palliative care, death and dying is the focus; the bereavement piece has never been the main emphasis."

Dr. Macdonald says this is partly an institutionally created problem: a patient is no longer the responsibility of a healthcare institution after they die, so the responsibility for what happens next for the grieving family remains either unaddressed or becomes the responsibility of community organizations, she said. The public health model of grief literacy focuses on building community capacity to support these grievers.

"Grief support is not often provided through hospitals. It's either through community services, or funded through faith-based organizations and other charities," Dr. Macdonald explains. "Further, many grievers don't actually need formalized support from an institution – they need kindness and awareness from their community."

Dr. Macdonald stresses the importance of embedding 'grief literacy' into the everyday, from having resources visibly available in local libraries to public messaging – for example, on bus shelters and public service announcements.

She cites Montreal's 2019 Projection Week as a good example. A dream of the late Kappy Flanders, Projection Week saw over 100 events across Montreal on the topics of life, death and end-of-life issues.

"Death is sexy in popular culture, but there's nothing sexy about grief," Dr. Macdonald says. "It's not curable. The only way to cure grief is to grieve. It's this process that you have to go through – and often, you're going to go through it alone."

Grief literacy can go a long way to sensitizing people and communities about how to address grief, and Dr. Macdonald suggests it is often simple steps.

"Be humble. Bumble forward. Let the griever lead you. Listen with compassion. There's so many simple things," notes Dr. Macdonald. "Grief often doesn't need to be professionalized. About 10 per cent of people need professional services. Everyone, however, needs kindness."

Further reading and resources
:
Cadell S, et al. Grief in the time of COVID-19. Available from: https://medium.com/@scadell/grief-in-the-time-of-covid-19-8d414307e17d.

Breen L, Kawashima D, Cadell S, Joy K, Roth D, Chow A, Macdonald ME. Grief literacy A call to action for compassionate communities. Death Studies. 2020. https://pubmed.ncbi.nlm.nih.gov/32189580/#:~:text=Abstract,and%20dialogue%20in%20public%20spaces.

National Grief Advocates Urge Support for Grieving Canadians & Health Workers
(PDF)
National Grief Strategy newsletter
September 23, 2020