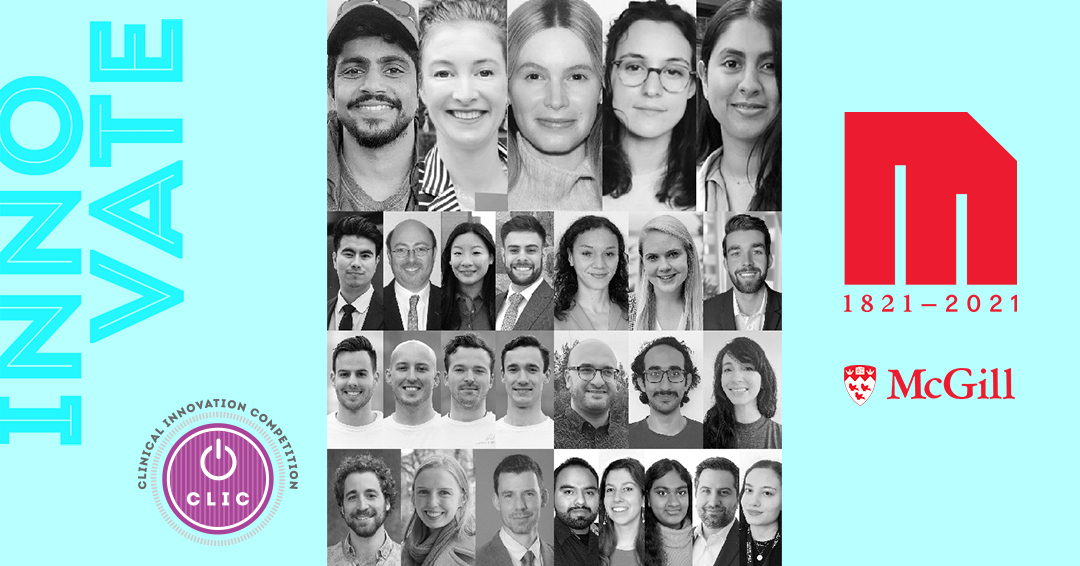 By Diane Weidner,
Progress starts with great ideas, but if they cannot be developed, applied and shared for the benefit of society… ideas are just dreams. Moving an idea for medical technology from reaction to action and application is a daunting task, especially for someone who has not walked this path before.
The McGill Clinical Innovation Competition (CLIC), run by the Faculty of Medicine and Health Sciences, was created precisely for this reason: to encourage and support creative innovations, processes, therapies, diagnostics and devices that hold the promise to effect meaningful and lasting changes to patient care.
McGill alumnus Dr. Raymond Hakim is the inspiration behind the McGill CLIC; he initiated the competition and funded the Hakim Family Innovation Prize to provide members of the McGill community with the support and resources needed to help translate their ideas into practical and commercially-viable entities. "I am very grateful to be a part of this important commitment to innovation because I firmly believe that 'we can always do better' for our patients; we just have to work at it," says Dr. Hakim.
Four years in, the latest edition of this competition is a testament to the growing community of innovators who are pushing the boundaries of clinical care by harnessing the potential of AI, big data and technology.
Here is a glimpse of the stellar teams that garnered prizes at the fourth annual McGill CLIC, held virtually on May 20th. Congratulations to all!
EczemaQ, winners of the Hakim Family Innovation Prize Innovation, developed a pilot mobile health application that provides remote access to care and personalized medicine for patients who suffer from atopic dermatitis, commonly known as eczema, one of the most burdensome skin disorders worldwide. This patient-guided and expert-validated bilingual tool will empower patients with shared decision-making for self-management of the disease.
Remote Optical, first-place winners of the Marika Zelenka Roy Innovation Prize, created a solution that leverages the power of AI and revolutionizes eye care with remote, asynchronous imaging and examination; it has the potential to improve access to eye care for people in rural/indigenous communities, senior homes, intensive care units and emergency rooms.
NURA Medical, second-place winners of the Marika Zelenka Roy Innovation Prize and winners of the Bereskin & Parr Innovation Prize, developed the IV Assistant, a semi-automated medical device with the potential to prevent medication errors and positively impact pediatric patient care.
LFAnt Medical, first-place winning team of the MI4 Innovation Prize, is revolutionizing point-of-care diagnostics for at-home detection of sexually transmitted infections by combining proprietary biosensing technologies with the latest advances in microelectronics and machine learning.
Sensoreal, second-place winning team of the MI4 Innovation Prize, developed a prototype to differentiate bacterial/viral respiratory infection that uses disposable microfluidic chips and novel AI techniques to help physicians guide antibiotic therapy in less than 15 minutes.
Building a supportive ecosystem
Professor Jake Barralet, Director of Innovation at the Faculty, has worked assiduously over the past four years to create a network that supports clinical innovators by bringing together leaders from industry, research, government, and academia to collaborate. "It is incredibly rewarding to witness not only the success of past CLIC teams, but to be involved in the growth and development of these innovations from their early beginnings. Our applicants join us at different stages in their product development lifecycle, and I am incredibly grateful that we have been able to bring together a strong network of partners who can help foster their growth."
Three special guests participated in the event to share their perspective of innovation.
Mr. Paul L'Archevêque, Director of Innovation at the Ministère de la Santé et des Services sociaux, addressed the audience and spoke about some of the valuable lessons learned over the past year as a result of the Covid-19 pandemic. He highlighted the need to think of innovative ways to approach the challenges we are faced with. "I see innovation every day in my life, and every day, I enjoy the possibilities that these innovations are bringing to our patients, to the users and to the healthcare system," voiced Mr. L'Archevêque.
Mr. Noam Krantz, Vice President of Venture Investments at Johnson & Johnson, spoke about the value of early-stage innovation and explained how J&J is investing in technology that is developed externally.
And lastly, Dr. David Benrimoh, Chief Science Officer, Aifred Health, a winning team at the inaugural CLIC event in 2019, spoke about how winning the Hakim Family Innovation Prize and having access to the Steinberg Centre for Simulation and Interactive Learning to test their technology and provide proof of concept helped them to move their company forward.
It takes a village…
"We are extremely grateful to our partners and sponsors, and to our panel of judges who spent many hours reviewing the proposals, selecting the finalists, and asking pertinent questions during the pitch event," says Professor Barralet. "We are fortunate to have so many supporters who believe strongly in the importance of innovation, and who have chosen to invest their time and resources towards the future of healthcare."
The McGill CLIC prizes were generously provided by Dr. Raymond Hakim, Mrs. Marika Zelenka Roy and the Montreal General Hospital Foundation, the McGill Interdisciplinary Initiative in Infection and Immunity (MI4), and Bereskin & Parr, LLP.
The winning teams will have access to start-up support and expertise through partnerships with Fasken, NOVO and the Dobson Centre for Entrepreneurship.
This year, all applicants of the McGill CLIC were offered free preparatory workshops by Bereskin & Parr, District 3 and LOK North America to address the business elements contained within their proposal and enhance the commercial viability of their plan, including foundational knowledge of regulatory compliance and intellectual property.
Furthermore, the finalist teams were offered workshops and individual coaching sessions by Andrew Churchill from McGill's Teaching and Learning Services to help them create impactful and compelling pitch presentations.
The results speak for themselves.  We invite you to visit our website to learn more about the finalists and winning teams, and to watch the video recording of the special Bicentennial edition of this event.
June 3, 2021