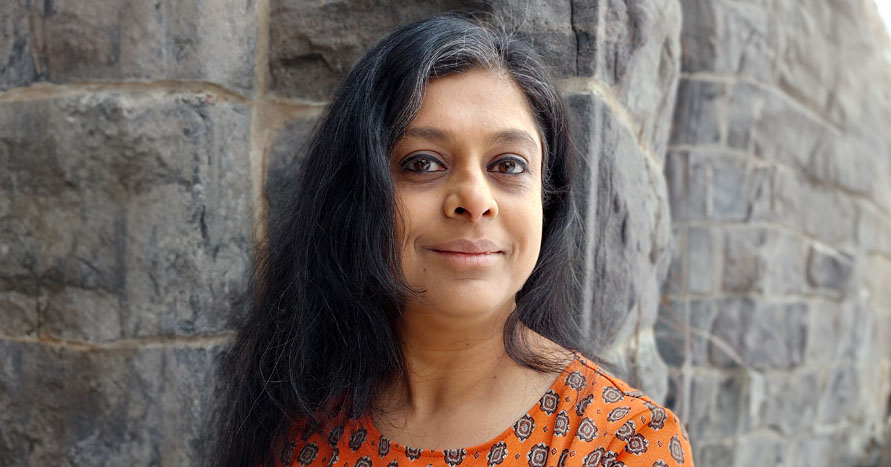 It is meant to be an exciting time of life. From finishing school, to finding love, starting a family and pursuing passions – the teenage to adulthood years are centred around life's big moments. But for many, those moments are shrouded with pain.
"The truth is 60 to 70 per cent of major mental health problems start before the age of 25," warns Dr. Srividya Iyer, psychologist, professor in the Department of Psychiatry at McGill University, researcher at the Douglas Mental Health University Institute and Montreal's Prevention and Early Intervention Program for Psychosis (PEPP), and global leader in youth mental health and early intervention as the vice president of the International Association for Youth Mental Health.
A global perspective
Dr. Iyer knows too well the risks and repercussions when mental health concerns go untreated. She experienced it first hand in her home country of India where she started her psychologist training.
"I trained in what was then called a mental institution," she recalls. "We had very few staff and a lot of people who needed help, many who were forced to stay for years. I saw so much suffering and a huge loss of quality of life. It prompted me to think there has to be a better way."
Dr. Iyer considered what could happen if patients received help earlier in their symptoms.
"I thought, if we can intervene at the first signs of struggle, when individuals are young, we could prevent all these negative outcomes."
She moved to Canada in 2006 and immediately focused on transforming youth mental health. In 2014, she co-led the launch of ACCESS Open Minds (ACCESS OM), one of the first initiatives that started the movement towards Integrated Youth Services (IYS) in Canada.
"We had young people, their families, decision makers, service providers from 16 sites across seven provinces and one territory," Dr. Iyer explains. "We wanted to see if we could come up with a model and a way of thinking about how we could change the ways in which young people could access health services and how those services would be delivered."
Building a pan-Canadian network
ACCESS OM, funded by a 1:1 match from the Canadian Institutes of Health Research (CIHR) and philanthropic partner the Graham Boeckh Foundation via the Strategy for Patient-Oriented Research, quickly began to shine. It developed into a pan-Canadian network of more than 250 researchers, service providers, decision makers, youth and family members seeking to transform mental healthcare for urban, rural, Indigenous, post-secondary and unhoused youth. The project's success was the launching pad for the CIHR Integrated Youth Services Network of Networks (IYS-Net) initiative, which aims to be a Canada-wide network of provincial and territorial learning health systems sharing data to improve the way youth wellness services are delivered across the country. In less than a decade, Dr. Iyer says they've made huge strides in youth mental health.
"Both ACCESS OM and IYS-Net data are showing us that more young people are seeking help, and I think that is spectacular. We are doing something right when we build services with young people from the beginning with a focus on equity and diversity. It's proof that if you build it right people will come," she says.
Equitable youth health for Quebec
Dr. Iyer has now turned her focus to her latest project – Aire ouverte: Understanding and scaling up the principles, practices and values of Quebec's youth services to inform research, policy and service integration in a pan-Canadian context. Along with Dr. Martin Goyette at École nationale d'administration publique in Montreal, Dr. Iyer leads a research team collecting and evaluating data to determine priorities and best practices for Aire ouverte, a network of IYS hubs in Quebec.
"In Quebec, our focus is on young people who have traditionally not had equitable access to the health system. Indigenous young people, youth at risk of homelessness or youth who have traditionally been marginalized or underserved," Dr. Iyer explains. "Aire ouverte started in 2018 with three sites. We now have 19. Our plan is to have about 27 sites by the end of 2024, with an ultimate goal of having hubs accessible to every young person in every region of Quebec."
Dr. Iyer remains modest about her work but knows the investment in her research and the research of many more alongside her is advancing youth mental wellness in Canada. She mentions that she is privileged to co-lead the Indigenous IYS network alongside Dr. Christopher Mushquash, the network's Principal Investigator and many Indigenous partners.
"It's gratifying to see the concrete indicators of progress. It's what keeps me going," she says with a smile. "We are very attentive to equity, we are very attentive to inclusion and we are very attentive to who is part of the dialogue. That philosophical shift is a priceless shift. It is resulting in real change. Our ultimate goal is to equip young people with the tools they need to pursue the life they want."