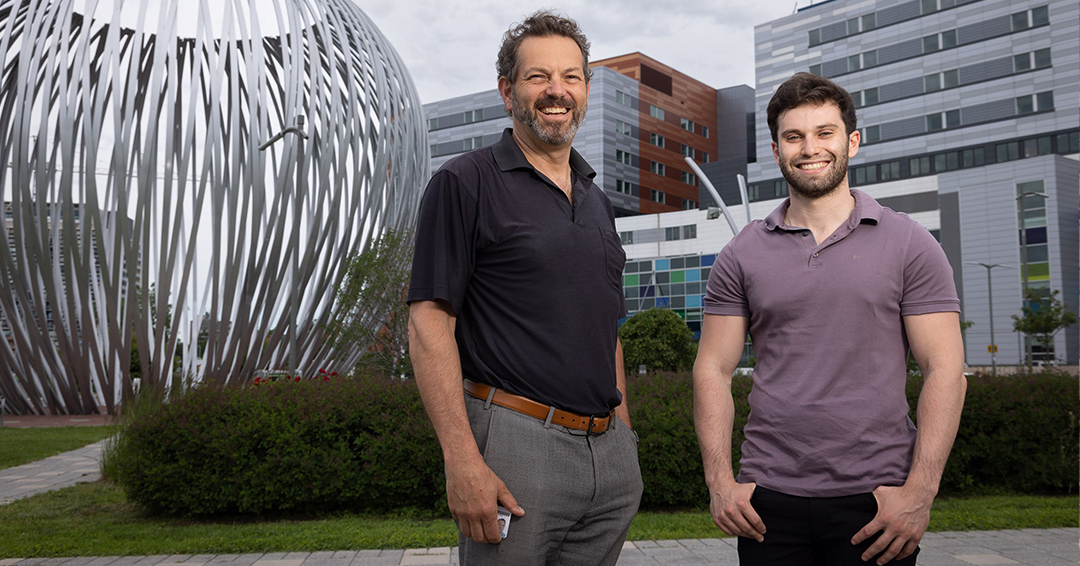 Winners of the Hakim Family Innovation Prize at the McGill Clinical Innovation Competition develop a smartphone app to remotely monitor pediatric scoliosis
The early signs of scoliosis, an abnormal lateral curvature of the spine, can be subtle – a slight tilt in the shoulders, hips or waist, for example. The most prevalent pediatric spine deformity, Adolescent Idiopathic Scoliosis (AIS), affects 1-3 per cent of youths between the ages of 10-16 in North America (approximately 7-11 million). The key to successful management of AIS is early detection via close monitoring of the spine.
A spinal curve greater than 10 degrees (using a standard measurement referred to as Cobb's method) is considered scoliosis and observation is recommended. A curve greater than 25 degrees is considered significant, and a curve exceeding 45 degrees requires more aggressive treatment, such as surgical intervention. Scoliosis can lead to shoulder imbalance, trunk and rib deformities, breast asymmetry and lung disease, causing pain and impacting self-esteem.
Currently, the standard follow-up requires patients to undergo two full-length spinal x-rays every six months. Because this condition can progress very quickly during growth spurts––and because growth in childhood and adolescence is sporadic––this discontinuous follow-up is not ideal. Curve progression may be missed between appointments, and a few months can make a huge difference in corresponding treatment.
But repetitive x-rays result in increased radiation exposure for this vulnerable growing population. While the risk for cancer is minimal on a single x-ray, the cumulative risk after several years of x-rays increases significantly.
Furthermore, a recent study reported that when curve progression is present in skeletally immature patients diagnosed with AIS, only 10 per cent will warrant intervention, indicating that 90 per cent of the patients are subject to unnecessary radiation.
How can physicians monitor patients closely in order to identify those who need treatment while limiting radiation exposure for the vast majority who don't?
Robust, timely scoliosis screening
To address this problem, Jean Ouellet, MD, Pediatric Spine Surgeon at the Montreal Children's Hospital, McGill University Health Centre (MUHC) and Professor in Orthopedic Surgery at McGill University, has been working closely with Evan Dimentberg, MD/MSc Candidate in the Faculty of Medicine at Université Laval, on an innovative solution to detect and remotely monitor spinal curve progression by leveraging 3D imaging and artificial intelligence.
SeeSpine is an easy-to-use telehealth application that enables young patients, with the help of a trusted family member or friend, to perform a surface topography scan using just a smart phone to predict the underlying spine shape. This evaluation takes 15 seconds and the results can then be transmitted to the patient's physician for remote monitoring, saving time and money while optimizing patient care.
"The challenge is to predict spine progression and provide corresponding treatment at the opportune time," explains Dr. Ouellet. "This application has the potential to significantly improve patient outcomes while reducing radiation exposure. Instead of offering the same treatment algorithm to everyone, SeeSpine can increase efficiency and ensure that patients benefit from individualized care. Orthopedic surgeons can see patients who require treatment, while less critical patients can be monitored remotely."
If AIS is caught early, one treatment option is for the patient to wear a scoliosis brace. This device applies pressure to the spine and ribs to halt or slow progression of the curve, significantly reducing spinal deformity and in some cases, eliminating the need for spinal surgery.
However, a recent Canadian study noted that 55 per cent of patients who presented to an orthopedic surgeon for their first scoliosis visit were no longer candidates for bracing, making surgery their only treatment option. SeeSpine could also be used as a screening tool to help family physicians identify potential AIS patients earlier, thereby increasing the likelihood of successful treatment.
Discovering a shared passion for innovation
The idea for SeeSpine first came to Evan Dimentberg while he was reading medical literature on scoliosis during the COVID-19 pandemic in 2020, after having completed his second year of medical studies. "At the time, I was working for Front Row Ventures and was very curious about medical innovation," explains Dimentberg. "I sent Dr. Ouellet a research proposal and we clicked almost immediately. He accepted to supervise the project as my Master's degree."  Upon the completion of their pilot study, they decided to move forward with commercialization together and set up a proof of concept clinical study.
This dynamic team pitched their innovative proposal at the McGill Clinical Innovation Competition (CLIC) on May 10, 2022 and impressed the judges, winning the Hakim Family Innovation Prize for the most transformative innovation with the potential to have a tangible and meaningful impact on patient care.  In addition to a cash prize of $10,000, the team is also eligible to receive support services and apply for matching funds, bringing the total prize value to $50,000.
SeeSpine will conduct three clinical trials this summer, while simultaneously working to complete software development and begin the regulatory approval process. As winners of the McGill CLIC, they are excited to access research and data resources and to obtain assistance identifying funding opportunities.
When asked what advice Dimentberg would give to aspiring clinical innovators, he replied, "Partner with the right people! It's all in the team. I was very lucky to have found incredible co-founders."  He also emphasized the importance of understanding and taking advantage of the resources at your disposal, and connecting with other Quebec-based medical startups to share advice and information.
Sarah-Jeanne shares her scoliosis journey
It was intense back pain that led to Sarah-Jeanne Boilard's diagnosis of Adolescent Idiopathic Scoliosis (AIS) in 2014, at the age of 12. With an initial spinal curve measure of 15 degrees and puberty rapidly approaching, she was monitored closely by Dr. Ouellet and her health care team at the Shriners Hospitals for Children – Canada with the goal of minimizing the progression of her scoliosis and exploring treatments to alleviate her pain.
For the next four years, Boilard was thrown into an intense cycle of appointments, tests and physical therapy. She wore a nighttime scoliosis brace for six months, and then a full-time brace in the summer of 2016 during a period of rapid growth. It was demanding, and she was in constant pain, but she persevered, and the treatment succeeded in slowing down the progression of the curve which eventually stabilized at 35 degrees, thus avoiding major surgery.
Her family was alongside her every step of the way. For Boilard's mother, Marjolaine Lepage, the SeeSpine app is very promising. "During Sarah-Jeanne's illness, it was rare to go for a week without an appointment," explains Lepage.  "Seeing her in pain was a constant worry.  I would have found it very reassuring to have this app to help me to better follow the progression of her illness."
This bright 20-year-old is looking forward to studying cognitive neurosciences at l'Université de Montréal in September.  She knows how to listen to her body and has found ways to help alleviate her pain through yoga and swimming, and to enjoy the activities that she loves, including spending time with horses.
"SeeSpine will, in a way, give back control to patients and their families, allowing them to track their scoliosis more frequently with no health risk," concludes Dr. Ouellet, who is excited at the potential of this telehealth application to empower patients and bring care back into the home.
"I received a lot of advice and so many suggestions, whether from my horseback riding coaches, from multiple health care professionals, or from my parents, that after a while, it started to weigh heavily on me.  At twelve years old, I wasn't ready to take on so much responsibility.  I was afraid, and often the fears were irrational.
That's why I would like to tell a young person who is in the same situation not to be afraid. There are people there to help you overcome this difficult period, and you are capable of doing so. But most of all, I want to tell you that scoliosis is not as limiting as one might think in many cases. You can learn to understand your body and manage it better. Scoliosis doesn't have to take over our lives."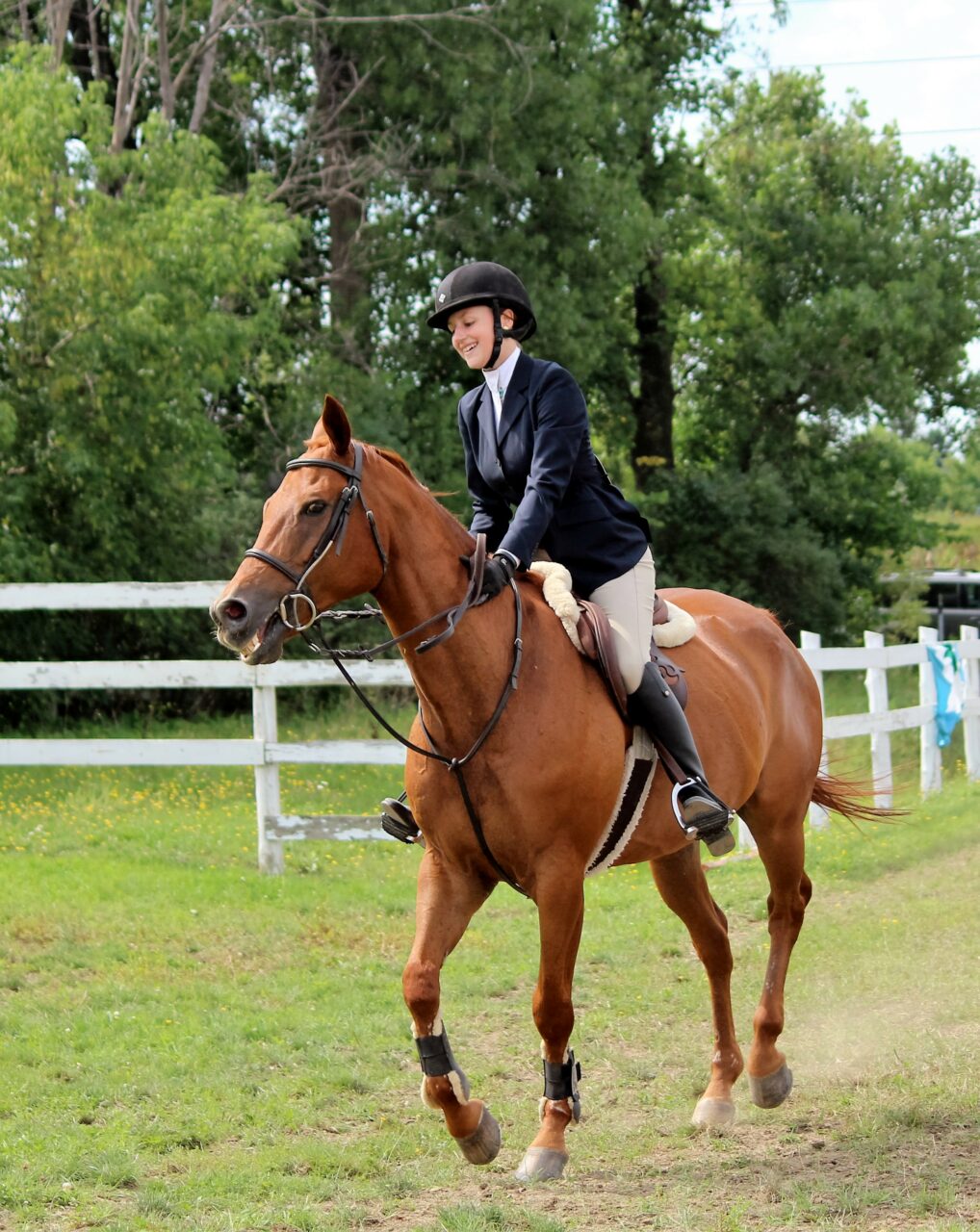 —Sarah-Jeanne Boilard