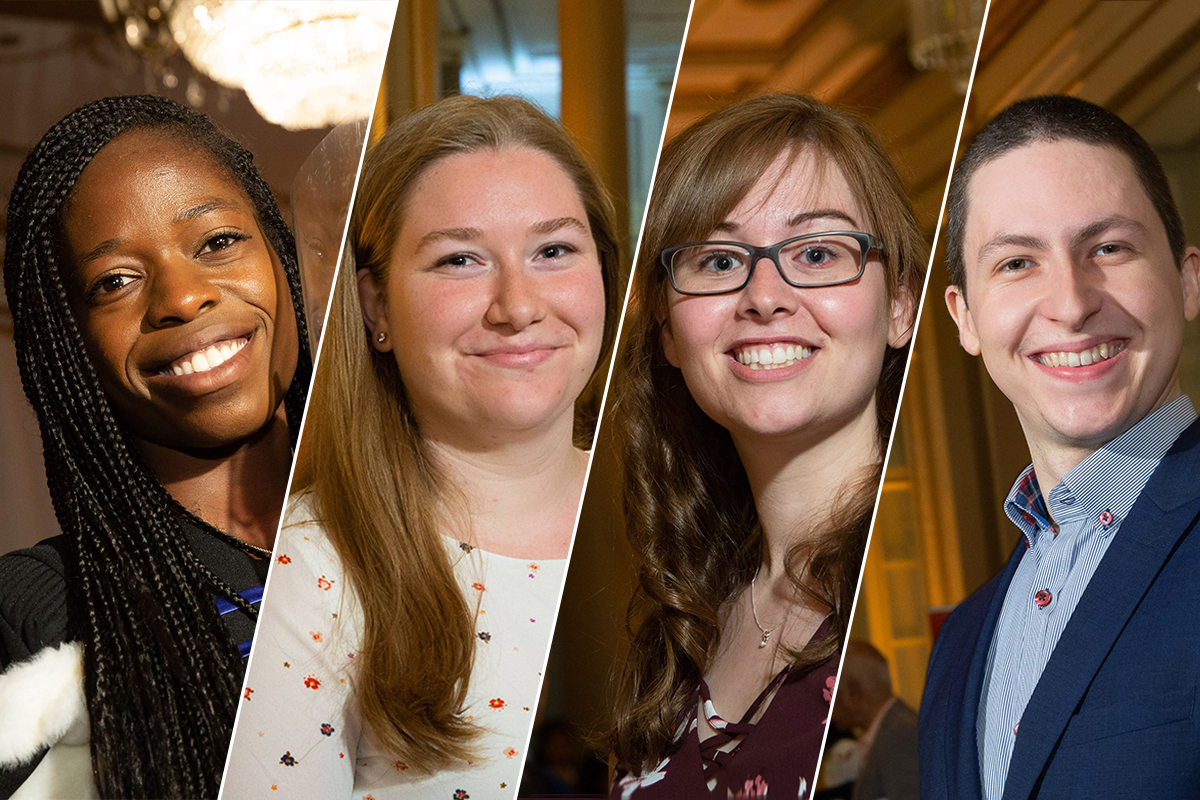 By Christina Kozakiewicz, Ingram School of Nursing

Nursing students Katie MacMillan, Katherine Mohsen, Hannah Palmer and Xavier St-Germain Roy officially graduated from the Ingram School of Nursing at the Spring Health Sciences Convocation Ceremony on May 29, 2018, each receiving awards recognizing their individual achievements realized throughout the course of their studies at McGill. In celebration of Spring Convocation, Katie, Katherine, Hannah and Xavier shared their thoughts with us about why they chose to study nursing, what they plan to do in the future, and what they would say to anyone contemplating pursuing a nursing education at McGill.

What made you choose nursing as your future profession?
Katie MacMillan:

I have always found pleasure in helping people, and since high school, I have felt that working in health care was one of the ways I could effectively do that. Then I met a nurse practitioner, and she inspired me to consider nursing as a career. Since the very first semester of my Master's degree, I have never looked back. I want to help people and nursing offers so many different ways to do just that.  
Katherine Mohsen:

From a young age, I knew I wanted a profession that would give me the opportunity to help people, and I have always been interested in how the human body works. But my interest in nursing really began at my high school career fair, where a nurse demonstrated a few skills, such as taking blood pressure and inserting an intravenous catheter into a dummy arm. I was fascinated at the time, and I now know that nursing encompasses so much more than technical skills.
Hannah Palmer:

My interest in the field of nursing began in high school, when my mother was diagnosed with cancer. I spent a lot of time accompanying her to appointments and visiting her in the hospital after her surgery. During these visits, I couldn't help but notice the compassion and humane care that the nurses provided to my mother while she was at her most vulnerable. They were always close by, whether it was to change her dressing or to sneak her an extra ice cream after meal hours. In addition, my love of science, fascination with the human body, and my proactive desire to help others led me to choose nursing as a career.
Xavier St-Germain Roy:

I chose nursing because I wanted to work closely with people and have meaningful interactions with them. I learned about nursing when I met my uncle's friend, a nurse, and it was the first time that someone explained to me, in detail, what a nurse does during a shift. This encounter made me understand that being a health care professional was something I wanted. I applied to nursing shortly after. I now understand that being a nurse is one of the greatest ways to help people.
How does winning your award make you feel? Katie MacMillan
, recipient of the
F. Moyra Allen Memorial Award
, established in honour of the distinguished career and international renown of F. Moyra Allen, B.N., Ph.D., Emeritus Professor of Nursing. Awarded by the School to a graduate of the Master's program who shows potential for a distinctive career in the study and practice of nursing:
I feel extremely honoured to win this award. Honestly, to know that my fellow classmates and School faculty believe I show potential to have a "distinctive career in the study and practice of nursing" is incredibly moving and I will work very hard to prove that their belief in me is accurate. It is the support and friendship from my classmates and faculty members that has helped me get this far.




Katherine

Mohsen
, recipient of the
Barbara Ann Altshuler Prize
, awarded by the Ingram School of Nursing to an undergraduate nursing student on the basis of clinical and academic achievement
:

I would like to thank the Altshuler family for establishing this prize and supporting nursing students throughout the years. I am honoured to be this year's recipient. It is nice that my work as a student has been acknowledged and a great way to complete my degree.
Hannah Palmer,
recipient of the
Evelyn Rocque Malowany Convocation Prize
, awarded by the Ingram School of Nursing to a graduating student who has demonstrated initiative and leadership in the profession:
I was surprised and honoured when I learned that I was to be the recipient of this award. I hadn't expected it and I'm grateful that my hard work during my time at McGill has paid off. I will be using the funding for my graduate studies, which will get me once step closer to achieving my goal.
Xavier St-Germain Roy
, recipient of the
Pearson Book Prize
, awarded by the Ingram School of Nursing to a graduating student with a high GPA
:

I was really surprised to learn that I won this award. It always feels good to receive appreciation, especially after working hard for the past two years. I am really happy and proud to be the recipient of the Pearson Book Prize.
What are your plans for the future?Katie MacMillan:

At this time, my plan is to move back to the Maritimes and practice bedside nursing there. In the long term, I am very interested in working towards becoming a nurse practitioner, working in education, and, potentially, in politics.




Katherine Mohsen

:

In the near future, I plan to continue to work as a bedside nurse in oncology at the Royal Victoria Hospital, where I have worked for the last three years. I was also recently  accepted into the Advanced Clinical Practice Master's program at McGill, and am excited to get started this coming fall. In the more distant future, I hope to work on enhancing patient education, an aspect of patient care that caught my interest during my undergraduate degree.

Hannah Palmer:

Since the beginning of my journey towards becoming a nurse, my main goal has been to provide the biggest impact possible to as many people as possible. I aspire to work in primary health care as a nurse practitioner.
I wish to be that first line of defense to help stop the start and progression of diseases. I aspire to strengthen communities through education and health promotion as well as follow my patients throughout their lifespans and help them with their dynamically changing health. In order to achieve these dreams I will be starting my Masters in Advanced Clinical Practice at McGill in September while also gaining nursing experience by working as an emergency room nurse clinician.
Xavier St-Germain Roy:

My biggest desire right now is to practice nursing in a remote area. I am presently looking with my partner, who is also a nurse, for working opportunities with the Indigenous populations of Canada. We want to work with a population that doesn't have all the same chances in life that we did. It would be our way of giving back, and to truly making a difference.
What would you say to anyone considering going to McGill to study Nursing?Katie MacMillan:

Nursing to me is one of the best professions out there, however, studying to become a nurse can be difficult and intense. Studying nursing at McGill provides many benefits, specifically as a Direct-Entry Master student. The small class sizes lead to many deep friendships and an everlasting support system. The faculty works tirelessly to support you to develop your own unique passion for nursing and assist you in learning to become a true nursing leader. In addition, the pedagogy that McGill Nursing chooses to teach all of their students, Strengths-Based and Patient-Centered practice, is one that I am personally proud to advocate and push for. If I had to go back, I would definitely choose McGill to study nursing.
Katherine Mohsen:

McGill has been a very welcoming university and has given me so many learning opportunities, as well as opportunities to grow as a nurse. You have to be ready to put in a lot of work and you will learn soon enough that not all days are easy, but in the end, nursing is extremely rewarding. In my experience, patients are very grateful and appreciative when cared for by knowledgeable and compassionate nurses.
Hannah Palmer:

For anyone who wants to attend McGill's nursing program I would tell them that McGill has an amazing nursing curriculum which continuously evolves to meet student's needs. Nursing at McGill provides continuous support to its students because of the sense of community that develops within the program. Students and faculty in the Ingram School of Nursing dedicate their time to help other students  achieve not only their academic potential but provide emotional support as well. Studying nursing at McGill is challenging and requires dedication and commitment, but once you cross that stage at convocation, you'll realize it's all worth it.
Xavier St-Germain Roy:
I went to McGill because I wanted to do my undergraduate studies in English since I had done my CEGEP in French. I still remember my first day when we were all lined up together, forming "2016" on the floor of the stadium. It felt like a big family. This feeling of community never left me throughout my time at McGill. This is what made the difference for me. In my experience, this feeling of belonging to the community is what differentiates McGill from the rest.
Congratulations to all our Nursing graduates!

June 1, 2018